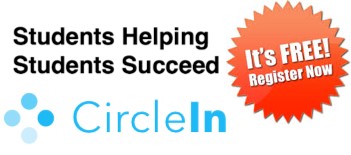 For Spring 2021, all undergraduate and graduate courses will have access to CircleIn. The CircleIn platform creates a virtual learning community for students to support one another in their coursework, all while having a chance to earn rewards and prizes. This peer-to-peer learning model is backed by the National Science Foundation (NSF), who in partnership with CircleIn, has invited Fairleigh Dickinson University to participate in a pilot study to measure the impact of this innovative platform on student success.
What courses will have access to CircleIn?
For Spring 2021, all undergraduate and graduate courses will have access to CircleIn.
Do I have to use CircleIn if I am taking one of these classes?
Use of CircleIn is not mandatory. However, we would appreciate your giving it a try and providing us with some feedback. We need your help in making this pilot study a success!
What does CircleIn cost?
FDU students may use CircleIn for free.
How do I register for CircleIn?
You can register on the CircleIn webpage or through the CircleIn app, downloadable from the iPhone and Android app stores.
Is it cheating if students help each other with their homework?
All homework that you submit for your classes should be your own work. However, it is okay to discuss assignments with classmates, develop strategies for completing them, prep one another for tests, and so on. If you are unclear about what constitutes cheating (i.e., academic dishonesty) please refer to FDU's academic integrity policy and discuss it with your professor or academic advisor.
What are FDU students saying?
How can I learn more about CircleIn's functionality?
You can learn about how CircleIn works by clicking on the links below:
Too many words . . . what else do you have?
How about some short videos?