REVEAL Business Simulation 2013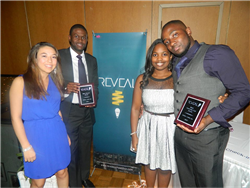 Congratulations to Tinotenda Chabudapasi, Farai Mwambira, Rumbidzai Kabatebate and Juanita Lozano who competed at UBC's REVEAL Business Simulation 2013 competition. REVEAL is a three-day long business simulation hosted at the University of British Columbia.
The team competed against 15 other universities from across Canada.
Tinotenda Chabudapasi and Juanita Lozano both won their team mini-challenges. Tino won the Venture Capitalist Challenge and Juanita won the Policy Change Challenge.
Check out the video of the competition:  #REVEAL2013.
Cricket Awards 2013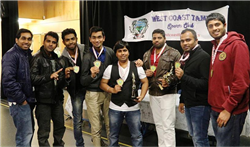 Congratulations to the FDU Cricket team on their awards night.  Pratik Rathod won the Best Batsman award and Arun Singh won the Best Bowler Award.
Typhoon Haiyan Fund
Congrats FDU! We raised $340 to help the Philippines with recovery efforts from the deadly Typhoon Haiyan.  The funds we raised will be matched by the Canadian Government.
A big thanks to David Rivera, the SGA and to Professor Concepcion for initiating the donation drive.
FDU-Vancouver Students Earn 3rd Place in Reveal Business Simulation Competition 2012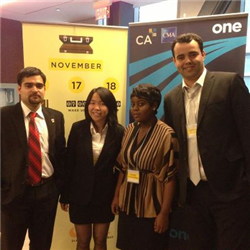 Congratulations to Thy Truong, Ruvimbo Mukorombindo, Tarun Khullar, and Ronaldo Martins who represented FDU-Vancouver at UBC's Reveal Business Simulation Competition and finished in 3rd place out of 22 teams from across Canada. This is a great accomplishment for the students and for the Silberman College of Business.
A special thanks goes out to professor Ozen Asik-Dizdar for helping the students in preparation for the event.