The Vancouver Rape Relief and Women's Shelter Walkathon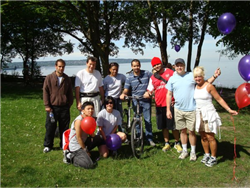 The Vancouver Rape Relief and Women's Shelter Walkathon turned out to be a beautiful day and thanks to everyone's support, the event was a success.
Thank you to everyone who helped in raising our pledge money of approximately $400 which FDU-Vancouver donated to the Vancouver RR and Women's Shelter. They were thrilled with our contribution.
A special thank you to those of you who took part in the walkathon on Sunday!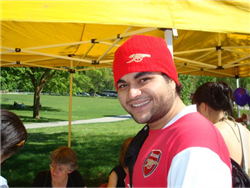 Now for the results of the Draw. The Winners are:
Xiaoxiao–IS Design Sunglasses valued at USD$40
Arthur–IS Design Sunglasses valued at USD$40
Neil–IS Design Sunglasses valued at USD$40
Jin–IS Design Sunglasses valued at USD$40
David–Vestal Watch valued at USD$200
Jason–Vestal Watch valued at USD$200
Mosly-Original Autographed Chris Haslam Skateboard valued at USD$100
Congratulations everyone!
FDU-Vancouver Took Part in the Women's Shelter and Rape Relief's Annual Walkathon
Sunday, May 25th @ 10:00am – 2:00pm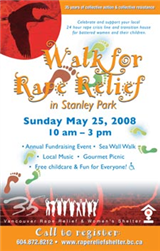 The Walk started in 1979 to help finance the Rape Relief crisis lines and to begin raising money for the Women's Shelter. Public support was strong from the beginning. While governments were busy cutting their funding of feminist groups, many women and a few men were becoming more outraged at the damage done by male violence towards women. The Walk was a chance to participate with others who wanted to make a real contribution to the liberation of women from this violence. This is still true today.
The money raised at the Walkathon is a sustaining part of Rape Relief's annual budget, particularly over the past years of no government funding. Even now, the Walkathon is a fundamental part of our fundraising strategy as there continues to be no core funding to the organization. It is an example of women and men coming together to ensure that this vibrant and long-standing organization continues to exist as an integral part of the women's movement.
The actual mechanics of the walk have changed little over the years. Registration  took place at Ceperly Park. Participants started off around the park alone, by twos and in groups, on foot, on bikes and in wheelchairs, often identifying themselves with balloons or T-shirts promoting Rape Relief. The 10km route traveled counter clockwise around the Park back to the final checkpoint at Second Beach.
The picnic, the finale of the Walk, took place at the Parks Board cook site above the playground.  The food, the atmosphere and the company were all excellent. Old acquaintances mix and caught up on the year's news and activity. Information, conversation, entertainment, refreshments and a chance for a well deserved rest in the sun were all available. Like no other event, the Picnic marked each year and celebrated the shared work of the House Funding Committee and the Rape Relief Collective.