Caring, protecting, uplifting: Obed Narcisse is a future school psychologist
By Rebecca Maxon
April 6, 2022 — "The minds of students are precious, and educators have a duty to protect and uplift them."
This core belief drives Obed Narcisse, a first-year graduate student in the MA in School Psychology + Certification three-year program. He recently received the National Association of School Psychologists' (NASP) Minority Student Scholarship.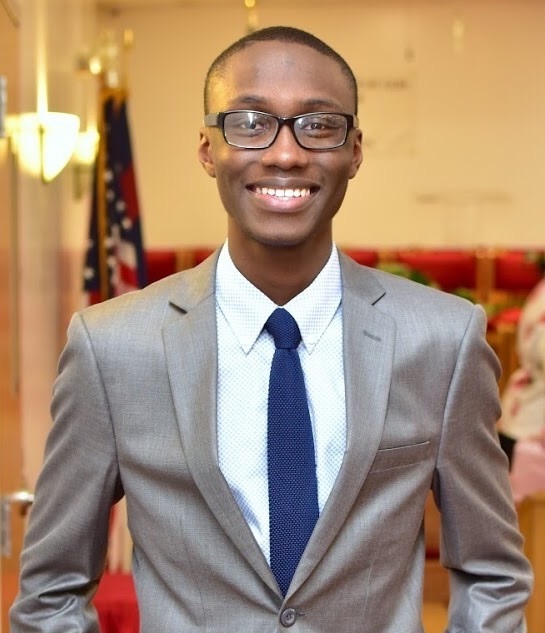 "It was such an amazing recognition to receive because it is so competitive," says Narcisse. "It has been so affirming to me."
The scholarship program seeks to lower the financial barriers to professional training for culturally diverse graduate students who will eventually provide school-based services to diverse student populations.
A second-generation Haitian American, Narcisse grew up in Orange, N.J. From eighth through 12th grades, he attended St. Benedict's Preparatory School in Newark, N.J., with a student population consisting of more than 75 percent minority students.
The St. Benedict's environment provided Narcisse with good examples to follow in his professional life. "What I want to do for students is to intervene and help them to overcome challenges; to cultivate positive peer relationships, positive self-concepts and self-esteem; and to help them navigate the stresses of being in school," he says. "My teachers have always been so supportive. They believed in me — sometimes more than I believed in myself."
In college, Narcisse noticed and started to feel the lack of representation among his peers. Going to Amherst College in western Massachusetts was a culture shock, he says. "You are kind of restarting in college, which can be difficult. I was fortunate to cultivate a new circle of friends, find activities that I wanted to explore and gain a better sense of who I was as an individual."
At FDU now, even with its diversity in the classroom and in the program, Narcisse says, "There is still a sense that I can't always relate to my peers and their experiences." Sometimes that manifests as self-doubt. But the students in the school psychology program are supportive. "I'm so grateful for my cohort of peers. They are a second family to me," he says.
Narcisse is grateful for the support of Meaghan Guiney, a faculty member in the School of Psychology and Counseling and Jamie Zibulsky, associate professor of psychology and director of school psychology training.
"Prof. Zibulsky was instrumental in me coming to the FDU program," he says. "When I was considering the program, she answered questions I had and connected me with current students to gain further perspective. Now that I am enrolled in the program, she helps me to understand how students' psychosocial and academic development are informed by the school and home contexts.
"The theories, discussions and questions that I have engaged in during her courses will be critical to my work as a school psychologist."
As a teacher in the classroom, "Prof. Guiney encourages me to think about race, culture, identity and students' backgrounds and how those factors inform how schools can support students," he says. "She's helped me develop into a more reflective thinker and writer."
Guiney wrote Narcisse's recommendation for the NASP scholarship, and at the conference in mid-February where he received the award, she connected him to people with a variety of research backgrounds. "I know that I can rely on those relationships when I am a practitioner and I need guidance and support," Narcisse says.
Students in the MA in school psychology program begin their field work in their first semester.
Narcisse is part of the Supportive Schools Newark partnership between FDU's school psychology programs and the Newark Public Schools; funded through a grant from the U.S. Department of Education.
At the Elliot Street Elementary School in Newark, "We use a variety of therapy techniques, such as cognitive behavioral therapy (CBT), to work with the students," he says. The COVID pandemic has brought up many challenges, such as "helping students to regulate their emotions and to develop prosocial behavior and positive peer relationships."
In addition, he found an opportunity in Nutley, N.J., school system, where he works as a paraprofessional in a ninth- through 11th-grade language-and-learning disabilities classroom.
There, he assists with grading papers and preparing lessons, but also assists students on an individual basis in the classroom, "making sure they understand the content and, when they don't, sitting and helping them; talking with them if they are having an emotionally difficult day; and connecting them with school counselors when needed."
After graduation, he plans to center his career on elementary-school children.
"If there is anything I can do as a practitioner, if I can cater to the hearts and minds of students, and do that through a social-justice lens to address social, emotional and academic needs of students of color, I will consider myself a successful school psychologist," says Narcisse.