Convocation 2021, celebrated in person, officially kicks off academic year
September 22, 2021 — For the first time in two years, the FDU community celebrated Convocation in person.
The event, which takes place at the beginning of each fall semester, formally ushers in the new school year, as academic leaders spotlight faculty achievements and welcome new members to the community.
This year, 27 new faculty members joined FDU. Deans from the Maxwell Becton College of Arts and Sciences; the Silberman College of Business and the School of Pharmacy and Health Sciences; and directors from the Gildart Haase School of Computer Sciences and Engineering; the Peter Sammartino School of Education; the Henry P. Becton School of Nursing and Allied Health and the School of Psychology and Counseling; introduced them to the University community.
Gillian Small, University provost and senior vice president for academic affairs, also recognized faculty who received tenure in 2020 and 2021.
Keynote address
Geoffrey Weinman, the longtime dean of Becton College and professor of English, delivered the keynote. He reflected on his 53 years at the University, sharing memories including his first drive to Madison, N.J., in 1968; his role in creating the University Core program and then his leadership in helping to form the School of Pharmacy and Health Sciences and the School of the Arts.
He also referenced the changes, good and bad, in communication technologies, the importance of focusing on race and gender issues, and the need to link liberal arts education to science and business.
"The challenges facing educators today are tremendous, and you are all to be applauded for the efforts you've made and continue to make to provide your students with the best education possible… In years to come, after graduation, when former students are asked what they remember and treasure most about their years at FDU the answer will be YOU, the faculty, as well as dedicated staff, who touched their lives," Weinman said.
After Convocation concluded, community members attended a reception in honor of Weinman and his contributions to FDU. At the event, the University announced a scholarship named in honor of Weinman.
Faculty honorees
Each Convocation, three faculty members are honored for their contributions in teaching, research and scholarship and service.  
This year's honorees included, James Gifford, professor of English, Distinguished Faculty Award for Research and Scholarship; Gary Darden, associate professor of history, Distinguished Faculty Award for Teaching; and, Bruce Peabody, professor of political science, Distinguished Faculty Award for Service.
Small, who presided over the ceremony and presented the faculty awards, also thanked the entire faculty for their hard work and dedication, and especially for their ability to pivot during the COVID-19 pandemic. "You have remained professional, flexible and caring to your students who have benefited greatly from your efforts."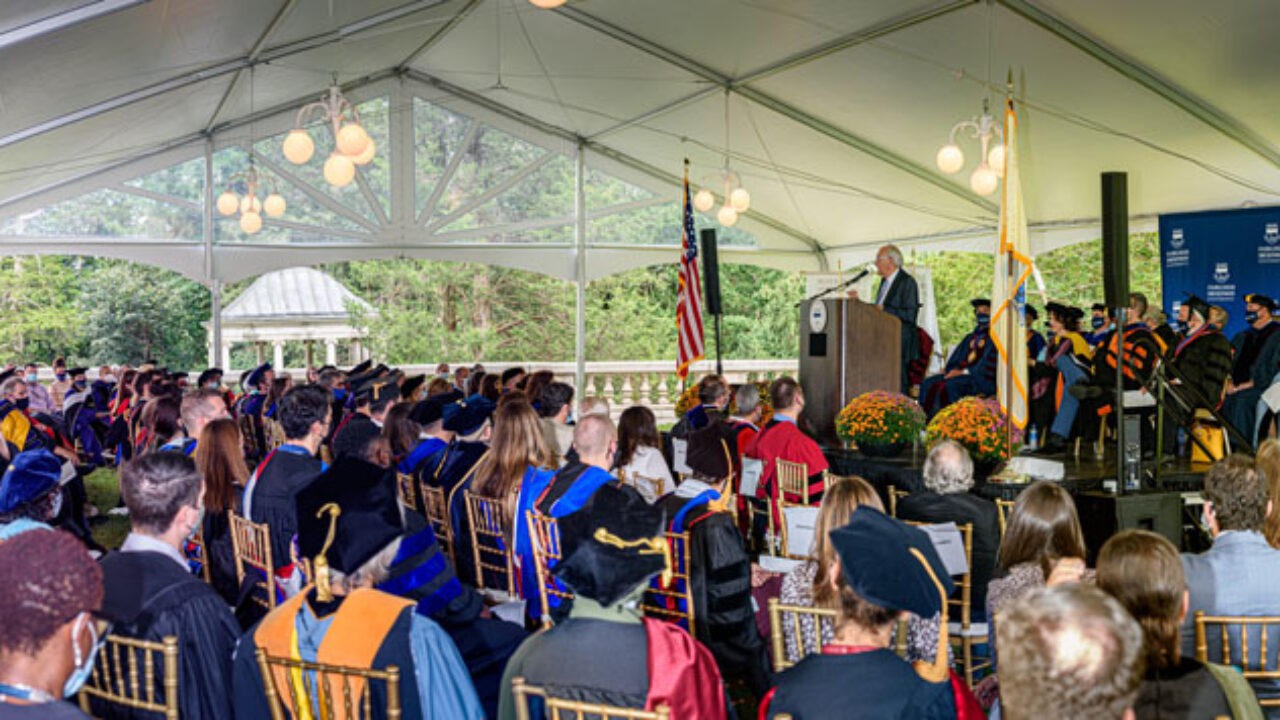 Convocation Ceremony
Past Academic Convocation ceremony videos can be viewed here.