Embracing "La Vie en Rose,' abroad in Paris, France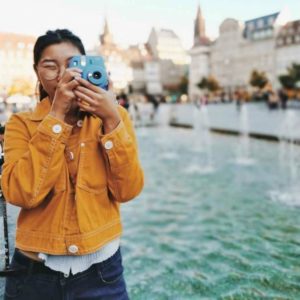 Junior Nomin Sukhbaatar snaps a photo in Strasbourg, France, where she's studying abroad for the semester. (Photos courtesy of Sukhbaatar)
By Kenna Caprio
November 16, 2018 — Nomin Sukhbaatar decided that attending college abroad just wasn't enough to satisfy her wanderlust, so she doubled down on a semester in France.
"Traveling and living in another place makes you curious about the world," says Sukhbaatar, who originally came to study at Fairleigh Dickinson University's Metropolitan Campus from Ulaanbaatar, Mongolia.
"Europe has so much to offer, with so much culture, art and history situated in one place," she says. "I've always wanted to visit France, to learn the language and experience the culture, so when I found out about FDU's partnership with IÉSEG School of Management, I knew I had to come here."
This semester, she's been to Paris, Normandy and Strasbourg in France; Berlin, Germany; and Malaga, Spain.
Already a consummate traveler, Sukhbaatar is luxuriating in Parisian life and documenting it on her Instagram account.
"I love the French lifestyle — buying a baguette or croissant from the boulangerie [bakery] and having coffee on the terrace, just watching people or reading a book, or having a beer with a friend in a cool student bar, or drinking a glass of wine by the Seine River, or going to museums. There's always something to do," says Sukhbaatar.
"The streets of Paris are so scenic and beautiful," she says. "Just walk around and explore. Don't plan too much. The best things that happen are never planned."
The junior math major also recommends students going abroad bring a neck pillow and wear comfortable clothes to relax on long flights. "Learn to sleep on the plane!" And she always carries a book with her, just in case.
"Just by talking to people you can discover a lot of things about a place or a culture. I've made my best friends by studying abroad," says Sukhbaatar. "As long as I'm meeting new people, experiencing new things and eating great food, I'm happy!"