FDU film alumna works on set of "The Marvelous Mrs. Maisel"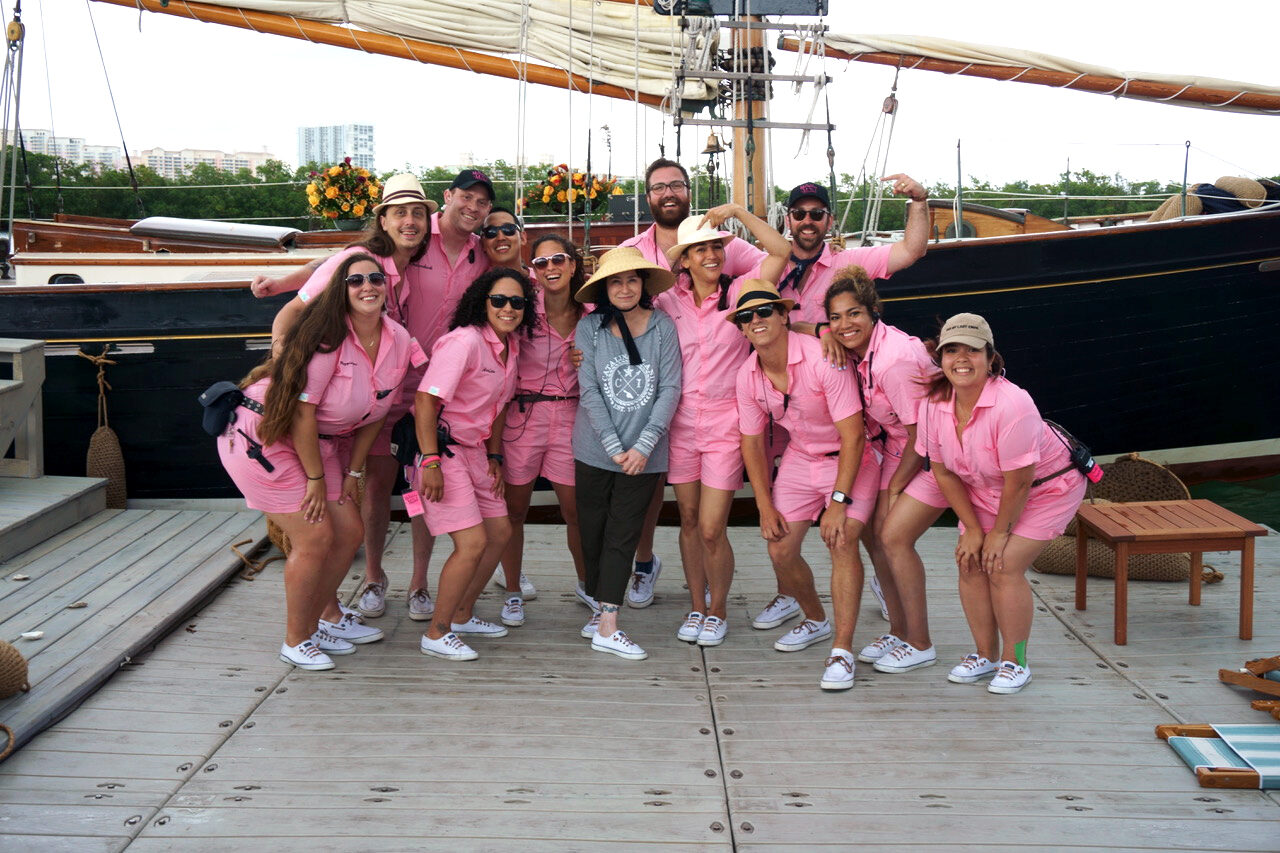 Interview by Julie Kayzerman
Nov. 12, 2019 — FDU film and animation alumna Maggie Kaszuba, BA'15 (Flor), recently worked as the key production assistant for the third season of the Emmy Award-winning Amazon Prime TV show, "The Marvelous Mrs. Maisel."
We caught up with Kaszuba to talk about what her experience on the set of the show — which won the 2018 Golden Globe for Best Television Series — has been like, how she landed a job on set and what she's been up to since the show wrapped.
FDU: How did you come to be the key production assistant for "The Marvelous Mrs. Maisel?"
MK: Well, breaking into this industry is a tough task, so I used my skills from Fairleigh Dickinson University, along with networking, to eventually land the job of key production assistant (PA) on "The Marvelous Mrs. Maisel." In this industry, your name is your best feature. When people say your name to other assistant directors (they're the ones who hire the PA staff on every TV show and movie), you want someone else's response about you to be, "smart, hardworking, diligent, willing to learn." Your golden ticket is your reputation. I interviewed for all jobs on the PA staff (key, background, first team, walkies, paperwork, etc.) and was lucky enough to be hired as the key production assistant.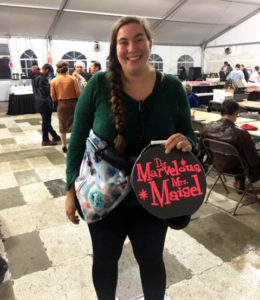 Kaszuba works as the key production assistant on the set of "The Marvelous Mrs. Maisel."
FDU: What has it been like to work on a show that has received widespread national attention and prestigious awards?
MK: The experience has truly been like no other. When [people] say we are the biggest TV show filming in New York, N.Y. right now, they're not lying. We tackle huge logistical obstacles every day.
Being on a show that has been recognized with so many awards has truly been a privilege. I am honored to be a part of such a truly professional production and am so excited about how many strong powerful women I am surrounded by each and every day. Every department is diverse and incredible at what they do. I can't give too much away about this season, but I think season three is going to be bigger and better than ever before!
FDU: Tell us what a day in the life of being a key production assistant is like?
MK: A day in the life for me is busy. I get to set about an hour before crew call and organize all of the daily scripts, which are printed with individual names. It's my responsibility that all of the appropriate people receive them every morning. I pass out other daily paperwork and then I set up "lock-ups" for rehearsal and the day's work of production assistants to keep the crew quiet and prevent them from walking into the middle of a rehearsal or a take. After all of that is set, I usually stay close to the director of photography, gaffer (chief lighting technician), key grip (shapes and diffuses light, while giving support to the camera department) and digital imaging technician (DIT) to relay any production needs to my first or second assistant directors on set.
I help coordinate any transportation logistics and get people where they need to go by communicating with the transportation captains. Mostly, I station all the additional PAs throughout the day to help production get the day done. At the end of the night, I sweep the sets and stay until all the departments are done. My workday ranges from about 14-16 hours, sometimes more, but no less than 14. When it's over, I head home to wake up to do it all over again!
FDU: What aspects from your education at FDU have helped you accelerate in your career?
MK: I learned a lot at FDU, mostly from my professors Howard Libov, David Landau and Vincent Guagenti. They really outlined different points that I would come face-to-face within my career. The most important thing I learned from them was to network as much as you can, always work hard and take every job you can.
A course that I didn't get to take as an FDU student but that I've returned to twice to speak in is "How to Freelance." I find it to be a good tool for students trying to enter the industry. David Landau does an amazing job at bringing different industry professionals back to campus to show students there are different avenues to take and get them thinking about which one might be good for them to pursue.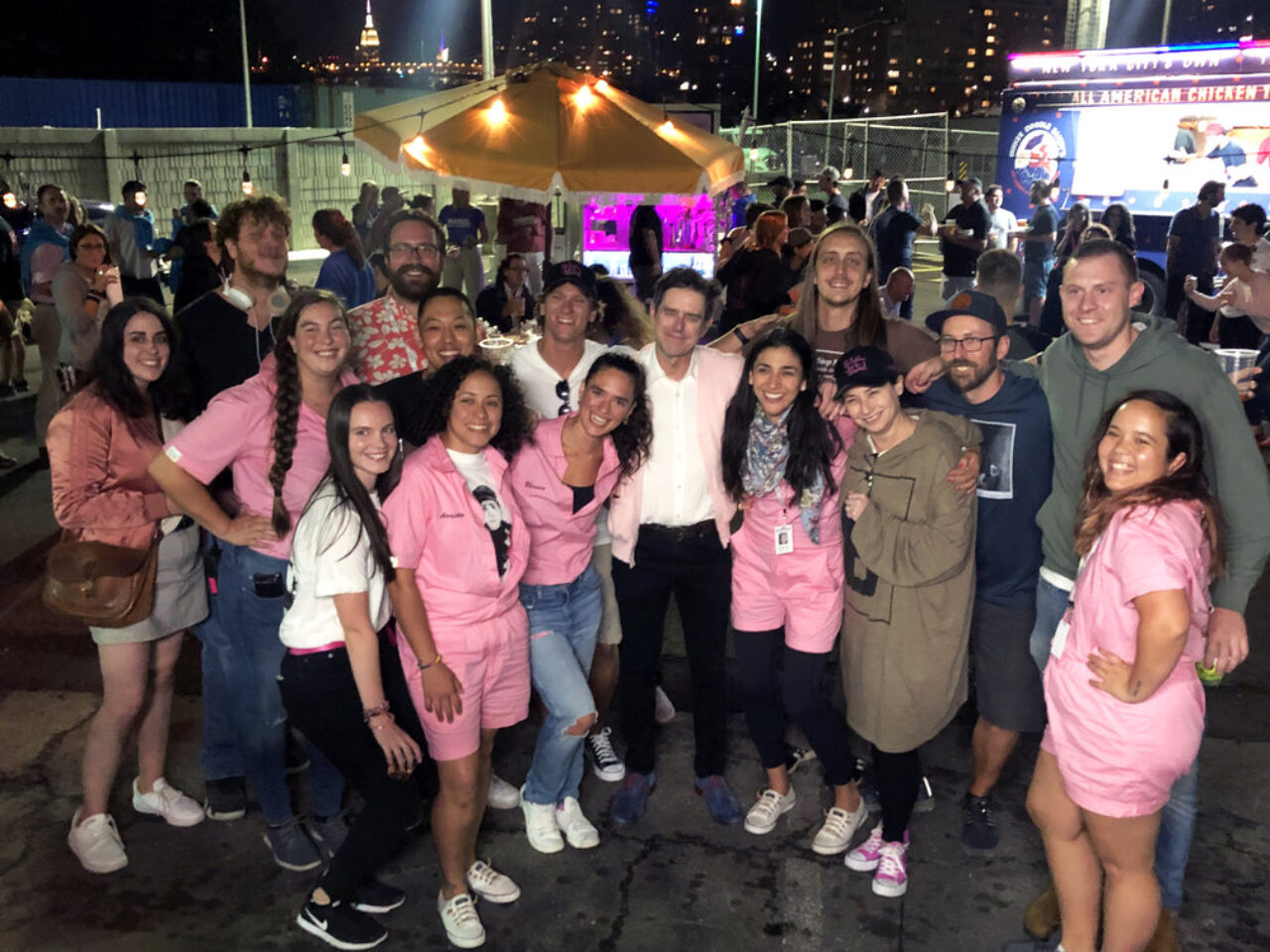 FDU: What is your advice to young students aspiring to break into the film industry?
MK: My advice is to network every chance you get. I cannot stress enough how many jobs I've gotten because someone I was interviewing for worked on my first TV job. Word of mouth in this industry is truly gold.
Don't be afraid to reach out to friends, family, or me! You never know what opportunities are out there. I recommend looking up articles on how to be a lock-up PA (the most basic type of production assistant) and how to use a walkie for TV and film. The more advanced you are with those two things, the better off you are when you start looking for jobs.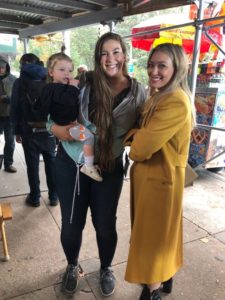 Kaszuba on the set of the "Lizzie McGuire" reboot with her niece and actress Hilary Duff.
FDU: What's next for you?
MK: Since "Maisel" wrapped, I've been working on a new show called "Dickinson," which was released on Apple TV+ on Nov. 1, 2019. We are currently filming season two of the show. It's set in the 1860s but features a modern take on Emily Dickinson's life. Each episode follows one of her poems. It has been an absolute pleasure working on the show, and it's been a great transition to go from the 1960s (on the set of "Maisel") to the 1860s with no electricity and horse carriages.
I also got the opportunity to work on the first day of the "Lizzie McGuire" reboot here in New York City, N.Y. They only filmed for one day here and will film the rest of the show in Los Angeles, where Hilary Duff and her family live. I worked on two seasons of "Younger" with Hilary, so reuniting to do this one-day shoot with her was incredible. We've kept in touch over the past three years and I can honestly say she's the most down to earth person I've ever met!
Three years ago she gave me a gold necklace that says "Maggie" on it, and when she gave it to me she told me it's because "no matter what set you are on, I want everyone to know your name." I've worn it every day since.