FDU Receives the "We Value Our Veterans" Academia Award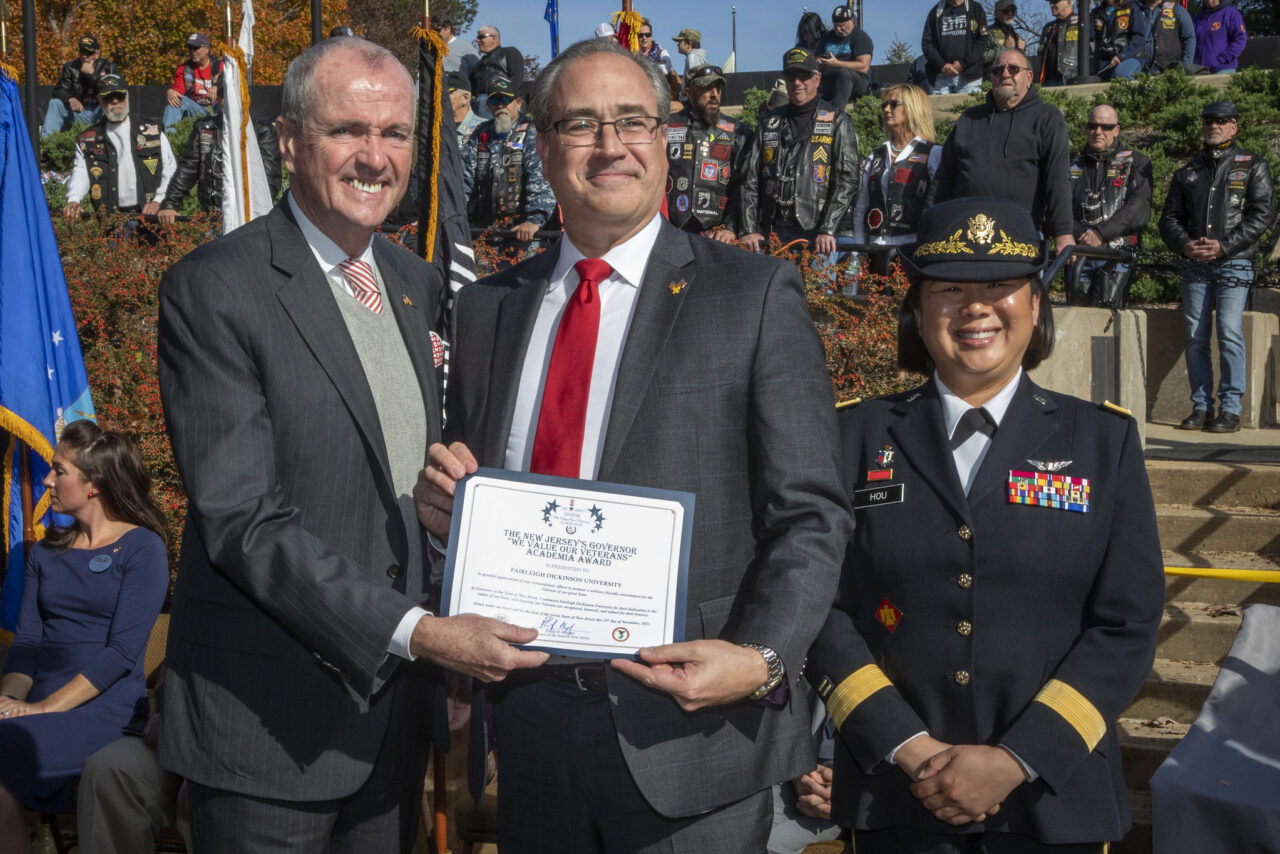 November 11, 2021 – Fairleigh Dickinson University's Office of Veterans Services was recognized by New Jersey Governor Phil Murphy and the New Jersey Department of Military and Veteran Affairs (DMAVA) when they presented the "We Value Our Veterans" Academia award to FDU leaders at a ceremony at the Vietnam Veterans Memorial at the PNC Bank Arts Center in Holmdel, NJ.
The New Jersey Governor's "We Value Our Veterans" Academia Award is given to colleges and universities that honor the "sacrifices, patriotism, and bravery displayed by our men and women who have worn the military uniform."
"We at FDU are very honored to be recognized for our efforts in support of the student veteran population. As an institution with strong military roots, we are grateful to be awarded the We Value Our Veterans award and look forward to what the future holds for all military-affiliated members throughout our community, said Martha Papson Garcia, Army veteran and director of FDU's Office of Veterans Services.
To be eligible for the award, FDU received a total of 105 of the required 70 points on the submission application.  Programs and services that helped FDU to qualify for the award include: 
Providing parking spots for Purple Heart recipients on both New Jersey campuses
Offering priority registration for Veterans
Holding Veterans Service Organization meet and greets
Regularly honoring our veterans on Veterans Day
Preparing care packages for the deployed
Ensuring a Veteran sits on campus committees
In addition, FDU provides other large initiatives to support Veterans including hosting the Our Community Salutes North Jersey event each May, offering a Parent Boot Camp 101, organizing a Veteran grave stone cleanup and providing recognition pins, challenge coins and honor stoles upon graduation.
Both the Florham and Metropolitan campuses hosted a variety of programs to honor student veterans. Both campuses supported the  "Post a Note and Thank a Vet" initiative to give the FDU community a chance to recognize the sacrifice our veterans have made for our country. A thank you board was set up on the Florham Campus outside of the Wallach Veterans Lounge and on the Metropolitan Campus outside of the Student Union Building. On the Florham Campus, the Student Veterans also painted Reuters Rock on Saturday, Nov. 6.