Five questions with the 2022 Metropolitan Pinnacle Award recipient Lisa-Monet Jefferson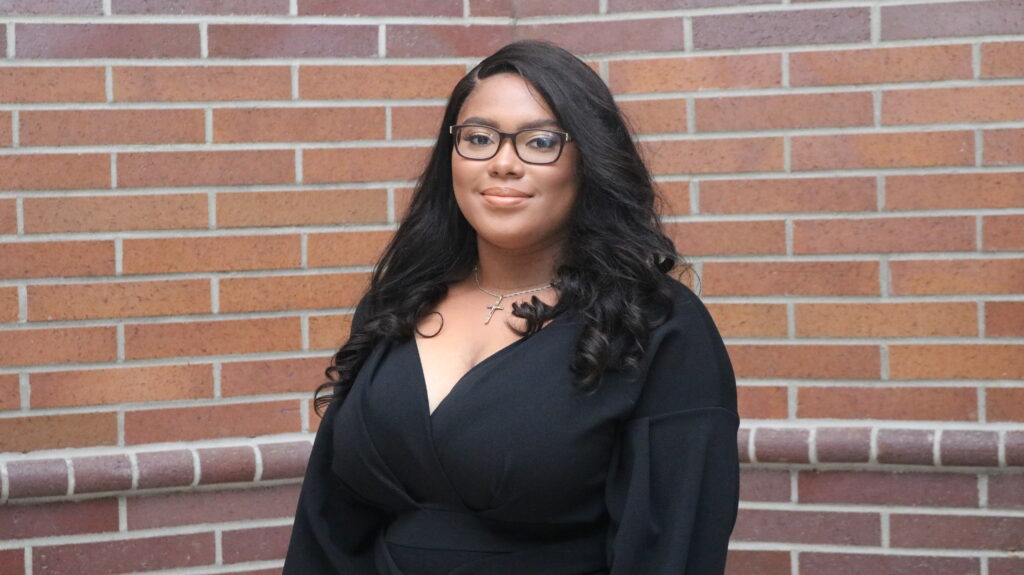 Interview by Kenna Caprio 
From day one at FDU, Lisa-Monet Jefferson has bled burgundy and blue. Her commitment and devotion to the University led her to take on multiple student leadership positions on campus, including president of the Omicron Chapter of Omega Phi Chi Multicultural Sorority; vice president of the Inter-Greek Council and president of the Women in Business Club. As a student ambassador, and then president of the Student Ambassador Program, she introduced prospective students to the Metropolitan Campus and shared her enthusiasm with them and their families. Now she's ready for her next leadership role — representing the Class of 2022 at commencement and beyond. 
FDU: How has FDU shaped you into the person you are today?  
Lisa-Monet Jefferson: I chose FDU because from the second I stepped onto campus, I felt that the staff and faculty here really cared about me as a person. I wasn't just another number to them, and I knew that they truly cared about my success. This thankfully has stayed true all throughout my four years here and I couldn't be more grateful.
FDU has given me the confidence to dream big and to shoot for the stars. Many of the people whom I've met here at FDU saw so much potential in me before I even realized what I was capable of. The relationships I formed throughout my four years here have helped me to develop into the confident and capable person I am today.
FDU: Which class left the biggest impression on you? 
LMJ: I took Organizational Behavior with Scott Behson, professor of management and Silberman Global Faculty Fellow, in my sophomore year and that class definitely left one of the biggest impressions on me. The class really helped solidify my interest in business and human resources, and gave me an idea about what I wanted to do career-wise after college.
FDU: What's your dream job? 
LMJ: My dream job is to work in the talent acquisition field! Talent acquisition is so important, because finding and hiring the right people is crucial to the success of any organization.
Post-graduation, I'm planning to continue working at TRANZACT, as part of their HR team, to return to FDU for my MBA in the fall 2022 semester, and focus on running my small business, Prestige Creations, a custom apparel company on Etsy. 
FDU: What's something you wish people knew about you? 
LMJ: Something I wish people knew about me is that I love making new friends! I love talking to other FDU students that I've never met before — especially if they are Marvel or Harry Potter fans!
FDU: What's your favorite campus event or tradition and why? 
LMJ: My favorite campus event is Family and Friends Weekend! The staff, faculty, and friends I've met here at FDU have always felt like a second family to me. I love Family and Friends Weekend because it gives me the opportunity to bring together my actual family with my FDU family!