Meet the new faculty member in the Peter Sammartino School of Education
This academic year, across multiple disciplines and schools, more than 20 new faculty members joined the University. Get to know the new professor in the Peter Sammartino School of Education!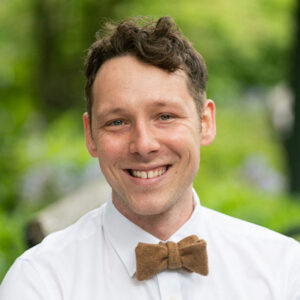 FDU: What are you currently reading?
Jeremy Wright-Kim: I love this question! I'm currently reading The Sum of Us: What Racism Costs Everyone and How We Can Prosper Together by Heather McGhee; it's part of the School of Educations reading group. Aside from that, I'm also reading How to Hide an Empire by Daniel Immerwahr.
FDU: When you were a student, who was your favorite teacher? Why?
JWK: I've had three rounds of being a student at this point, so I've had many wonderful teachers. My advisor in undergrad — Dr. Bärbel Such — was just the best. I was a German studies major, and she brought everything to life: the literature, the food, history, art, architecture, etc. But, what made her an even better teacher was her ability to help me see the bigger picture. When I got too bogged down over a test grade or stressed about a paper, she reminded me to take a breath, remember why I was there in the first place (to grow), and helped me move forward.
We also studied abroad together in Austria twice, so that may have something to do with the fond memories!
FDU: What are structural and institutional inequities that hinder American higher education? How can higher education be more accessible and more inclusive?
JWK: U.S. higher education is a beautiful, yet complicated enterprise. It offers pathways to socio-economic mobility, opportunities for cross-cultural learning, and generates advancements in knowledge that benefit us all (just to name a few). But, there are still persistent gaps in attainment by race/ethnicity. Rising costs are saddling students with life-changing amounts of debt — with the largest shares falling on the shoulders of Black students. Opportunities for pre-collegiate activities like AP courses, SAT prep, college-level curricula etc. continue to be segregated by community wealth. The list goes on.
There's a lot we can — and should — do to help American higher education make good on its ideals. My particular research focuses primarily on the community college sector. Community colleges are often described as "doing more with less," because they have far fewer resources than other institutions, but they serve the lion's share of students in need of the most support (e.g., low-income students; post-traditional students; those needing academic supports, etc.). Given its direct role in broadening access and supporting large swaths of students underserved by other institutions, figuring out how best to resource and support this sector is an important step toward addressing the many inequities that persist in American higher education.
FDU: What brought you to FDU?
JWK: There were many things that made FDU the right next step for me. I'd say one of the biggest attractions was the opportunity to work with the new Ed.D. in Higher Education program. I love the access and flexibility it provides students on their way to becoming scholar-practitioners. And, as a relatively new program, there's still room to build and enhance as we move along. It's an exciting time to hop onboard!