Metropolitan Campus Spring 2022 Move-in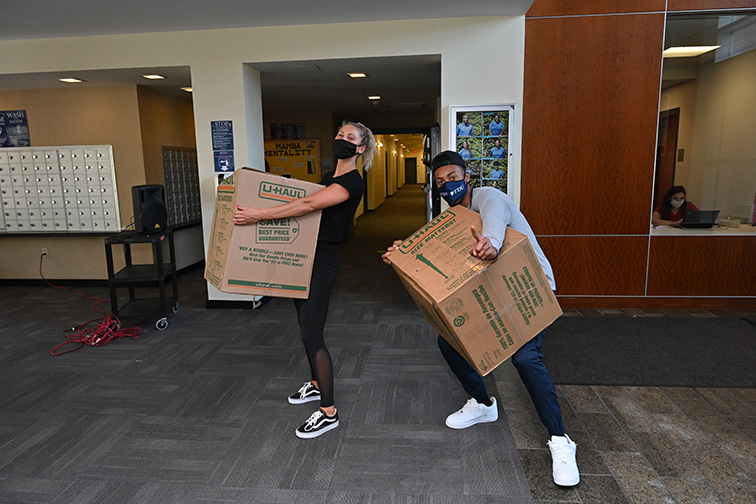 January 18 – The residence halls will open for the spring semester on Sunday, January 23. As part of the return to campus, entry testing will be performed on all residential students. FDU will continue to use the services of Mobile Health to perform re-entry testing.
Students can return to campus on the following dates/times:
Sunday, January 23 (anytime between 10 a.m. – 4 p.m.)
Monday, January 24 (anytime between 11 a.m. – 3 p.m.)
Tuesday, January 25 (anytime between 11 a.m. – 3 p.m.)
Wednesday, January 26 (anytime between 11 a.m. – 3 p.m.)
Thursday, January 27 (anytime between 11 a.m. – 3 p.m.)
Please sign up by Wednesday, January 19, to select a date to come to campus on your MyHousing portal. To access your portal, you can use this link or navigate to the housing home page and click on the MyHousing portal link.
Testing information for January 23 is below. Those students who select January 24 – 27 will receive a separate email with testing information specific to your selected day.
Your first stop when you return to campus will be testing. For January 23, Rapid Antigen testing will take place at Robison Hall on the 4th floor from 10 a.m. – 4 p.m. Please note that students who arrive after 4 p.m. will not be accommodated. Staff members from Student Health Services will be on location at the Fitness Center to assist. You will be notified of your test results via email approximately 30 minutes after your test. After you have received a negative test result, you will then be able to proceed to the Student Union Building to check in with Housing and Residence Life for the spring semester. Enrollment Services will be on-site as well to assist with financial clearance.
If you have tested positive over the winter break you will be required to bring evidence of your positive test to move in (your evidence must contain your name, the date of the test, and the result). If you cannot produce your positive test at move-in, you are required to test on-site via Mobile Health. 
As per guidelines from the U.S. Centers for Disease Control and Prevention (CDC), students who test positive will need to isolate either on campus or at home for five days from onset of symptoms or test date. 
Thank you for your understanding and anticipated compliance with the above steps that are designed to further ensure a successful return to campus for the Spring 2022 semester.
Residence Hall Common Areas
From January 23 – January 28, all residence hall common areas will be closed to all residents.
Visitation Policy
Residential students will not be able to visit other residence halls during the first week of classes. The non-resident student visitation policy remains in place.
Dining
The SUB Dining Hall will have normal hours with pick-and-go menus starting with brunch on Sunday, January 23, through dinner on Friday, January 28.
From Monday, January 24, through Friday, January 28, the Riverside Café will be mobile order only as it was in the fall. Dickinson Café will open on Monday, January 31.
There will be no dine-in at any location from January 23 – 28.
Normal in-person dining operations will resume at brunch on Saturday, January 29 unless advised otherwise.
Bookstore
The campus bookstore will remain open under normal operation, following all indoor masking and social distancing guidelines.