Operation Soldiers' Stockings
On August 29 the Hospitality E-board president, Diana Kowalski, joined International School of Hospitality, Sports and Tourism Management faculty advisor Professor Ruth Hladyk and Martha Papson Garcia, Director of Veteran Services, to discuss a collaborative project in service learning. Hospitality students are required to undertake a service-learning project each year to encourage them to understand the needs of others in the outside world, so they see beyond their own lives.
After a few planning sessions, the group decided to purchase stockings and fill them with donated toiletries and treats destined for the enlisted service members.  According to Garcia, it is the enlisted member with the most need and limited financial resources who would be most appreciative of receiving the goods.  Polling some of her veteran students, Garcia learned that among the most requested items were toilet paper, ramen noodles and hot sauce, so in addition to toiletries we set out to gather the highly desired requested items.   Hospitality students purchased and donated the stockings to start the project and begin stuffing.
But how to spread the word about the collection?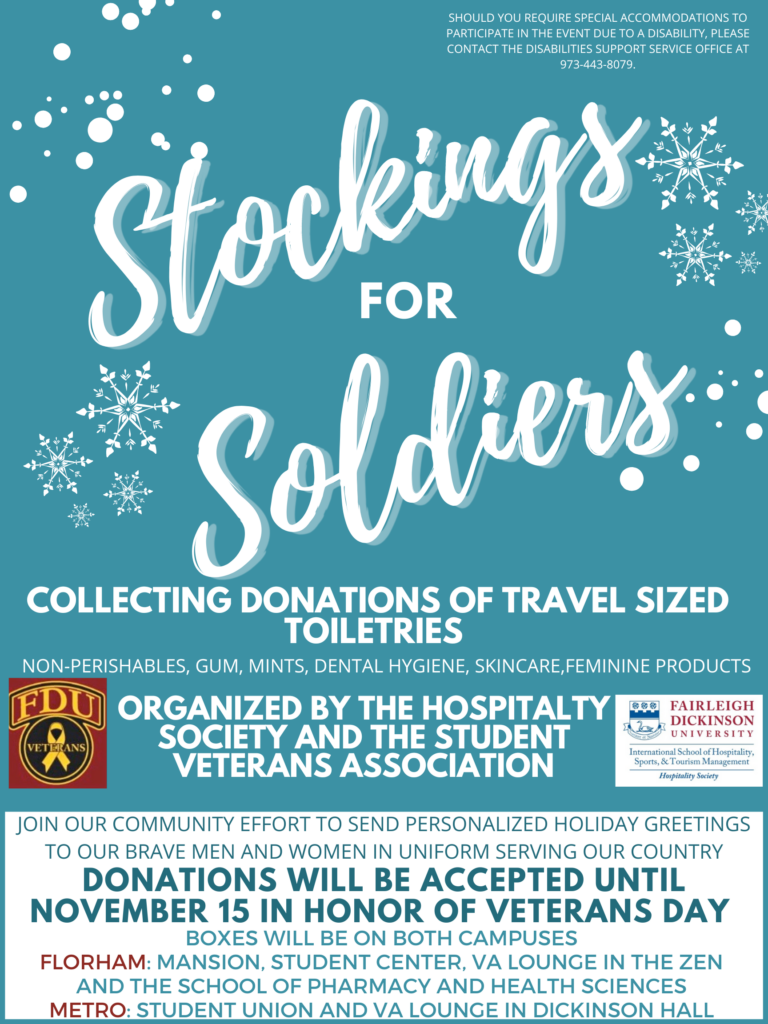 Initially, the team created donation boxes and placed them around both New Jersey campuses. Soon they realized we needed a larger audience and a larger number of items.  Garcia came up with the brilliant idea of creating a wish list on Amazon which allowed anyone to make relatively small purchases on bulk items that were placed on the wish list.  Of course, toilet paper, ramen and hot sauce made that list! Hospitality flooded their social media accounts and Veterans Services did the same and the boxes began arriving! The goal was to complete collection on November 15, in honor of Veteran's Day, and to finish stuffing by November 22 so local recruiting stations could collect the goods and move them to designated military bases.  Veterans' Services is responsible for managing to get the supplies to the bases.
Garcia coordinated with Maj. Wood from the 101st Airborne Division out of Fort Campbell, KY. He has soldiers deployed to both Poland and Romania. We will be sending over 200 stockings to our deployed soldiers in both countries. Donations are still coming in and the plan is to send these boxes out by the first week in December.