Spring 2021 Metropolitan Campus move-in details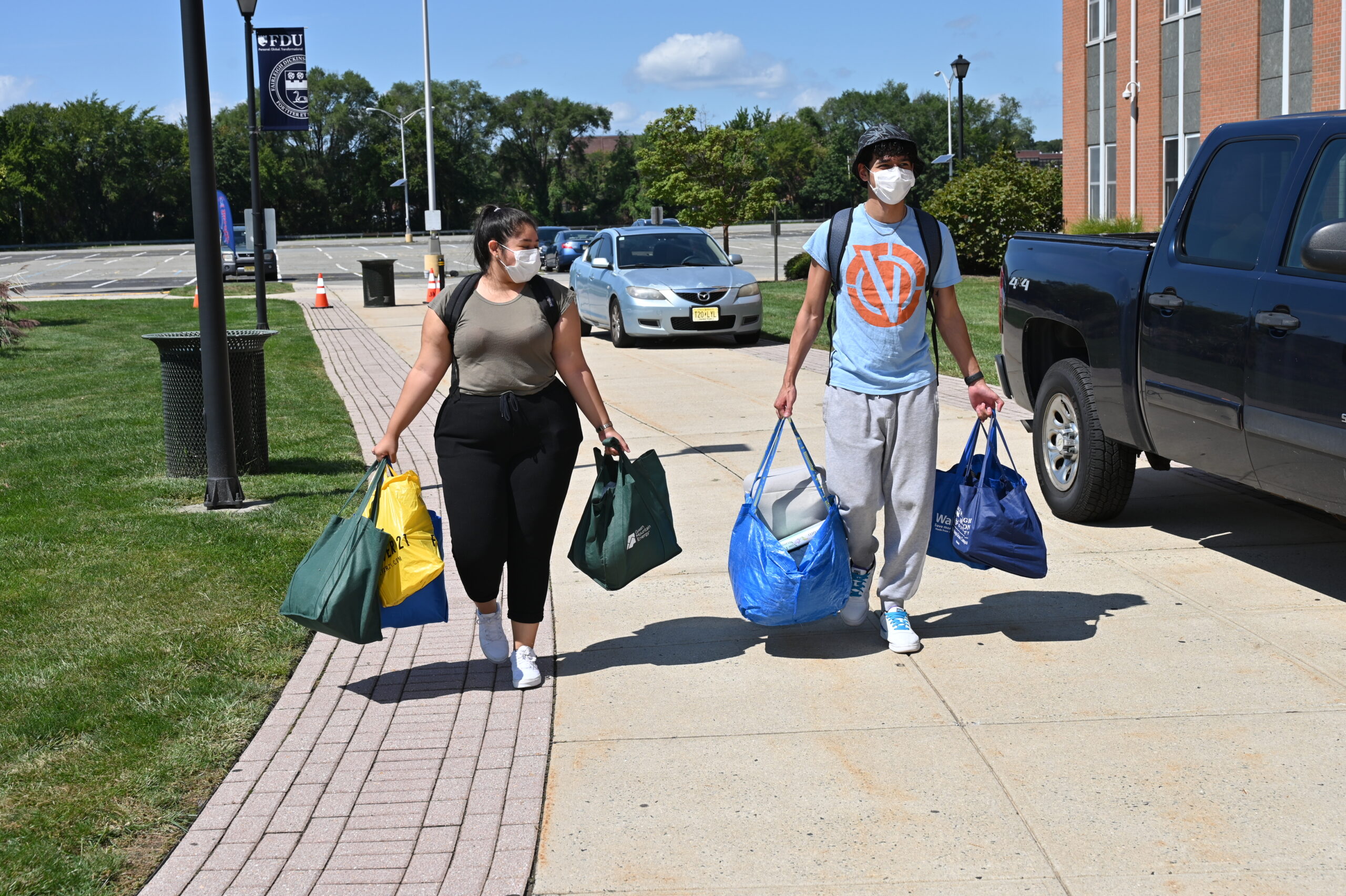 Jan. 6, 2021 — Beginning on Tuesday, Jan. 19 through Saturday, Jan. 23, Fairleigh Dickinson University Metropolitan Campus resident students will be permitted to move-in to the residence halls.
These move-in plans are subject to change pending evolving federal, state, and local guidance.
We are committed to making your on-campus living one of the most memorable FDU experiences. Please review the following information in full to ensure a safe and successful move-in process.
COVID-19 testing
To support the health and safety of our entire community, Fairleigh Dickinson University will require all residential students to undergo a PCR nasal swab test upon arrival. As such, students will need to submit a valid insurance card to Health Services before move-in. Please scan or take a clear picture of the front and back of your insurance card and email to Nurse Carol, cbtaylor@fdu.edu, by Monday, Jan. 11. Be sure to include your full name and student ID #.   
All residents will be tested in the Fitness Center from 4 PM – 6 PM on their assigned move-in day. Failure to get tested could result in cancellation of your Spring Housing.  
All residents will need to quarantine, in their spring assignment, until every resident in their room or suite has received their test results.
Residents quarantining while waiting for their PCR COVID test results are permitted to leave their room to retrieve food from Riverside Cafe, do laundry, go to medical appointments, or for a medical emergency reason.
Residents will not be permitted to have any visitors during this time and are expected not to leave unless for a reason listed above.
Once a negative PCR COVID test is confirmed by Student Health Services, you will be contacted by Housing and Residence Life to come and retrieve a wristband. The wristband will indicate that you have been cleared by Student and Health Services and no longer are required to quarantine.  
Students who are exhibiting any COVID-19 symptoms when arriving for move-in will also be given a rapid COVID-19 test. These students will move directly into a quarantine/isolation room until their PCR test results are delivered.   
Moving in to the residence halls   
Beginning on Tuesday, Jan. 19 – Saturday, Jan. 23, resident students will be permitted to move-in to the residence halls. Students are encouraged to pack only the essentials they need to have a successful and enjoyable on-campus living experience. If the residence halls need to be vacated, packing lightly will make this process go more smoothly for all involved.    
Quarantine state or international students, taking in-person classes and need to quarantine, will have the option to move-in on Thursday, Jan. 14.  You will need to send an email to metrohousing@fdu.edu for approval. Once approved, you will be able to select a move-in time. 
To maintain mandatory social distancing measures, we will observe the following guidelines. This decision has been made with the health, safety, and well-being of our students in mind. The number of resident students, allowed on-campus at one time, will be limited:   
University Courts: 1 resident per section   
Linden: 1 resident per floor    
Northpointe: 1 resident, per wing, per floor  
You can select your move-in time, via Myhousing, using the following link: https://fdumetro.datacenter.adirondacksolutions.com/fdumetro_thdss_prod
Each resident will have 45 minutes to move-in fully from the residence halls.    
Each resident will be limited to bringing one (1) additional person to campus to assist them with moving in of their room.    
When you arrive to FDU on your move-in day    
Download the Campus Clear App if you have not done so already. All residents and guests assisting with move-in will be required to have the Campus Clear app and display their results in order to gain entry to campus.
Residents will check-in at Housing and Residence Life.  (GPS – 880 Lone Pine Lane, Teaneck, NJ 07666) 
If you arrive early, you will have to wait in your car until your appointment time. No one will be granted entry into their building early.    
· Resident's ID cards will be activated for the Spring 2021 semester.    
· Residents will be required to show their driver's license/state ID to check-in.    
· Residents and their guest, will be required to have the Campus Clear application and show their results.  
· All residents, and their guest, will be required to wear a face mask. No face mask, no entry.   
· As you move in, you will likely encounter others near you moving in at the same time. You will be required to practice safe social distancing and follow all posted signage. Please refrain from socializing with other individuals.  
We encourage students to have a duffel bag or small suitcase packed with two (2) weeks' worth of clothing and other essential supplies in-case there is a need to relocate to a quarantine space.
COVID-19 training 
To reside on campus in the fall, residential students must complete the mandatory  
COVID-19 training, which can be accessed at https://learn.ue.org/AL6IE789402/FDUStudents  
COVID-19 policies and procedures  

Visitors: 
Each resident is allowed one (1) visitor, from the same residence hall, in their room at a time. If you have a visitor, both residents must wear a mask in the room and must keep 6 feet between each other. There are no outside visitors allowed (commuters or non-residents). We want to ensure everyone that enters the building, belongs. This includes holding the entrance door open for other people.   
Face coverings: 
Face coverings are required indoors and outdoors except when in your room with no visitors. All students will be required to possess a face covering at all times while on campus.  
General use and requirements of face coverings:  
· Face coverings should not be worn longer than one day at a time and cloth masks must be  properly laundered daily before being used again.  
· Plastic face shields do not replace a face covering. 
· The face-covering must cover both your mouth and nose at all times.  
Basketball courts: 
Residents are allowed to use the basketball court to play "HORSE" or practice free throws. However, no man-on-man playing is permitted. If the court is being misused, the basketball rims will be removed.  
Common areas & kitchens: 
Common areas and kitchens are closed. Residents are not permitted to socialize, study, or hang out in the common area or kitchens.   
All students will be subject to the Student Code of Conduct for any violations of these policies. This is for the safety of all members of the FDU community. 
We recognize these measures may be an inconvenient to members of our community; however, we are confident that these are necessary steps for supporting everyone's health and safety. We take pride in knowing that each one of us at FDU is committed to slowing the spread of the virus and aiding in our goal to provide you with a fantastic college experience.
If you have any additional questions or concerns, please email metrohousing@fdu.edu.