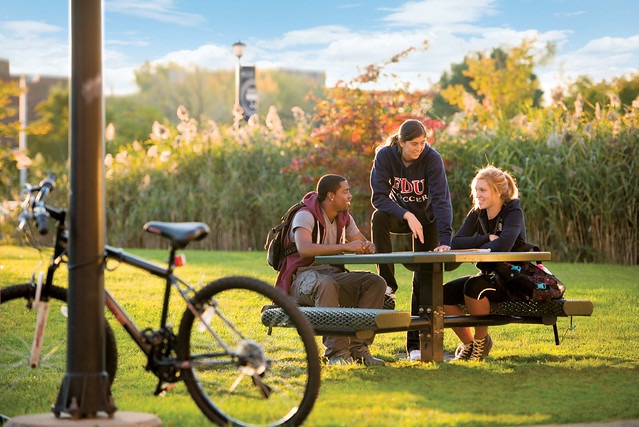 The spring semester began on Monday, January 24, as scheduled, with the first week of classes delivered remotely. In-person classes will begin on Monday, January 31.  
Spring semester classes began on January 24. The first week of classes are being delivered remotely (with possibly some exceptions such as lab courses).
Courses scheduled to be held in person will move to that format beginning January 31.
Spring recess will take place March 14 to 18. Classes will resume after the spring recess.
Final exams are scheduled for May 11 to 17. 
Below are a few important updates, details and reminders for the spring semester. Students should consult Self-Service for specific course updates.   
Move In and Testing 
Resident students began moving in on Sunday, January 23, or opted to move in during the first week. All residential students, all students who have an FDU approved exemption from the vaccine, and in-season student-athletes are being tested as a condition for their return to campus. FDU is providing the tests on campus as soon as students arrive for their move in or for their first in-person courses. Students will be notified where to test and must report on the date and time indicated.  
More information about move-in week and entry testing will be sent to students from Housing and Residence Life. 
While we understand that it is difficult to get access to tests, we also strongly encourage all other students, as well as faculty and staff, to test before their return to FDU.  
During the semester, surveillance testing will once again be an important part of our health and safety protocols.
In-Person Events 
At the end of the fall semester, when the surge began, the University prohibited large indoor social gatherings where social distancing and masking cannot be maintained. Unfortunately, we need to continue this practice for the first remote week of the new semester. We are sorry for this inconvenience and will modify this as soon as prudent. Please plan accordingly.  
Dining Locations/Dining Halls
Dining locations will be carry-out only for the first week of the semester. Eating in the dining halls is scheduled to begin Saturday, January 29.  
Bookstores 
Bookstores will remain open under normal operations, following all indoor masking and social distancing guidelines. 
Booster Shots 
As in the fall, FDU requires all students to be immunized against COVID-19. We also strongly encourage eligible community members to keep their vaccinations up to date with a booster shot. The effectiveness of the vaccines decreases over time, so boosters are critical to preventing infections and transmissions. Per the U.S. Centers for Disease Control and Prevention (CDC), those who have received their boosters will not need to quarantine if they are exposed to the virus.  
To help our community members, the University has arranged with Holy Name Medical Center to offer booster shots at University Plaza 3 in Hackensack through February 4 (Monday–Friday), from 9 a.m. to 3 p.m. An appointment must be made using this link and community members must present their FDU ID.  
FDU has arranged with Atlantic Health System to have a COVID-19 Booster Clinic on the Florham Campus Thursday, February 3, from 10 AM to 3 PM in the Orangerie.
While walk-ins will be welcomed on either date, students, faculty, and staff are strongly encouraged to pre-register and schedule an appointment via the following link: COVID-19 Vaccine – Coronavirus – Atlantic Health. All three vaccine types will be available.
When you have received your booster shot, please upload your documentation to Medicat. 
Isolation and Quarantine
Following the new guidelines from the CDC, the University has updated the protocols for isolation and quarantine.  
Isolation is required for individuals with or without symptoms who test positive for the virus. The isolation period will last for five days, as long as there are no symptoms by the end of that time. Isolation can then end, but a high-quality mask must be worn properly for an additional five days when around others to minimize the risk of transmission of the virus. This only applies to individuals who have a positive test but do not experience symptoms; individuals who have symptoms of illness must continue to isolate in line with advice from their health care providers or Student Health Services.  
Quarantine is required for community members who are identified as close contacts of a person with COVID-19 and (1) have an exemption from vaccination, (2) do not have a verified positive PCR test within 90 days, or (3) are eligible for, but have not received a booster shot. Quarantine will be for five days followed by strict mask use for an additional five days. Individuals who have received their full primary vaccination series and have received a booster, if they are eligible for one, and do not have symptoms do not need to quarantine following exposure but should wear a mask for 10 days after the exposure. For all individuals who are identified as close contacts, best practice would also include a test for the virus at day 5 after exposure, if practical. If symptoms occur, individuals should immediately quarantine until a negative test confirms symptoms are not attributable to COVID-19. 
Masking
As in the fall, everyone is required to wear masks indoors except when actively eating or within a private office with the door closed. Due to the more contagious Omicron variant, we strongly recommend a high-quality mask (a tightly fitting, multiple-layer cloth mask with a nose wire, or a three-ply disposable surgical mask, perhaps covered by a cloth mask, or an authentic, KN-95 mask). While they are readily available for purchase, masks are also available at the Public Safety offices on both campuses for those who forgot theirs.  
The beginning of the semester in particular is likely to present us with significant challenges and the potential for many positive cases, so we also ask everyone to continue taking other precautionary steps.
Please avoid large gatherings indoors, on or off campus, particularly when you do not know the vaccination status of others.
Wear a high-quality mask indoors and even outside when social distancing cannot be maintained.
Wash your hands frequently.
And please stay home and possibly get tested when you feel sick, as common cold symptoms are similar to COVID-19 symptoms and should not be ignored.  
If You Become Sick 
Students who become ill or may have been exposed to the virus should contact the appropriate health service on campus (see below) and should not come to classes or participate in campus activities unless otherwise directed by Student Health Services. All students who test positive must immediately notify Student Health Services. 
Florham Campus – Student Health Services – 973-443-8535. After hours, call Florham Campus Public Safety – 973-443-8888.  
Metropolitan Campus – Student Health Services – 201-692-2437. After hours, call Metropolitan Campus Public Safety – 201-692-2222. 
Faculty and staff members who are ill or may have been exposed to the virus should seek medical assistance through their primary care providers and notify FDU's Office of Human Resources as soon as possible. Faculty and staff who become aware of a student testing positive should make sure that Student Health Services is immediately notified. For more information, please contact Vice President for Human Resources Rose D'Ambrosio at 201-692-2706 or via email at dambrosi@fdu.edu. 
Please also continue to monitor the COVID-19 section of the FDU website.