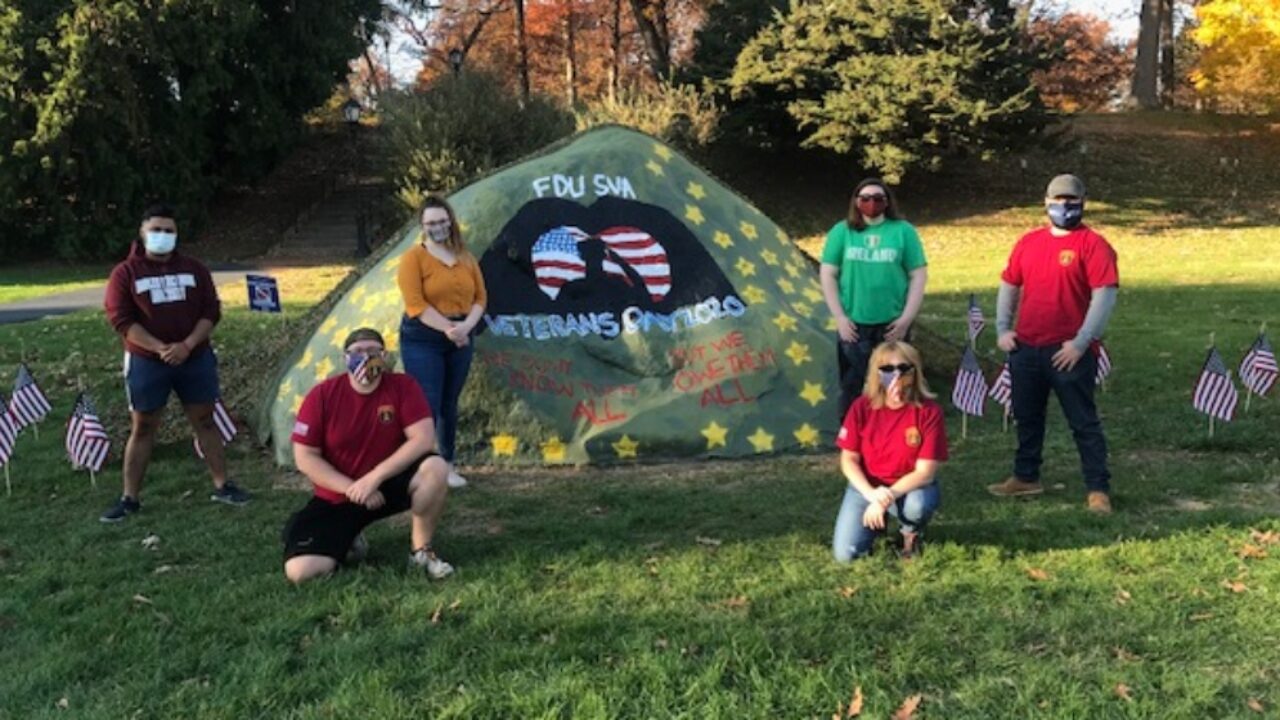 Thank You
Fairleigh Dickinson University wishes a Happy Veterans Day to all who have served in the United States military and thanks them for their service.
Check out the video above and some highlights below featuring FDU's Student Veteran Association and Office of Veterans Services during the Fall 2020 semester.
Painting Reuter's Rock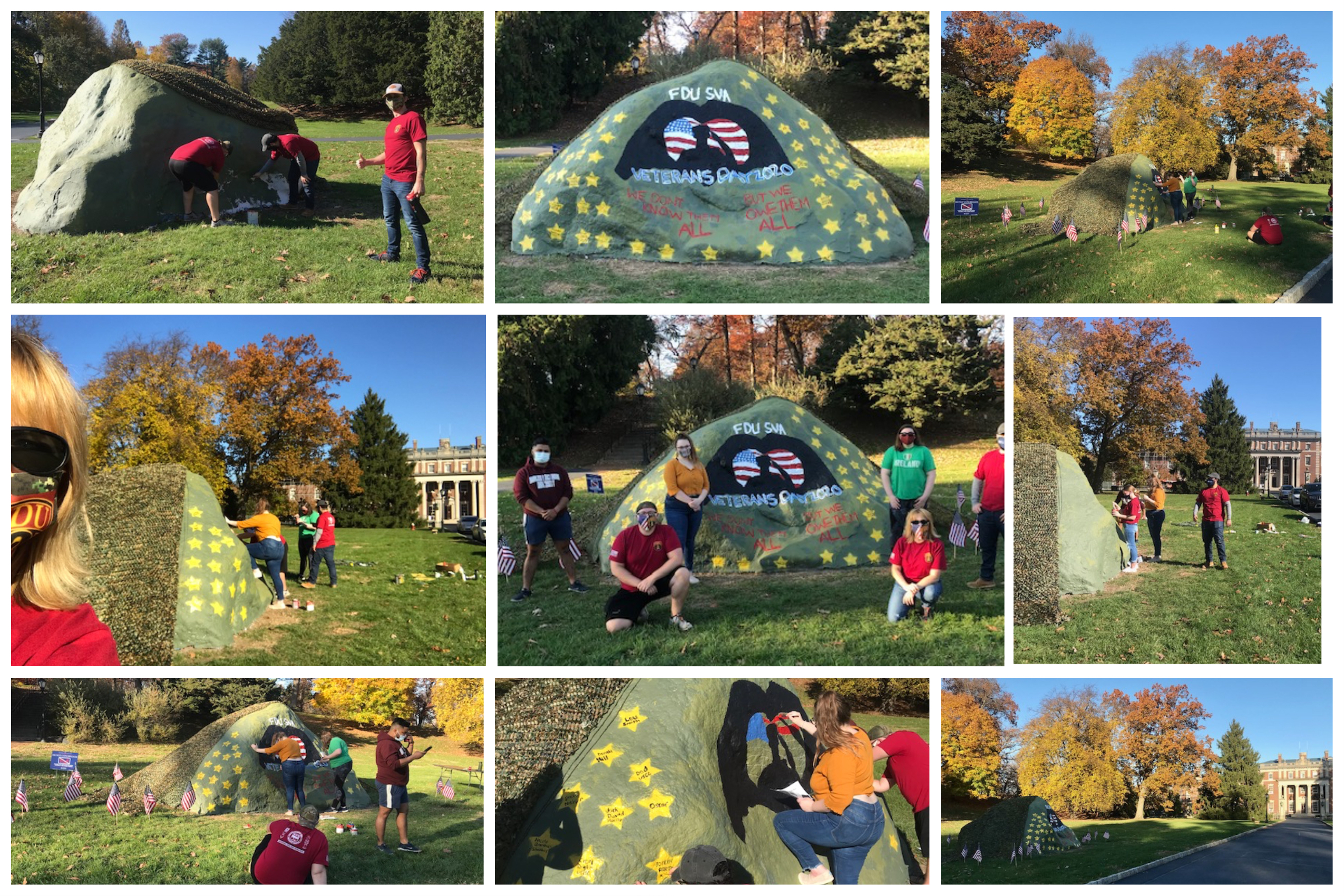 As part of an annual tradition, members of FDU SVA and Veterans Services staff came together to paint a Veterans Day mural on FDU's iconic Reuter's Rock on the Florham Campus.
Army Ten-Miler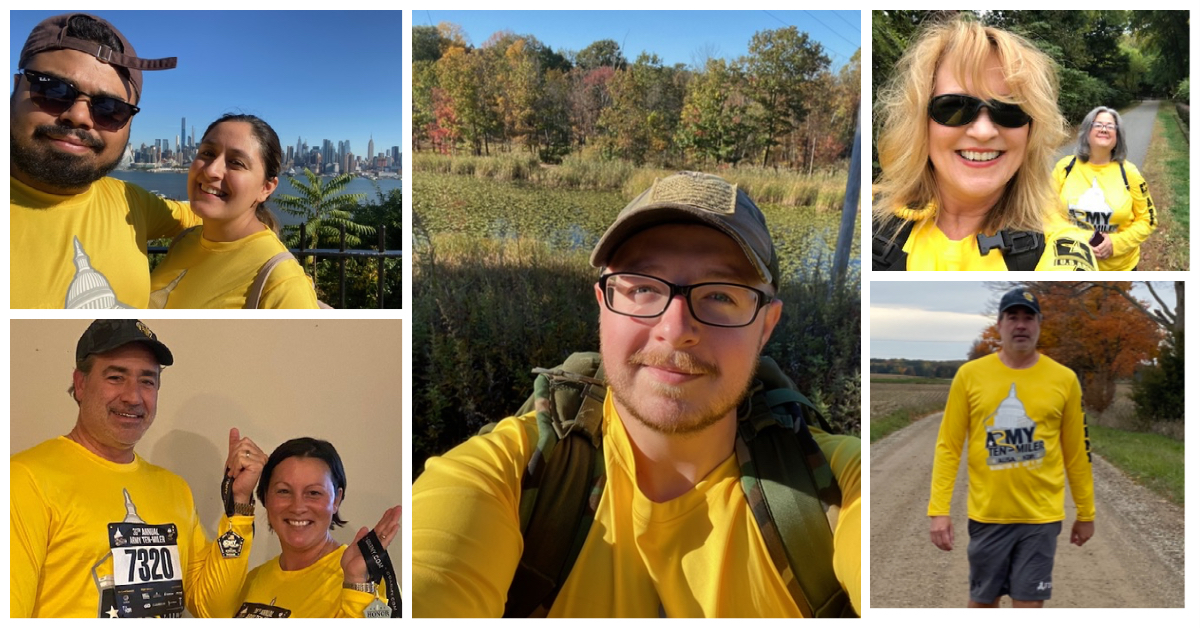 The FDU Student Veteran Association participated in the Army Ten Miler race which was held virtually on Sunday, Oct. 11. All race proceeds benefit Army Family and Morale, Welfare and Recreation programs. FDU's team was comprised of:
Chris Putnam, Marine veteran, SVA president, junior criminal justice major
Desiree Cruz, dependent, SVA treasurer, senior health studies major
Joseph Cerciello, Marine veteran, SVA vice president, sophomore biochemistry major
Faith Sands, Army spouse
Martha Papson Garcia, Army veteran, director of FDU Veterans Services, Blue Star Mom
Nicole Schultheis, Army veteran
Luke Schultheis, honorary commander of Joint Base McGuire-Dix-Lakehurst, FDU vice president for enrollment, planning and effectiveness
Patriotic Art Contest
During the Fall 2020 semester, FDU SVA ran a patriotic art contest in which students were asked to create art based on one of two prompts:
1. "This will remain the land of the free so long as it is the home of the brave." – Elmer Davis
2. "From time to time, the tree of liberty must be watered with the blood of tyrants and patriots." – Thomas Jefferson
The contest provided a $250 scholarship to the winning artists. Check out some more of the amazing submissions created by our graphic design students here: http://fdudesign.com/patriot/index.html
Skydiving with the Army Golden Knights
Director of Veterans Services Martha Papson Garcia and Vice President for Enrollment, Planning and Effectiveness Luke Schultheis went skydiving with the U.S. Army Mid-Atlantic parachute team, the Golden Knights, as part of the Community Partners Program. Check out their experience with the video below!