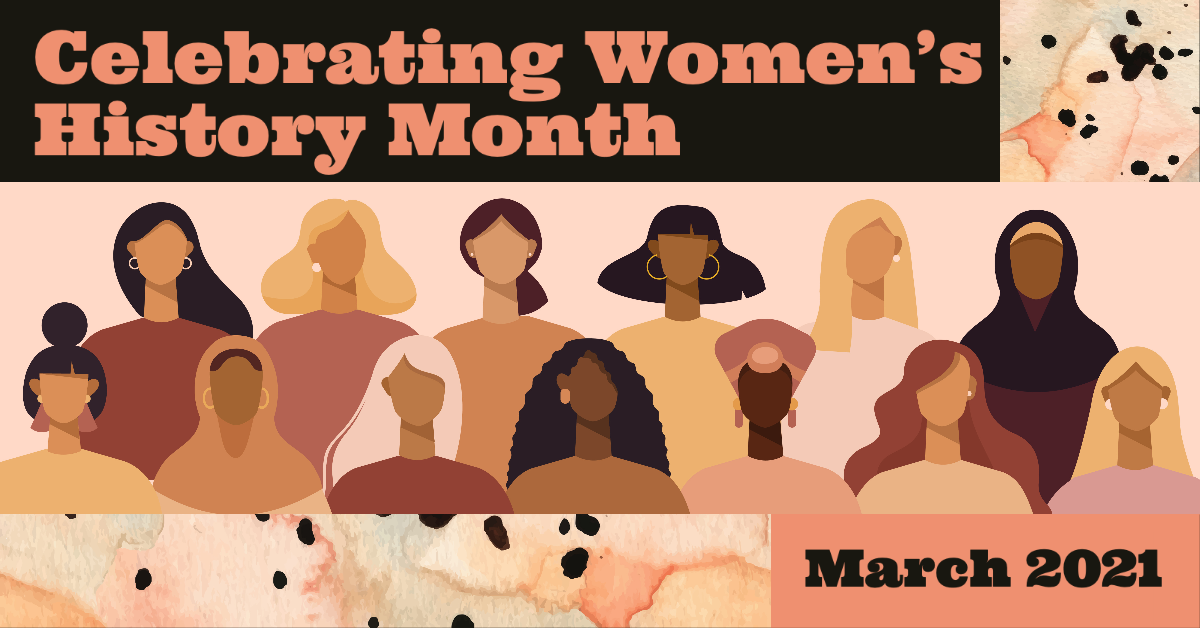 March 9, 2021 — Celebrate Women's History Month with us all March through engaging virtual events, presented by Fairleigh Dickinson University's Maxwell Becton College of Arts and Sciences.
Check out the full schedule of Women's History Month events below:
March 9, 2021 at 7 PM: "Serena is not the only one. Shedding Light on the Crisis of Black Maternal Health"
A panel discussion with Dr. Pamela Brug, OBGYN and Dr. Glenmarie Matthews, OBGYN, MBA, MS at Rutgers Health from NJ Black Women Physicians Association; Otito Frances Iwuchukwu, assistant professor in FDU's School of Pharmacy and Health Sciences and Judy-Mae Lin, honor student. Moderated by Edith Myers, associate professor of biology.
Join via Zoom: https://fdu.zoom.us/j/9705972042
March 15, 2021 at 7 PM: "The Bend and the Snap"
A screening of the movie "Legally Blonde," followed by a student-led discussion on stereotypes and microaggressions. This event is organized by Florham Campus student club I AM THAT GIRL.
Zoom Link: https://us02web.zoom.us/j/82679237094?pwd=K0diZlVQNlQ4dG9aTmNhcVZ3dnA1Zz09
Meeting ID: 826 7923 7094
Passcode: ellewoods
March 16, 2021 at 7 PM: "Pushing the Boundaries: Women, Disability and the Arts"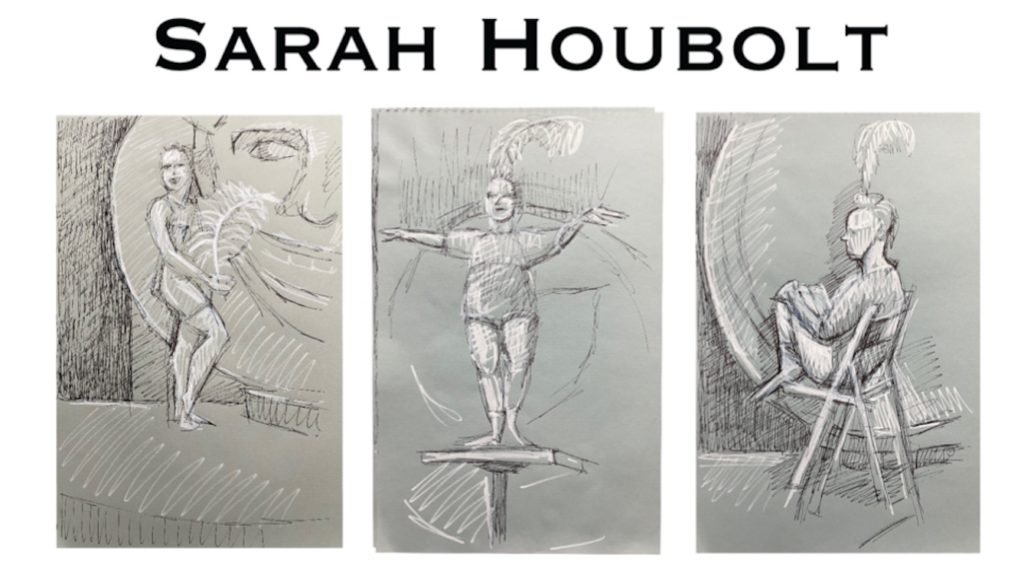 A conversation between with Sarah Houbolt, an internationally acclaimed blind actor, dancer and physical theatre performer specializing in aerials, acrobatics, hula hoop and sideshow and FDU Professor of Art Marie A. Roberts.
Zoom link: https://fdu.zoom.us/j/98463087223
March 18, 2021 at 3 PM and 4 PM: Wikipedia Edit-A-Thon
Led by Dr. Denise Rangel Tracy, FDU Assistant Professor of Mathematics
Wikipedia is one of the most visited websites in the world with an average monthly pageview count of 263 million. Yet only 18.72 percent of the biographies on (English) Wikipedia are of women. Help change this!
A short introduction to editing on Wikipedia will be given as well as a discussion on the notability of a subject for the purpose article creation. We'll have ideas for new articles to create and suggestions for improvements to current articles. This will be an open event, drop by whenever you can and stay for as long (or short) as you like. No prior editing experience is required. This will be in alignment with the Wikiproject Women in Red.
Register in advance here: https://fdu.zoom.us/meeting/register/tJ0rfuyqrDMjHNPhL6BvD3G_XLoLuntdduAa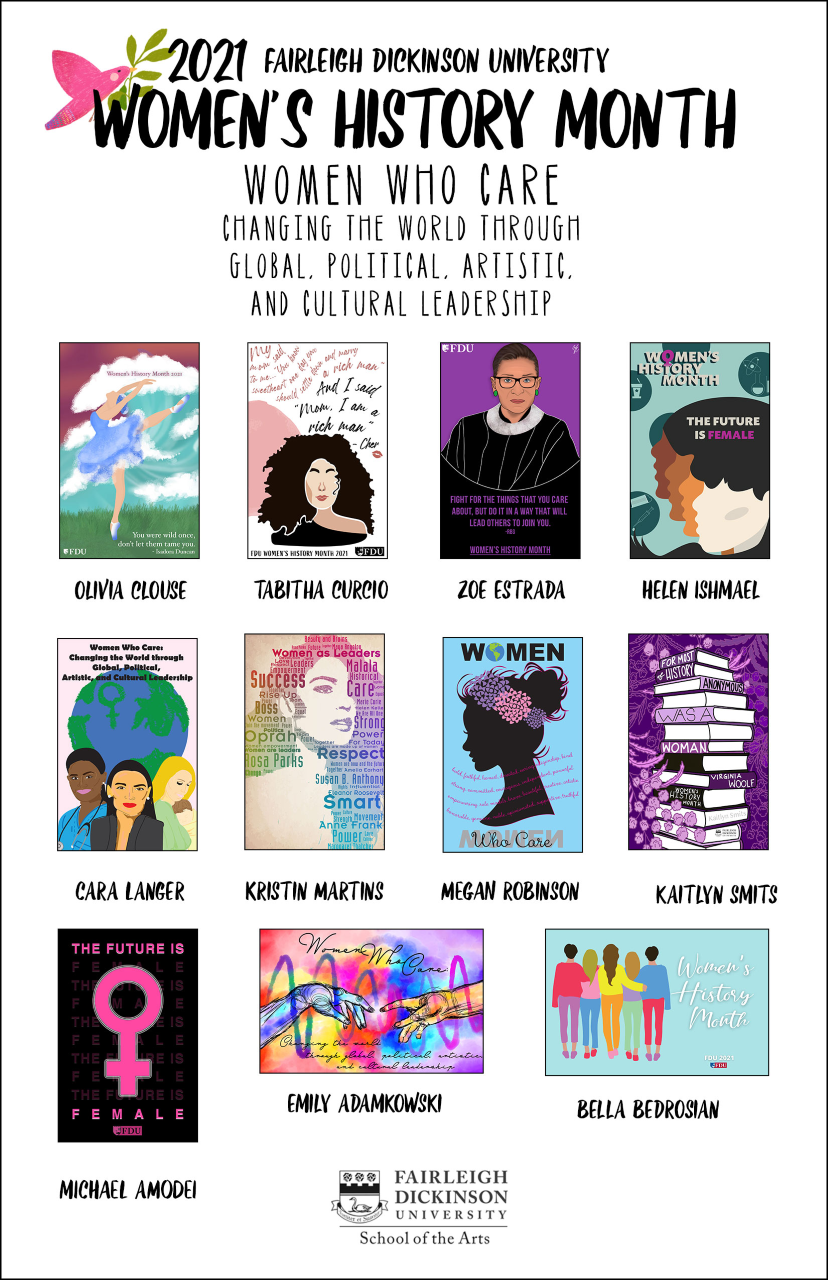 March 22, 2021: Graphic Project Reveal
Graduating graphic design seniors were asked to create posters and zoom backgrounds in their School of the Arts Professional Practices class based on the Women's History Month theme: Women who Care: Changing the World through Scientific, Cultural, Political, and Artistic Leadership.
Posters: http://fdudesign.com/WHM2021/index.html
Zoom backgrounds for download: http://fdudesign.com/WHM2021/whm_zoom.html 
March 23, 2021 at 7 PM: "Sister to Sister Open Conversations"
Come to this student-centered event to meet FDU Alumnae who will share with you tips and strategies on how to survive and/or thrive at FDU, experiences in the workplace, and suggestions for grad school applications.
Zoom link: https://fdu.zoom.us/j/9705972042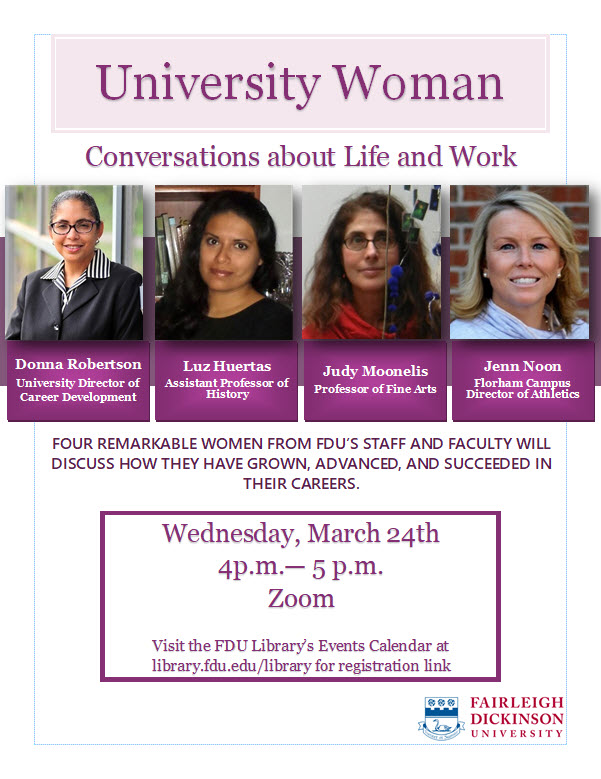 March 24, 2021 at 4 PM: University Woman: Conversations about Life and Work
Four remarkable women from FDU's staff and faculty will discuss how they have grown, advanced and succeeded in their careers.
Panelists include: University Director of Career Development Donna Robertson, Assistant Professor of History Luz Huertas, Professor of Fine Arts Judy Moonelis and Devils Director of Athletics Jenn Noon.
Registration link: https://fdu.zoom.us/meeting/register/tJYsd–grTsvGtO_r1_5WX6gjB7BwI6WOnXQ
March 30, 2021 at 7 PM: Hot Topics Event "Gender, Sexuality and Civil rights in the Workplace: What the Equality Act Means for You"
A panel discussion with Dave Barber, Deputy Chief Counsel, California School Employees Association and Shelmun Dashan, Deputy Director, Division of Financial Institutions at the Illinois Dept. of Financial and Professional Regulation. Moderator: Dr. Carrie Shanafelt, assistant professor of literature, languages, writing and humanities.
Join via Zoom: https://fdu.zoom.us/j/95572131075