Women's History Month 2022
March 2, 2022 — Celebrate Women's History Month with us all March through engaging events presented by Fairleigh Dickinson University.
Thursday, March 3, 7 p.m.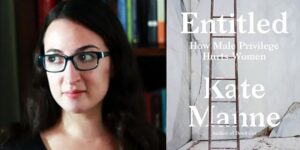 Kate Manne is an associate professor in the Sage School of Philosophy at Cornell University. She is the author of Down Girl: The Logic of Misogyny (Oxford UP, 2018), Entitled: How Male Privilege Hurts Women (Crown PRH, 2020). Her recent New York Times column, "Diet Culture is Unhealthy. It's Also Immoral," explores how body discrimination is used as a form of moral shame. In the talk, she explains why fatness is not plausibly a genuine moral issue.
Monday, March 7 – Friday, March 11, 2022
Florham Greek Senate presents the Women's History Month Feminine Hygiene Product Drive! Throughout the week, drop off all products in the box located in the Student Center. This event supports Distributing Dignity.
Tuesday, March 8, 2022, 12-1:30 p.m.
Celebrate International Women's Day with Florham Greek Senate! Come to the Library Lawn for the celebration at 12 p.m., followed by the march at 1 p.m. Celebrate the women in your life by bringing your voice. Signs welcome!
Tuesday, March 8, 2022, 9-11 p.m.
Come down to the Knight club in the Student Union Building on the Metropolitan Campus to grab a rose and dance the night away! The brothers of Sigma Pi will also be giving out roses as part of Women's Appreciation Day. Open to current students.
Thursday, March 10, 4-5 p.m.
The FDU Library is proud to celebrate Women's History Month as we welcome Heather Bruegl of Forge Project.  Ms. Bruegl will bring light to the issue of why the numbers of missing and murdered indigenous women in the U.S. are largely unreported.  The event is online – register HERE.
There is an epidemic that no one is talking about outside of Indian Country. Within our community, we are dealing with an epidemic of Missing and Murdered Indigenous Women. With numbers so high that they are unreported, how do we deal with it all? Why aren't there concrete statistics? Why do the crimes go unreported?  Let's talk some history and try to find out why this is an issue and what we can do in and out of Indian Country to make sure that our sisters, mothers, daughters, wives and girlfriends don't become a statistic. Heather Bruegl, director of education at the Forge Project will present during this virtual event, followed by a question-and-answer session. It is cosponsored by Maxwell Becton College of Arts and Sciences, FDU Libraries and Diverse Student Union organization. Register here.
Tuesday, March 22, 7-8:30 p.m. 
Conversation/Lecture "Clothing in Action: Fashion and the Vote," a look at the transformation of fashion at a time when women were fighting to gain the right to vote. This virtual event will be led by Abagail Eckert.
Thursday, March 24, 7-8:30 p.m.
Pauli Murray: a Black Activist, Feminist, Lawyer, Priest, and Poet. A conversation about her work in relationships to where we are today, led by Madelyn Ferrans, Social Sciences and History. This event will take place on Zoom, https://fdu.zoom.us/j/95544105259.
C-Suite Lecture Series: Monica Smith
Thursday, March 24, 6 p.m.
Monica Smith, founder/CEO, Marketsmith, Inc. in Cedar Knolls, N.J. will speak as part of the C-Suite Lecture Series. This virtual event is free and sponsored by the Professional Development Program of Silberman College of Business. It will take place on Zoom and is open to FDU students. For information email paigesoltano@fdu.edu, for FDU students only.  
University Women: Conversations about Life and Work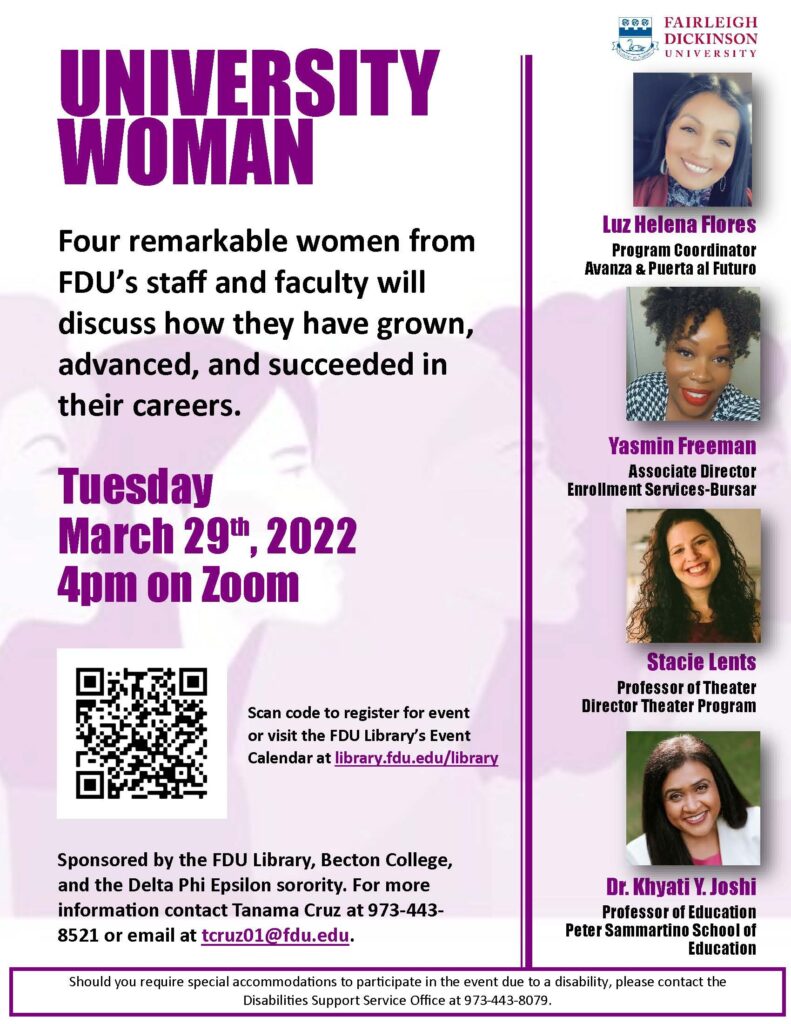 Tuesday, March 29, 2022, 4 p.m.
The FDU Library, Becton College and the Delta Phi Epsilon sorority present University Woman on Zoom. The panel will feature four remarkable women from FDU's staff and faculty who will discuss how they have grown, advanced and succeeded in their careers.
Luz Helena Flores – Program Coordinator of Avanza & Puerta al Futuro
Yasmin Freeman – Associate Director of Enrollment Services
Stacie Lents – Theater Program Director
Khyati Y. Joshi – Professor of Education