Wroxton College graduation stoles!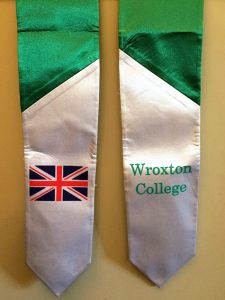 Students who have attended Wroxton College will be able to pick up a graduation stole for commencement at their respective bookstores on both the Metropolitan and Florham campuses.
Bookstore hours are Monday – Friday from 10 AM to 3 PM. Students must be graduating this May in order to be eligible to receive one. Please be aware that supplies are limited.
 
Metropolitan Campus: Students will be allowed to park in the 30-minute spaces outside the bookstore while picking up stoles. If you have any issues or concerns, please call Public Safety at 201 692-2222.
Florham Campus: Students should contact the bookstore and arrange a date and time to avoid overlapping. Call 973-443-8656.
 
Both campuses require that you be masked, maintain social distancing and that you please have the CampusClear app downloaded and ready to display the "Good to Go!" screen upon arrival.