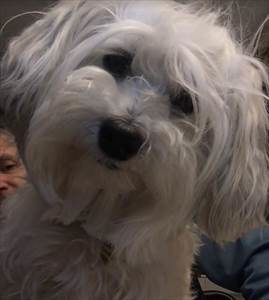 Ollie
Hello there! I am Miss Ollie Specklebelly Sassafras Nippersnapper or just Ollie, for short. I have trained my mom and sister in giving me treats of cheese, bread, oatmeal cookie dough without raisins, and best of all, cooked salmon, so these treats became a regular part of my life. I'm a bit sassy, but then I know I am very cute and lovable, so I always try to get my way and win a place in everyone's heart.
My favorite activities are to take very long walks, chase after balls in the roller rink or on a tennis court, and going to outdoor concerts during the summer. I cannot wait to go on pet therapy visits! It is wonderful to be able to touch the lives of children, young adults, adults, and seniors. Visiting college students is my absolute favorite thing to do because the feeling of love that each student and I share is mutual!
Calliope (aka Calli)
Woof! I'm Calli, short for Calliope (from Greek mythology) and I am a female Pomsky (Pomeranian and Siberian Husky).
I love to swim in the summer, play in the snow in the winter, and chase leaves in the fall. I would chase bunnies and squirrels all year round if given the chance. I enjoy going on car rides to the dog park or making therapy visits! I love to do tricks for treats and my favorite food is cheese (all kinds). If you want to scratch my chest, I won't stop you – and if you do I will pull your hand right back to continue!
I became a therapy dog in May of 2016 and while all my visits are fun, my favorites places are elementary schools, schools for autistic children, and of course – college campuses.
Cam
As a Labrador, a favorite activity, of course, is eating and I have my mom and dad wrapped around my paws as far as that goes! I'm not really a guy who does tricks for treats, although if the floor isn't slippery, I will give you my paw. I also love walks in the park where I can explore the woods. I love a good deer chase even though I know they are faster than me. Playing in the snow is another love of mine. One must smell every single snowy footprint – it's important, you know.
I have been a pet therapy dog since 2014. I love therapy visits because meeting and greeting people are among my favorite activities. In fact, wherever I go I think, surely, people want to stop and meet me, too!  When my pet therapy bandanna is on, I know we are going to work, but it's a job I love because I get to meet so many people. Bringing joy or laughter in some small measure makes me feel good too. Each therapy visit is different and that's why I like it so much. I especially like visiting college campuses because everyone just gets right down on the floor next to me and I can feel that love going back and forth!
Freckles
I'm a female Border Collie/Pointer mix. I originally hail from Kentucky, but now am a true Jersey Girl. I love going to the park for a long walk (that's how I keep my girlish figure!) and chasing the chipmunks, squirrels and deer that wander into my backyard. Winter is my favorite season; I enjoy the cold weather and burying my nose in the snow. My favorite foods are hard-boiled eggs and doggie ice cream.
I became a certified therapy dog in May 2014. I was born under the sign of Aquarius and Aquarians are friendly, intelligent and humanitarian. So I guess that's why I'm such a good therapy dog. I love meeting new people, especially college students, and making them smile. And getting free massages from them is just wonderful!
Amber
Amber is a 6 year old Golden Retriever who was born in Malaysia and moved to New Jersey with her family when she was 2 years old. Amber loves fruits and veggies, broccoli tops the list! She loves winter but likes her feet to be dried up when she's home after a walk in the snow! She is very happy making new friends, two and four legged! Amber loves her visits to Fairleigh Dickinson University where she gets hugs and lots of love from all the students!
Winnie
I am a Labrador Retriever. I am named for Winnie Mandela, the wife of Nelson Mandela. Interestingly, my father, Nelson, was named for Nelson Mandela. My official, registered (American Kennel Club) name is Broadway's Winnie, CGC. Broadway is for the name of my breeder's kennel, Labradors of Broadway. Some of my relatives are named for Broadway plays, e.g. my mother's name is Kinky Boots and my aunt's name is Sarafina, which is a musical about a young Soweto girl. CGC stands for Canine Good Citizen. This is a title that means I am well behaved.
I was born in July 2015 – so I still think of myself as a puppy. I was certified as a therapy dog in December 2016. I try to act like a grown up when I meet people. But this can be difficult because I love everyone and sometimes I can get too exuberant (a lot of tail-wagging and kisses). However, for the most part I just luxuriate in all the attention I get as a therapy dog, and the big smiles I bring to peoples' faces. I really try to live up to my Canine Good Citizen title!