FDU Veterans: Welcome
Fairleigh Dickinson has long been at the forefront of efforts to help veterans. Early in our history and spurred by the first GI Bill, this university rallied around returning veterans and provided relevant academic programs that led to productive careers. We have continued this tradition, and today FDU is among the most veteran-friendly universities in New Jersey. We provide support from the time a veteran enrolls until graduation and beyond. In 2009, FDU was among twenty institutions nationwide to receive a Veterans Award Grant from the American Council on Education (ACE) and the WalMart Foundation. These grants recognized "model programs advancing access and success in higher education for veterans and their families."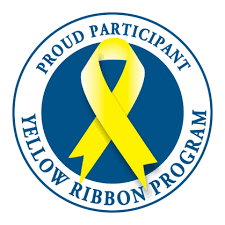 Under the Post 9/11 GI Bill, FDU participates in the Yellow Ribbon Program, which ensures that a 100% GI Bill-eligible veteran can attend FDU at no charge (unlike many other schools, FDU has no cap on Yellow Ribbon awards). We also created an Office of Veteran Services that provides information on the Post 9/11 GI Bill, as well as referrals for VA benefits, on-campus psychological services, VA disability-claims assistance, the Career Development Center, and the FDU Credit Union.
FDU is dedicated to assisting veterans succeed, and this is a collaborative effort across all of our campuses. As veterans return home and make the decision to attend college, we help them adapt to a new environment. Education is an important part of an individual's roadmap for success, and at FDU we look forward to guiding those who have served our Nation.
History of Veterans Services at FDU
1942
Founded just weeks after the December 7, 1941 attack on Pearl Harbor, FDU has grown from a handful of students into the largest private university in the State of New Jersey with more than 12,000 students hailing from nearly 100 countries. This growth did not come without challenges. After World War II and through the 1950s, FDU had to continuously adapt to serve its largest population of students – returning veterans and their families. We did this by:
Promoting FDU's academic programs to veterans
Creating tailored admissions & financial aid processes
Catering to the veterans' social & psychological needs
The overhaul of the university's operations during the post-war period and the benefits of these changes for veterans are described by FDU founder Dr. Peter Sammartino in his memoir I Dreamed a College.
Today
Today, FDU serves veterans with a wide array of academic options. We have been an education partner with the New Jersey National Guard since 2003, providing members with quality online and on-site coursework that is well-suited for those with full-time jobs (who may also be required to deploy on short notice, as part of their military duties). In addition, FDU's Center for Psychological Services has been a provider of mental health services to veterans since 1983 through a contract with the NJ Department of Military and Veterans Affairs. Since that time, we have provided individual, family, and couples treatment to hundreds of eligible veterans.
Now, a new generation of veterans is entering higher education with the Post 9/11 GI Bill benefit. The return and reintegration of thousands of veterans have renewed FDU's focus on its role as a preferred choice for veterans. To develop a comprehensive model for veterans services, a Veterans Education Taskforce (VET) was created – consisting of FDU administration, faculty, staff, and students from areas that interact with veterans under our new comprehensive model. The task force was organized into five operational subcommittees:  Academic Affairs, Process Design and Systems, Psychological Services, Outreach and Communication, and Campus and Community Reintegration. Each subcommittee was responsible for developing and implementing best practices in their respective area or responsibility while, as a whole, the committee was responsible for internal and external dissemination.
In 2009, FDU became one of twenty institutions nationally (and only one of two private institutions) to receive a grant award from the American Council on Education (ACE) and the WalMart Foundation to enhance programs and services for veterans. With the help of this grant, FDU established an Office of Veteran Services, a Veterans Education Advisory Board with faculty, staff, and students from across the university, and a Student Veterans Association. We serve more veterans than any other private university in the State of New Jersey.
FDU continues to set a strong example of how to improve the educational experience for veterans and their families.
GI Bill® is a registered trademark of the U.S. Department of Veterans Affairs (VA). More information about education benefits offered by VA is available at the official U.S. government Web site at http://www.benefits.va.gov/gibill.
Contact Information
Office of Veterans Services
Dr. Martha Papson Garcia,
Director of Veterans Services
Joseph Cerciello,
Assistant Director of Veterans Services