Adult/Nontraditional/Part-time Admissions
To Apply:
Please submit the Adult & Part-Time Application for Undergraduate Admissions.
If applying for a degree, be sure to request official transcripts from ALL institutions attended since High School.  If you have less than 24 college/university credits or never attended a college or university, request your official High School transcript.  (A GED with scoresheet may be submitted in lieu of the High School transcript.)
The University reserves the right to request additional information and supporting documents and to require further assessments, including an interview or an internal assessment.
If you are applying as a non-degree seeking student and wish to take courses for credit or audit for no credit, submit the application with an unofficial copy of your academic transcript.
Meet An FDU Adult Student
 "No one ever says, 'I know too much — I'm just too educated.' I've learned that the more I know, the smarter I can be in making good decisions for my business."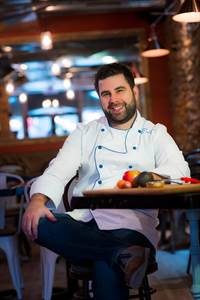 If you're a "foodie," you've probably already heard — or been a patron — of Jerry Rotunno's popular Morristown restaurant, the committed pig. Opened in late December 2014, it is the third food establishment of the creative young chef and entrepreneur.
Jerry honed his culinary skills at Philadelphia's Restaurant School at Walnut Hill College, where he earned his associate degree. While working full-time in the food industry, he also enrolled in FDU's Bachelor of Arts in Individualized Studies, with a concentration in hospitality management. A knee injury sidelined his studies when he was just 21 credits shy of graduating.
At 29, Jerry opened his first restaurant, Food, in Summit, N.J. "The question I asked myself back then was: 'Do I want to own just one restaurant, or do I want to think big?' Education gives you the skills and the confidence to make that leap,'" says Jerry, who returned to FDU in 2014. "In just a few years, I've gone from having one restaurant to heading up a multimillion dollar corporation. My studies at FDU are helping me think and respond on new level."
His accomplishments have even impressed Walnut Hill, which has invited him back as a commencement speaker. "I've also been offered teaching jobs," says Jerry. "But if I ever want to teach, I'll need my bachelor's degree to do that too."
Jerry says that the combination of real-world work experience and a college education are more powerful when pursued together. "You see things differently," says Jerry. "My college studies are helping me find balance in the creative, culinary and management challenges I face every day."
As a student, Jerry has taken full advantage of the advisement services offered on FDU's Metropolitan Campus. "My advisor, Dr. Denise Hart, the head of the SUCCESS program, has helped me identify classes that are relevant to my business," he says. "I've taken classes in psychology that have helped me nurture the talents of my staff — and my hospitality classes have helped me understand that critical ratio where money is made in the food business."
"I'm already thinking about continuing on for my master's in hospitality management," says Jerry. "I've got big plans for the future!"
Contact Information
Office of Undergraduate Adult and Part-Time Admissions
Fairleigh Dickinson University 1000 River Road, Teaneck, New Jersey 07666
H-DH3-10