Metro Campus Medical Emergency
For On Campus Emergencies
In the event of a medical emergency, do not hesitate to dial extension 2222 or (201) 692-2222 if you are on campus to reach the Department of Public Safety. They will contact EMS (Emergency Medical Services) who will then transport the student to the hospital if required.
For Off Campus Emergencies
If you are off campus, dial 911 for a medical emergency. Ensure that you have your Student ID card with you as well as your Prescription/Medical Insurance Card(s).
Using Automated External Defibrillator (AED)
Automated External Defibrillators (AED) are provided in multiple locations on the Metropolitan Campus. These steps are the standing orders for AED use. This document does not serve a purpose of CPR/AED training to individuals who are not certified, but rather provides a simple guideline to how to respond in the event of a  suspected cardiac arrest, if you choose to aid.
Arrival at victim with suspected cardiac arrest
Establish unresponsiveness and NOT breathing normally
Call for EMS via 911 and Public Safety (201) 692-2222
Begin chest compressions (hands only) (CPR)
If AED is immediately available, then turn on AED and follow prompts.
If AED NOT immediately available:

Continue chest compressions at a rate of 100-120 compressions per minute. Push hard and fast.
Continue CHEST COMPRESSIONS until other rescuers arrive and take over chest compressions. If two people available switch chest compressor every 2 minutes or sooner if fatigued.
Retrieve AED. Attach AED while chest compressions are in progress and then follow the AED prompts.
Additional rescuers MAY provide ventilations with a face mask as they arrive on scene.
Arrival of Fire Department/Police/EMS
Continue CPR until trained rescuers physically take over.
Provide a verbal report of findings and actions to rescuers who took over.
If AED was applied to patient, regardless if shocked or not, rescuers must take the AED for download and analysis. Rescuers will contact the Director of Student Health Services for return of the AED upon completion.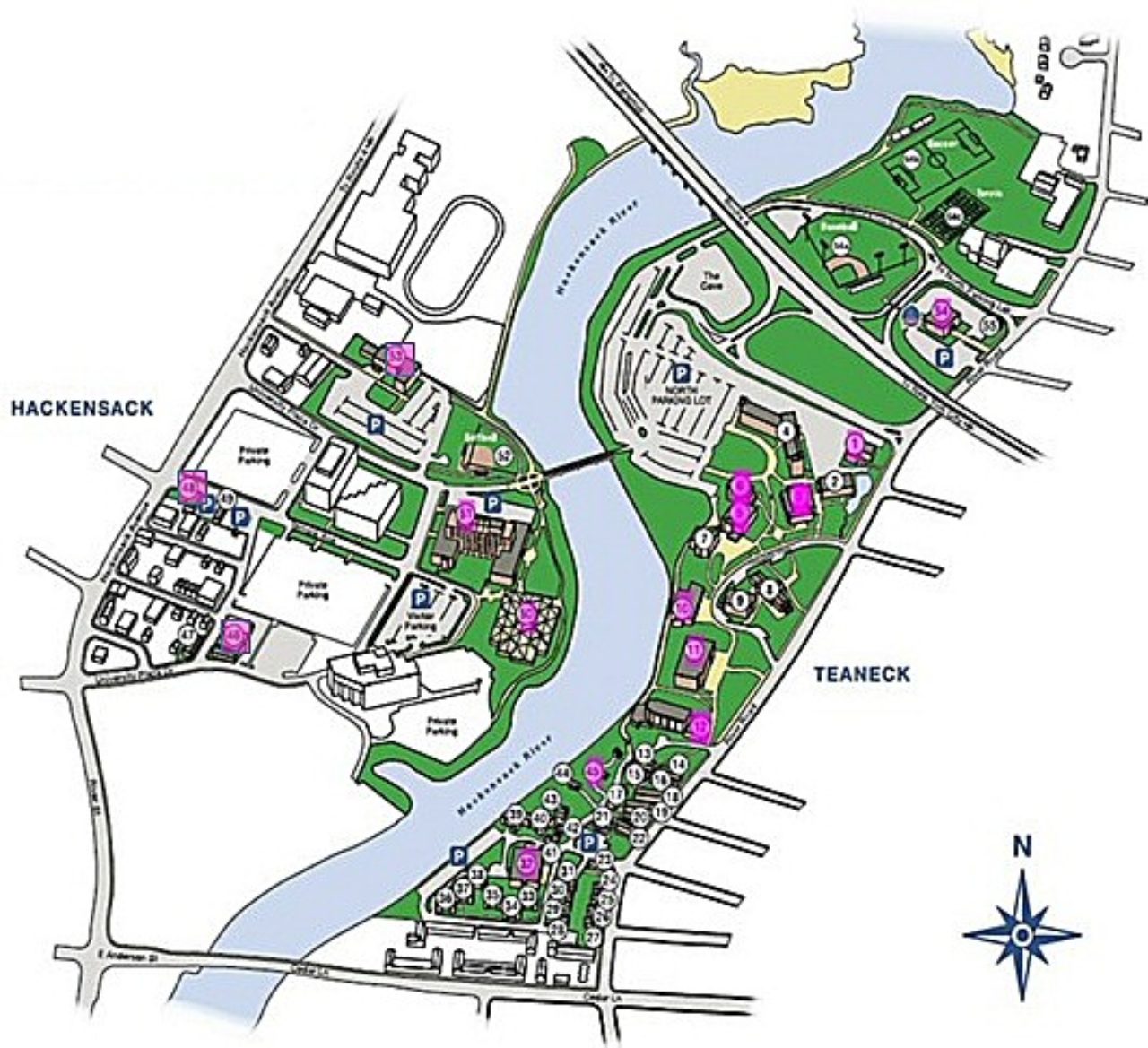 Bancroft Hall
main entrance stairwell landing
Fitness Center

entry area, opposite the desk

Robison Hall

3rd floor, outside Transfer Student Services office (across from the restrooms)

Robison Hall Annex

1st floor entrance (nearest to the North Parking Lot), opposite the stairs

Alumni Hall

main entrance foyer to the left of the vending machines

Metropolitan Campus Library

main entrance, on left upon entering building

Becton Hall (2)

2nd floor main entrance and opposite the elevators on the 3rd floor

Student Union Building (2)

2nd floor to the left of the Multipurpose Room (MPR) entrance and 3rd floor (cafeteria) by the primary entry/exit

Student Counseling and Psychological Services (SCAPS)

main entrance, on right upon entering building

Facilities Department

outside of mailroom, opposite the time clock and bulletin board

Center for Psychological Services (139 Temple Avenue)

entry lobby of building

Rothman Center (2)

arena, on the left upon entry and outside the Athletics Training Room

Dickinson Hall (2)

1st floor lobby behind the Public Safety desk and opposite room 4471

Edward Williams Hall

1st floor hallway to the left of the handicapped accessible restroom

Field House

entry lobby