On September 18, the Division I FDU Knights athletic department and members of the FDU community gathered to dedicate the Knights' Student-Athlete Academic Services Center to longtime faculty member Richard Panicucci, BS'64, MBA'66 (Metro).
Panicucci, who passed away in November 2021, enjoyed a 45-year career with the University.
Known for his advocacy for students, Panicucci created and directed the first formal academic advisement center in 1968 which was quickly duplicated University-wide.
In 1990, Panicucci began serving as the Faculty Athletics Representative, a role he held until his retirement in 2011. Together with then Associate Athletic Director Ann Gulino, he designed and implemented an Academic Monitoring Program that was used to track the academic progress of student-athletes and provide support and feedback concerning student-athletes more efficiently. The program received acclaim from the NCAA as one of the best student-athlete support programs in the country. Along with these duties, he would also serve as the Assistant Provost for Campus Life.
A 2012 FDU Knights Athletic Hall of Fame inductee, Panicucci also received the Athletic Department Award in 2000 for his service to student-athletes. In 2004, Panicucci received the H. Rogers Muse Award for his special contributions and dedication to the athletics department and, in the same year, he received the University's most prestigious faculty award, the Distinguished Faculty Award for Teaching. In 2010, the Student-Athlete Service Award was permanently renamed the Richard Panicucci Student-Athlete Service Award.
"When I arrived at FDU, the first person who greeted me on campus was Richard Panicucci," remarked Senior Associate Vice President and Director of Athletics – Division I Bradford Hurlbut. "Rich epitomized FDU Athletics. He truly cared about everyone, and what meant the most to him was ensuring that success of our student-athletes upon graduation. To that end, there isn't a better way to honor Rich's legacy than to name our student-athlete support center after him."
Jennifer Quirk, senior associate athletic director for compliance, was the driving force behind the naming of the center and raising the funds. "Rich Panicucci's service and dedication to thousands of student-athletes and students at FDU is irreplaceable," said Quirk.  "By naming the Metropolitan Campus athletic advising center the 'Richard Panicucci Center for Student-Athlete Success,' Rich's legacy will live on for generations to come. We appreciate the time and dedication of those who contributed, but most importantly, all of us appreciate the impact Rich made on the lives of our student-athletes and staff."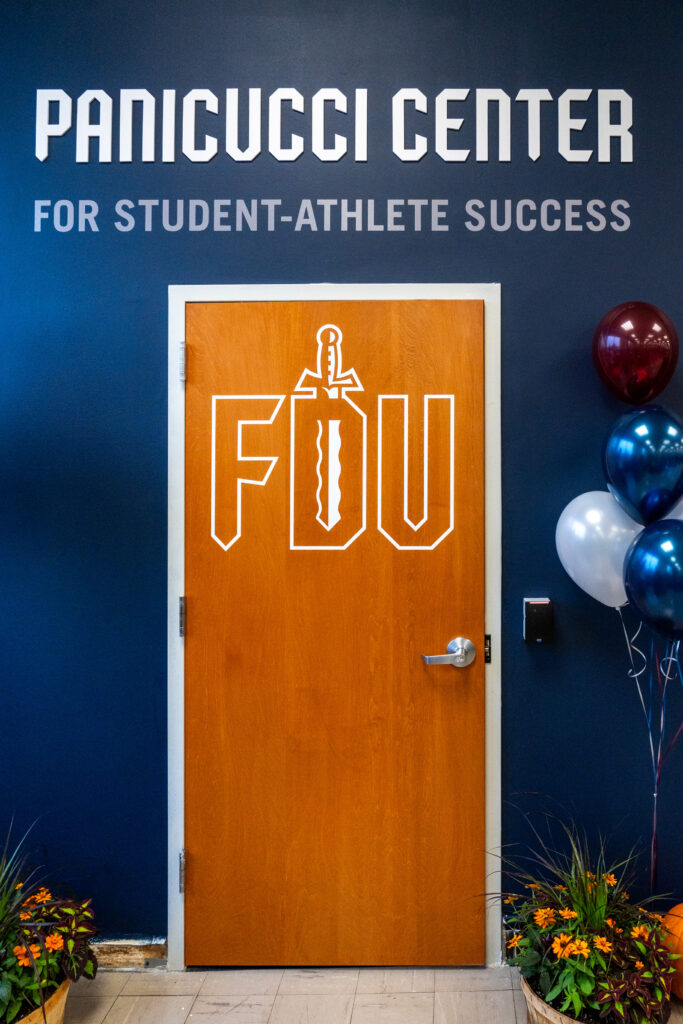 Located on the second floor of the Metropolitan Campus Library, the Richard Panicucci Center for Student-Athlete Success features study spaces for FDU's student-athletes to complete assignments and exams, spaces for socialization as well as office space for the Assistant Athletic Director for Academics and Student-Athlete Support Services and his staff. Opened in January of 2022, the space has become a favorite among student-athletes, providing the more than 300 Knights with a place of their own to complete study hall hours, seek academic advising, participate in Student-Athlete Advisory Committees (SAAC) activities and observe presentations thanks to the state-of-the-art audio/visual system.
"Rich Panicucci had an extraordinary and profound impact on FDU and on all who were fortunate to know him," said University President Michael Avaltroni. "He truly inspired countless students to seize their moment and change their world. This important new center is a tremendous tribute to his immense contributions and his profound concern for the welfare of so many individuals through the decades."