FDU Joins National "Moon Shot for Equity" Partnership to Erase Equity Gaps in College Completion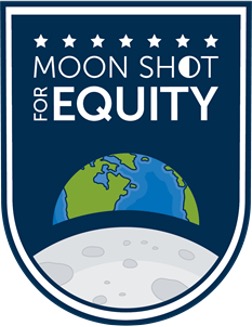 Fairleigh Dickinson University Joins National "Moon Shot for Equity" Partnership to Erase Equity Gaps in College Completion
Program offers research-based best practices designed to remove systemic barriers to student success and to help a greater number of students from historically underserved populations graduate from college.
May 11, 2023 ­— Fairleigh Dickinson University announced today it has become the first private college in New Jersey to join the Moon Shot for Equity, a national network of colleges and universities committed to eliminating equity gaps in higher education. Through this critically important program, schools are working together to help a greater number of students from historically underserved populations graduate from college. FDU is the second institution in New Jersey to sign on to the Moon Shot for Equity, joining Kean University.
Managed by EAB, a Washington D.C.-based education firm, Moon Shot for Equity promotes 15 research-based best practices designed to remove systemic barriers to student success and ensure that all students persist to graduation.
"We are honored and excited to partner with EAB and to be in the vanguard of college institutions making this commitment for our students," said FDU President Michael J. Avaltroni. "FDU has a rich history and strong legacy of providing access and opportunity for students to transform their lives and this is yet another milestone in our institutional development. By coalescing around shared, data-driven goals, and collaborating around the hard work of transforming our systems, our community will work together to eliminate barriers to student success."
Through this innovative partnership, each participating school has committed to implementing more than a dozen research-based best practices proven to remove systemic barriers to student success. These commitments range from updating academic policies, to working together to establish common academic pathways, to providing equity-mindedness training to university leaders. EAB will provide research, technology, and advisory services to the schools.
"FDU believes that our current position as a leader in serving students as an HSI (Hispanic Serving Institution), alongside our commitment to and legacy of creating access to education by meeting learners where they are, positions us to effectively lead this charge for the state of New Jersey and the region beyond," Avaltroni continued.   
Data show that barely half of all Black and Latinx students who enter college earn their undergraduate degree within six years compared with nearly 70 percent of white students. The statistics are similarly poor for first-generation students and those from families with lower incomes—regardless of race.
Participating Moon Shot institutions are also encouraged to partner with local high schools and community-based organizations to help more underserved students attend college by providing them with resources and information on how to identify best-fit universities, search for scholarships, and connect with counselors. These resources are offered through EAB's College Greenlight.
"I have been extremely impressed by the passion and commitment that FDU's Dr. Avaltroni has already shown for the Moon Shot project," added EAB's Vice President of Partnerships Tom Sugar. "I look forward to working with their leadership team to better serve their students and to recruit additional two- and four-year schools in the region to join us."
Visit eab.com/moonshot to learn more about the project.
Fairleigh Dickinson University offers over 100 undergraduate and graduate degree programs, including doctoral programs in pharmacy, nursing practice, clinical psychology and school psychology; and an AACSB-accredited business school. Degree programs are offered on two New Jersey campuses and at two international campuses: Wroxton College, in Oxfordshire in England, and the Vancouver Campus, in British Columbia, Canada. For more information, visit FDU.edu. 
At EAB, our mission is to make education smarter and our communities stronger. We work with more than 2,500 institutions to drive transformative change through data-driven insights and best-in-class capabilities. From kindergarten to college to career, EAB partners with leaders and practitioners to accelerate progress and drive results across five major areas: enrollment, student success, institutional strategy, data analytics, and diversity, equity, and inclusion (DEI). We work with each partner differently, tailoring our portfolio of research, technology, and marketing and enrollment solutions to meet the unique needs of every leadership team, as well as the students and employees they serve. Learn more at eab.com.