Five questions with Joseph Nigro, the 2023 Florham Pinnacle Award recipient
Interview by Kenna Caprio
May 2, 2023 — Joseph Nigro is a cancer survivor, a business administration major, president of the Fightstrong Foundation and this year's Florham Pinnacle Award recipient. Following his recovery from Stage 2B Hodgkin's Lymphoma, he launched the Fightstrong Foundation to support people who currently have cancer or who have previously battled the disease. This fall, Nigro will begin his MBA at FDU, as he continues his work with Fightstrong.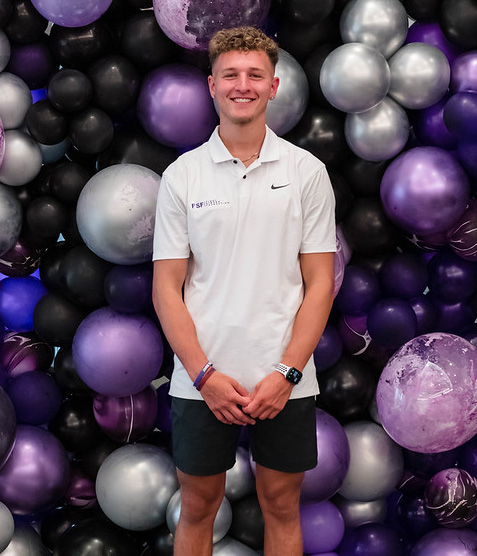 FDU: If you could relive your college days at FDU, what would you do differently?
Joseph Nigro: I wouldn't change much about my experience. Despite facing COVID-19 and battling cancer, I managed to maintain a fulfilling life beyond academics. Maybe one thing is that I would take better advantage of the Silberman College of Business's resources and networked more.
FDU: What's the most unexpected thing you've learned along the way?
JN: During the past four years, I've discovered that initiating a conversation with a stranger can make a significant difference. I was an introverted freshman when I first arrived at FDU, but I realized that reaching out to unfamiliar people was necessary. To my surprise, I formed close bonds with some of these individuals, and we ended up being classmates. As FDU is a small, tight-knit institution, the friends you make as a freshman are likely to be the same individuals you encounter in your senior classes. By taking the initiative to introduce myself, I've come to appreciate the value of meeting new people.
FDU: Which campus club or organization has meant the most to you, and why?
JN: The Devils men's basketball team has been the most significant organization for me at FDU. It was what initially drew me to the campus and prompted me to apply — little did I know that this team and University would come to mean so much to me. In my freshman year, I earned a starting role and helped lead the team to its first playoff appearance in years. Throughout my time on the team, I formed strong, everlasting bonds with my teammates, former teammates, and coaches. When I was diagnosed with cancer, telling my coach was one of the most challenging things I've ever had to do, but my coaches and teammates rallied around me and supported me. After beating cancer, I wanted to get back on the court. Whenever I struggled and felt like giving up, they encouraged me to prioritize my health and take my time in recovery. When I ultimately decided that I couldn't continue playing basketball, they welcomed me to the coaching staff with open arms. I'm incredibly grateful for the relationships I've formed with my current and former teammates and coaches, and for the support they've shown me.
FDU: When you feel unfocused or overwhelmed, how do you reset? 
JN: I make a conscious effort to take a break. Trying to multitask often results in subpar work and effort. Although it can be challenging to balance academics, athletics, work and a personal life, I prioritize finding time to relax and enjoy myself to prevent stress and unhappiness. Surrounding myself with supportive and positive people who understand my situation is crucial in managing my stress levels.
FDU: What's an example of you seizing the moment, or seizing an opportunity at FDU?
JN: Applying for the Pinnacle Award! As a freshman, I would have been too timid to apply because I was uncomfortable with public speaking. A few years later, though, I immediately seized the opportunity and recognized that I had a good chance of winning. Simply applying for the award was an accomplishment in and of itself, and I'm proud of the personal growth I've experienced during my time at FDU.