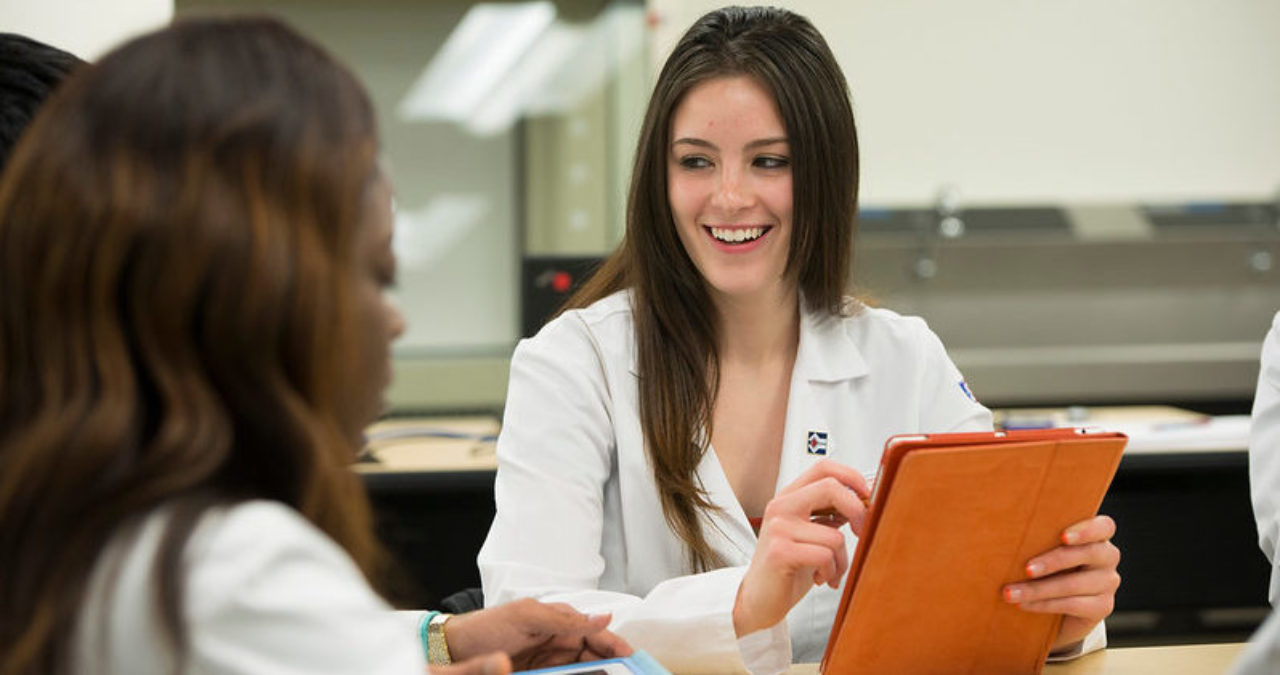 FDU partners with Lake Erie College of Osteopathic Medicine (LECOM) to offer an eight-year program (or 4 plus 4 years): BS Biochemistry or Biology or Chemistry from the FDU School of Nursing and Allied Health, and DO Osteopathic Medicine from Lake Erie College of Osteopathic Medicine.
This combined degree program provides qualified students the opportunity to complete a baccalaureate degree and a Doctor of Osteopathic Medicine (DO) degree in eight years.
The bachelor's degree (BS in Biology) is awarded by Fairleigh Dickinson University and the doctoral degree (DO) by Lake Erie College of Osteopathic Medicine (LECOM). Through these Early Acceptance Programs, Fairleigh Dickinson University undergraduate students are enrolled jointly by FDU and by LECOM. Once recommended by FDU, LECOM will interview the students prior to their enrollment at Fairleigh Dickinson University or within the first two years of being properly enrolled in the program. Students must schedule the interview with LECOM via the LECOM portal (generally by April 1 of the year of FDU matriculation).
Students interviewing successfully will be offered a provisional acceptance to LECOM's Doctor of Osteopathic Medicine program. To receive the official Provisional Letter of Acceptance, students must request the Letter by e-mailing LECOM from their FDU e-mail address within 12 months of their interview date.
The 4 Plus 4 track is composed of two phases. Phase I consists of four years of undergraduate education at Fairleigh Dickinson University and completion of the B.S. in Biochemistry or Biology or Chemistry degree. Phase II consists of four years of medical school education at LECOM and its associated clinical training sites.
Each academic year, a combined total of maximum five students will be accepted by LECOM into Phase II of the Early Acceptance Program from each campus of FDU. Provisionally accepted students may not apply to any other medical school. Application to another medical school will result in the loss of the student's provisional acceptance.
Application Process
1) Students must submit two different applications: an application to Fairleigh Dickinson University and an application to LECOM Early Acceptance Program.
2) Students will first fill out an inquiry to the LECOM Early Acceptance Program via the LECOM portal. After completing this inquiry students will be contacted by LECOM with a username and password to complete an application.
3) If the student meets the admission requirements, LECOM will offer the student a list of Early Acceptance Program interview dates to self-schedule an interview.
4) Following a successful interview, LECOM will notify the student via email that they have been pre-approved for a provisional letter of acceptance to LECOM. A copy of this pre-approval confirmation email must be submitted to myapp@fdu.edu.
5) The Fairleigh Dickinson University application will be reviewed upon receipt of the LECOM pre-approval confirmation email.
Admission Requirements
All applicants for admission to the combined degree program must satisfy secondary school preparation in English, Mathematics, Biology, Chemistry, and Physics. The high school GPA and rank in class, along with letters of recommendation from high school teachers, will be of primary importance in evaluating applicants' credentials. Applicants are required to submit scores in the verbal and the mathematical components of the SAT. High school seniors meeting the following minimum criteria may apply for admission to the combined degree program:
Medical 4 Plus 4 Admission Criteria, Phase I
SAT (Math + Verbal) or ACT score: 1240 (new SAT), 1170 (old SAT), or 26 (ACT)
High school unweighted GPA: 3.5
Academic Index Score: 117
Full-time students currently enrolled at FDU who seek admission to the combined degree programs must apply to the School of Biology and Allied Health, Metropolitan Campus, Teaneck, NJ, or to the Department of Biological and Allied Health Sciences, Maxwell Becton College of Arts and Sciences, Florham Campus, Madison, NJ, prior to February 1 of their freshman year for the 3 Plus 4 Early Acceptance Program, or by February 1 of their sophomore year for the 4 Plus 4 program.
Admission to Phase II
While enrolled in Phase I at FDU, students are required to follow a curriculum in Biology, Biochemistry, or Chemistry for the 4+4 track. Completion of all FDU curriculum requirements, including general education requirements, degree program requirements for the major, and all prerequisite courses, is required prior to beginning Phase II at LECOM. Students must complete all prerequisite courses with a grade of C or better, and must achieve the minimum cumulative overall grade point average (GPA) and cumulative science GPA as indicated below.Qualified students enrolled in the combined degree programs must meet the following criteria as part of the application process for Phase II:
Medical 4 Plus 4 Admission Criteria, Phase II
Cumulative Overall GPA: 3.4
Cumulative Science GPA: 3.2
Academic Index Score: 115
MCAT: Score at or above the 50th percentile [Students matriculating to LECOM in 2016 and later will be exempt from the MCAT requirement, provided that the minimum Academic Index Score requirement has been met and that the student has earned a grade of C or better in Biochemistry and Genetics.]
Additional admission requirements include:
Timely submission of a completed AACOMAS application, secondary LECOM application, letters of recommendation (including one letter from an osteopathic physician), and MCAT score (if applicable);
Advanced Placement (AP) credits may not be used to satisfy any of the Biology, Chemistry, Physics, or Calculus course requirements. LECOM will only accept AP credits for the English and Behavioral Science courses and only if the student scores a four (4) or five (5) on the AP exam. A replacement course of equal or greater credit hours applicable to the field of medicine or a course of similar academic rigor, if approved by the Phase I advisor, must be taken at Fairleigh Dickinson University.
No reduced course load will be accepted. No summer courses will be accepted, except in the case of scheduling conflicts;
Premedical Curricula
Students enrolled in the 4 Plus 4 years Early Acceptance Program will follow the curricula for the BS in Biology, BS in Biochemistry, or BS in Chemistry.
Degree Plan
NOTE: All students are required to complete the General Education Requirements of their campus in fulfillment of their Bachelor degree requirements. [Florham Campus students are required to take SPCH 1107 Fundamentals of Speech and  PHIL1440 Bio-Medical Ethics as part of their general education requirements]
Semesters 1 and 2
Semester 3 and 4
Semesters 5 and 6
BIOL3___/4___ Biology Elective I
BIOL3___/4___ Biology Elective II
Semesters 7 and 8
BIOL3___/4___ Biology Elective III
BIOL4950 Biology Seminar
BIOL3___/4___ Biology Elective IV
BIOL3___/4___ Biology Elective V
Biology electives (15-20 credits)
Elective area I: Ecology and Environmental Biology
Elective area II: Cellular and Molecular Biology
Elective area III: Organismal Biology
Elective area IV and V: Anatomy and Physiology, Ecology and Environmental Biology, Cellular and Molecular Biology, Organismal Biology
Major Requirements:
Free Electives: May be chosen from any courses offered at the University after consultation with an advisor, but may include no more than six credits of "1000" level Biology courses. Physical Education is recommended for students to go on to schools of Veterinary Medicine. Foreign language is recommended for students intending to go on to Graduate School.
The Program is designed for students who plan to attend Graduate school or who wish to prepare for admission to a School of Medicine, Dentistry, Chiropractic, Optometry, etc., as well as those interested in entering directly into the workforce.
A minimum of 120 credits is required for graduation.