MARKET RESEARCH & PUBLIC INTEREST SURVEYS
Since 2001, FDU Poll has conducted survey research on issues of public importance. Utilizing best practices in survey methodology, FDU Poll produces research that is conducted nationally and statewide. Findings from FDU Poll surveys have been reported on numerous regional, national and international media outlets such as the New York Times, Washington Post, Wall Street Journal, Star-Ledger, as well as local and national broadcast media outlets. In addition, FDU Poll engages in research for corporate, non-profit, and government entities.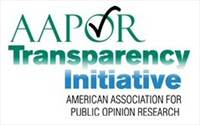 FDU Poll is a charter member of the AAPOR Transparency Initiative. Membership requires the poll to provide the public with information regarding how each poll is conducted and to provide additional information when asked.
Research in the public interest
FDU Poll has conducted well-publicized surveys on:
Presidential and New Jersey gubernatorial, Senate, and state legislative races,
Homeland security, terrorism, SARS, and disaster preparedness,
New Jersey's state budget,
National energy policy,
Environmental attitudes,
Development and suburban sprawl
Private Research
In addition to our scheduled public opinion polls, Fairleigh Dickinson University Poll is also a full-service marketing research organization. FDU Poll offers a complete range of research services, both quantitative (e.g., telephone surveys), as well as qualitative (e.g., focus groups, in-depth interviews) to corporations, non-profits, and government agencies.
Contact Information
FDU Poll
publicmind@fdu.edu
973-443-8500