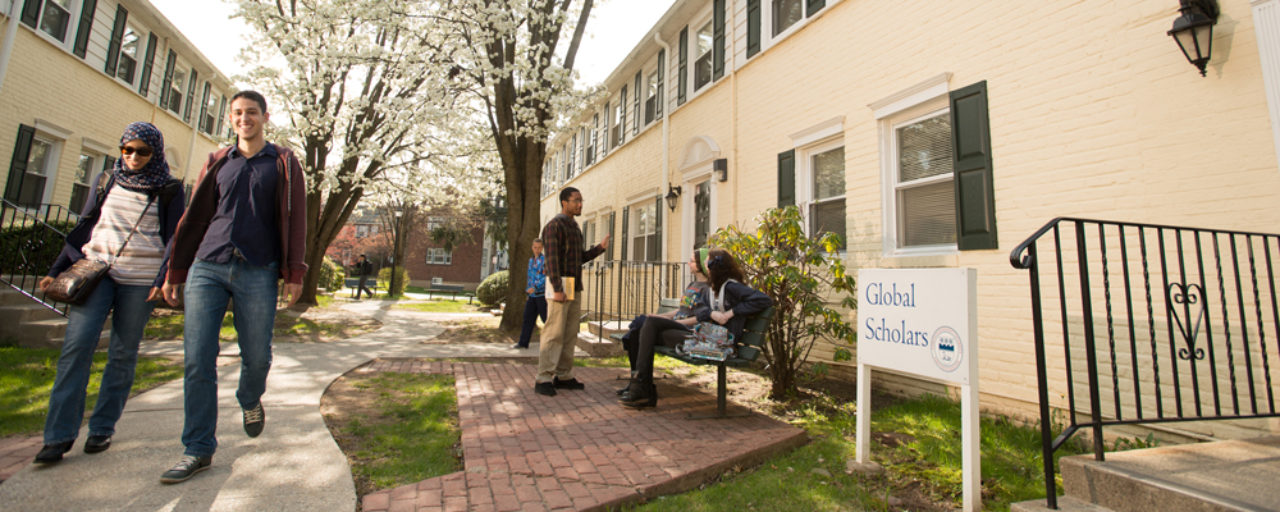 Fairleigh Dickinson University opened its doors at the start of World War II with an innovative and ambitious goal: to provide its students with an education "of and for the world." Today, our University considers its founding mission more relevant and urgent than ever before. Our recently reaffirmed mission, simply stated, is to be "a center of academic excellence dedicated to the preparation of world citizens through global education.
A global education is much more than having international campuses or exchange programs. It is also a curriculum that ensures that all of our students will be able to succeed in a world marked by interdependence, diversity and rapid change. A global education is one that provides knowledge and understanding of culture, language, geography and global perspectives. A global education trains students to rapidly access and evaluate a wealth of international information resources. Most importantly, a global education is one that enables students to understand the world through the eyes of others and teaches them how their actions can affect, and be affected by people throughout the world.
Global Learning
Global learning is by its nature a collaborative endeavor. The synergy of individuals and groups within our institution working together toward making global learning real is vital. Similarly, the synergy of our institution working together with other institutions and associations nationally and internationally enhances our ability to offer a meaningful global education to our students.
Our most active partners:
In 2002, FDU became one of only three universities in the United States to be awarded NGO status with the United Nations Department of Public Information, providing the University with special access to UN internships, and other programming. In 2009, FDU was awarded by ECOSOC NGO Special Consultative Status, the first entire university in the world to achieve that designation. This means that FDU functions as a fully accredited NGO at the United Nations with expanded access to UN entities, conferences and member nations.

The University's nationally recognized GVF program consists of a cadre of distinguished world scholars and practitioners who serve as Global Virtual Faculty members in partnership with the on-campus faculty in teaching of our on-line courses.

FDU was the first university in the world to partner with the United Nations to establish the Academic Impact program. The program now enlists the efforts of more than 1,000 universities around the world on behalf of issues on the UN agenda.

FDU has been associated with the United Nations since its inception in 1945, resulting in a recent partnership with the Ambassador's Club and our UN Pathways Program, which presents and disseminates a lecture and video-conference series. Thousands of students have participated in the program, interacting with hundreds of UN diplomats and senior officials.

FDU has significantly expanded its study abroad options to include numerous faculty-led short courses and opportunities to study at international partner institutions. Recent destinations have included China, Costa Rica, the Dominican Republic, Italy, Spain, Germany, France, Switzerland, the UK, Japan, and Peru.

The DPI accredits many groups as non-governmental organizations (NGOs), recognizing a confluence of the mission and interests of the UN and those of the NGOs, as well as the commitment to disseminate the work of the UN. In 2002 FDU became the third university in the nation to be recognized as an NGO at the United Nations.

The U.S. National Office of the Chaine des Rotisseurs [pronounced "shen day row tea sir"] moved on November 1, 2003, to its newly constructed headquarters on the campus of Fairleigh Dickinson University. Founded in Paris in 1248, Chaine des Rotisseurs is the world's oldest international gastronomic society. It is devoted to preserving the camaraderie and pleasures of the table and to promoting excellence in all areas of the hospitality arts.

ECOSOC was established under the United Nations Charter as the principal organ to coordinate economic, social, and related work of the 14 UN specialized agencies, functional commissions and five regional commissions. In 2009, Fairleigh Dickinson University became the first entire institution of higher education in the world to be granted special consultative status by ECOSOC.

Launched in 2005 as a result of co-sponsorship by Spain and Turkey, UNAOC aims to engage international, intercultural, inter-religious dialogue and cooperation as means to defuse tensions between the Western and Islamic worlds and to remove threats to world peace and security. Global cooperation on cross-cultural issues, dialogue and bridge-building among diverse societies are seen as powerful opportunities for change in an environment where intolerance for diversity of culture and religion persist. UNAOC also recognizes the powerful role of youth as change agents in this global process.

CoNGO is an independent, international, non-profit membership association of non-governmental organizations (NGOs). It facilitates the participation of NGOs in United Nations debates and decision-making. FDU faculty members belong to twelve substantive committees organized by CoNGO on issues such as Human Rights, Disarmament, Sustainable Development, Youth, Ageing, Family, HIV/AIDS, Crime Prevention, Mental Health, the Status of Women, Indigenous Peoples, and Financing for Development. Through these committees, FDU faculty bring their expertise to the UN and identify learning, internship and volunteer opportunities for FDU students.

The Friendship Ambassadors Foundation is one of the world's leading cultural exchange organizations. Each year, FAF also organizes the Annual Youth Assembly at the United Nations, which brings together student leaders from around the world for substantive discussions of issues on the global agenda. FDU works with FAF to organize Pre- and Post-Youth Assembly Leadership seminars for YA participants.

FDU serves as School of Record (SOR) for several G-MEO programs at the Chengdu American Center for Study Abroad and cooperates with G-MEO on numerous other programs.  More than 100 FDU students have studied abroad with G-MEO.

The Association of International Education Administrators (AIEA) is composed of institutional leaders engaged in advancing the international dimensions of higher education. AIEA gives members opportunities to join forces, exchange ideas, share institutional strategies, and provide an effective voice on matters of public policy. FDU is proud to participate in AIEA activities.

In 2009, FDU became the first university in the world to gain special consultative status with the UN Economic and Social Council (ECOSOC), allowing the university to send official delegates to international conferences and meetings and giving FDU students unique access to volunteer and internship opportunities in the NGO sector. As a full member of CONGO, the Conference on Non Governmental Organizations in Consultation with the UN, FDU is eligible to participate in the deliberations of UN NGO Substantive Committees. So far, more than thirty FDU faculty members have joined committees dealing with matters such as human rights, ageing, youth, HIV/AIDS, disarmament, family, narcotics and substance abuse, crime prevention and criminal justice, social development, economic development, sustainable development, the status of women, and freedom of religion or belief. Students from the University's two campus chapters of the United Nations Association of the United States (UNA-US) also represent the University on the UN NGO Committee on Youth.
Previous Global Education Programs
Global Enterprise Network (GEN)
Global Young Voices (GYV)
American Council on Education Internationalization Cooperative Membership
The American Council on Education Internationalization Collaborative
The International Association of University Presidents
African Union Commission (AUC)
Scholar Rescue Fund
Global Young Voices (GYV)