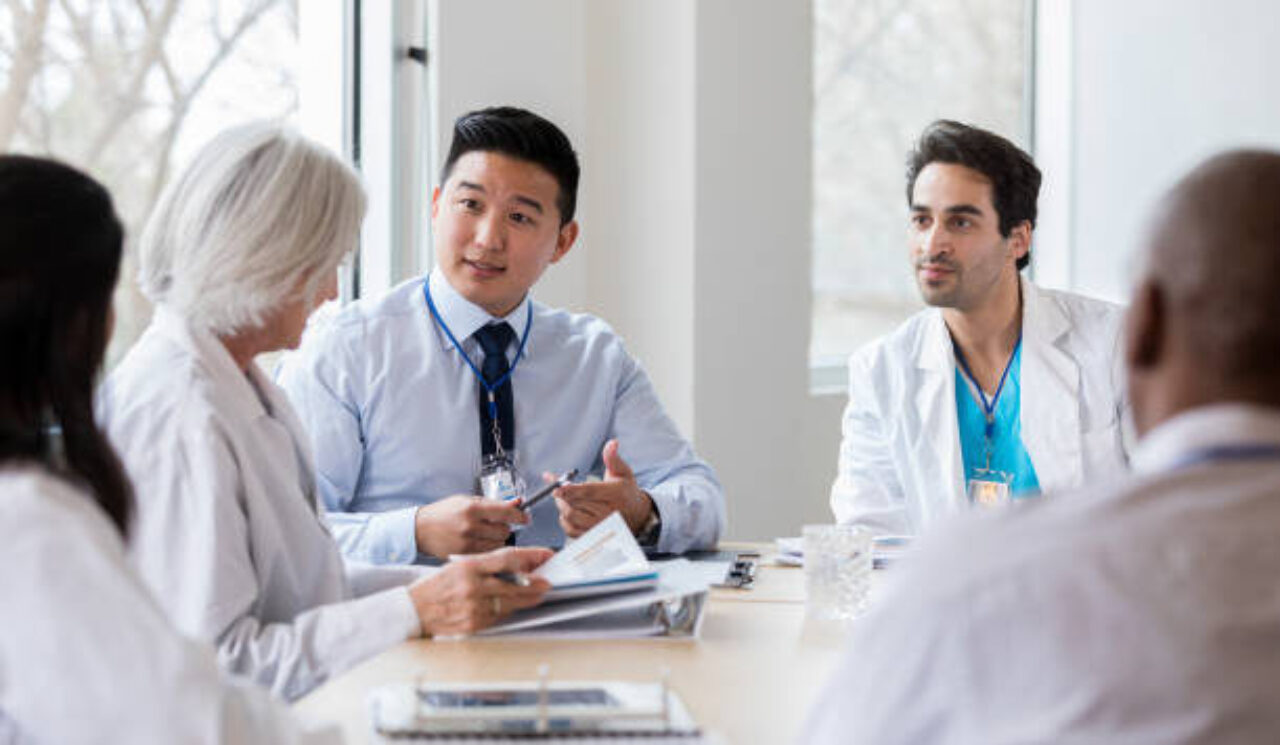 The management degree for leadership in the healthcare sector.
This program is designed for individuals working in the healthcare industry who wish to advance their careers in administration to become:
Directors
Senior Managers
Chief Officers
Fairleigh Dickinson University's history is rooted in the healthcare industry, with its namesakes Fairleigh S. Dickinson and Maxwell Becton having founded a regional pharmaceutical and medical technology company.  It is one of only two degree-granting pharmacy schools in New Jersey and is the first in the state to be associated with a private university. FDU retains long-term working relationships with New Jersey healthcare organizations that welcome FDU pharmaceutical, public health, nursing, MBA health services, and MPA healthcare management students and graduates.
The MHA program was developed in consultation with and is taught by leaders and industry partners in the field of healthcare management.  The program focuses on both practical and theoretical aspects of healthcare administration, including law, ethics, and policy for health and human services; finance and accounting; organizational and risk communications; technology; and human resources.
Program Goals
   Provide masters-level studies for working adults in preparation for, or to advance in
   healthcare administration
   Develop leadership skills essential for healthcare administration
   Establish a strong intellectual foundation in the core areas of healthcare administration
   Expose students to current topics within the field of healthcare administration
   Develop research abilities and analytical skills
   Provide an immersive experience
   Encourage the development of innovative best practices.
The MHA program is enriched with a project-based curriculum. The project-based coursework emphasizes group work, problem-solving, and building a portfolio of accomplishments. It integrates accomplished practitioners with accomplished academics to give you the best of both worlds. Students are asked to work together to offer recommendations, map solutions, and collaborate on research.
Our traditional weeknight program is offered at Metropolitan Campus (Teaneck) and in all modalities including Zoom, asynchronous online, and hybrid.
Request Information
Student Learning Outcomes
SLO 1. Communication – A MHA graduate is able to interpret, analyze and summarize key information which they will portray in oral and written form using style, grammar, mechanics, and format appropriate to the audience. 
SLO 2. Critical Thinking – A MHA graduate is able to critique, evaluate and apply theory to interpret and explain events and issues.
SLO 3. Information Literacy – A MHA graduate is able to source, evaluate, analyze, and classify information from traditional print, digital, and internet sources to explain events or to prescribe recommendations. 
SLO 4. Strategic Orientation — A MHA graduate is able to collaborate with others to dissect and interpret internal and external factors, devise potential solutions or opportunities, and formulate strategic recommendations.
Admission Requirements
Students are expected to be employed by a healthcare organization in the broad continuum of healthcare, but individuals wishing to transition to the healthcare industry are also welcome to apply. For the latter group of students, students must complete an approved internship in a healthcare facility, which increases the length of the program to 39 credits.
The credentials required for admission to the Master of Healthcare Administration (MHA) degree program as a matriculated student include the following:
A graduate application for admission
A bachelor's degree from an accredited college or university with a minimum cumulative grade point ratio (CGPR) of 2.75. Applicants with a CGPR of less than 2.75 may be admitted as matriculated students on probation
Official transcripts from all colleges and universities previously attended. Applicants who are unable to provide official documents at the time of enrollment may register as non-matriculated students with a graduate faculty adviser
A resume or CV demonstrating experience in the continuum of healthcare management
A personal statement expressing the student's objective for pursuing the MHA degree
Degree Plan
The MHA degree is granted for 36 to 39 credits, of which at least 30 credits must be taken at Fairleigh Dickinson University. The 39-credit total must contain:
Required Foundation Courses (15 credits)
Required Capstone Course (3 credits)
MHCA6706    Capstone Course—Strategic Planning in Healthcare
Internship or independent study (3 credits)*
*Required only for students without professional healthcare experience.
Electives courses and Specializations (18 credits)
Students should select six additional elective courses from the following. Students may also select a related graduate course in business, public health, or health science with prior approval in writing by an advisor.
Students are encouraged to combine electives into a concentration, which has the benefit of earning credentials along the path of their master's program and specializing their skills, as well as integrating their perspectives of the field of healthcare.
Students may specialize within the MHA by taking at least 4 of their 6 electives in:
Finance               
Public Policy and Administration
Public Health
Human Resource Leadership
Logistics
General Electives (no specialization)
A badge is awarded for each 12 credits in a specialization providing they complete a Project Report course that is aligned with the area of specialization. Students who seek more than one specialization can repeat MHCA 6627 for each specialization, providing the topic and final papers differ.
A cumulative grade point ratio of 3.00 (on a 4.00 scale) is required for graduation. Students who receive more than two grades of C or lower will be dismissed from the program.
Students are required to consult with their assigned academic adviser to assess overall academic performance and plan for their program of choice.