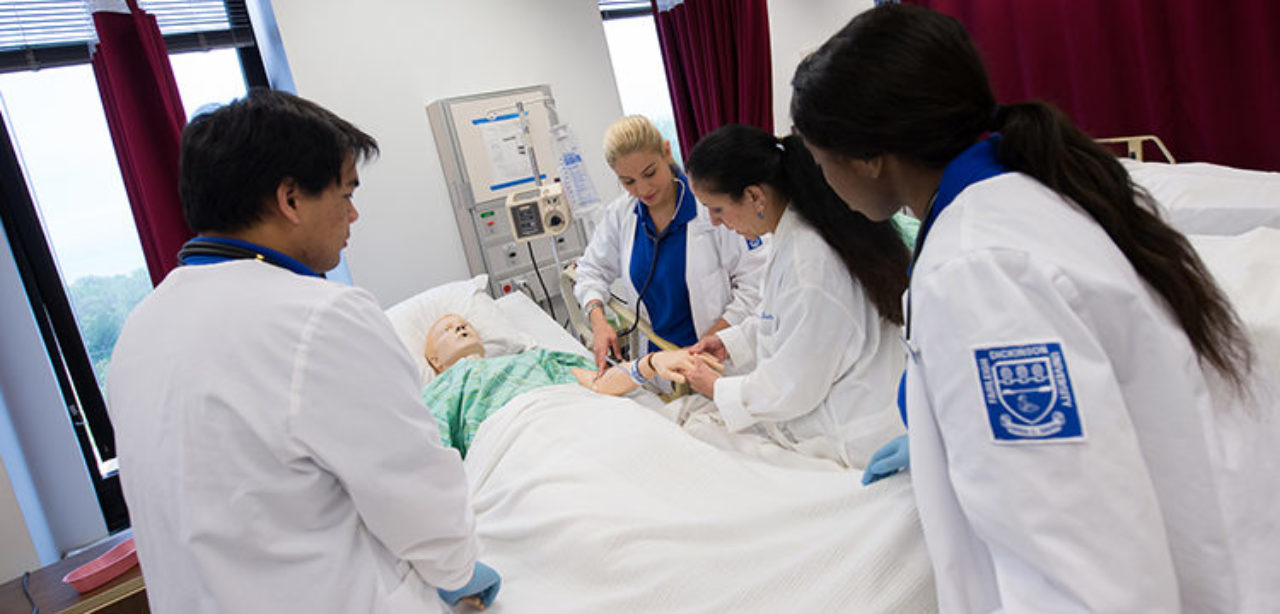 The Bachelor of Science in Nursing (BSN) program develops a student to become a professional nurse who is prepared to practice in many settings, across the lifespan, and with diverse populations, and whose practice is based upon nursing science and related arts and sciences. Our BSN program reflects contemporary trends and values, including diversity, equity, and inclusion, the four spheres of care (primary care, chronic disease care, restorative care, supportive care), systems-based practice, informatics and technology, engagement and experience, academic-practice partnerships, and career-long learning. Graduates of the program are qualified for the role of a baccalaureate prepared generalist nurse as described by the American Association of Colleges of Nursing (AACN, 2021) and are eligible to take the NCLEX-RN for licensure as a registered nurse.
Admission Requirements
Graduation from an accredited secondary school with a record indicating the potential to succeed in college.

Completion of the following high school studies:

4 units of English,

1 unit of Chemistry with lab,

2 units of History,

1 unit of Biology with lab,

2 units of college preparatory Mathematics.

At least 16 high school academic units.

GPA – 3.00 or higher
FDU Students Interested in Changing Major into the Nursing Program
Nursing curricula will begin in the fall semester of sophomore year for students who change their major to the nursing program. Students can apply/process the change of major form after meeting the following requirements:
Completion of all first-year courses in Sciences, Math, English, and University CORE (see degree plan below).
Cumulative GPA of 3.00 or higher.
Repeat any Science and Math course only once, and achievement of a grade of B minus (B-).
Completion of the Kaplan Admission Test.
NOTES
Repeat of any Science and Math course only once, and achievement of a grade of B minus (B-).
Only a 4-credit College Algebra, Pre-calculus or Calculus course can transfer as MATH1105. If a student has three transfer credits for College Algebra it will transfer in as free elective or excess credits. The student is not required to take the math placement test and can register for MATH1105.
A 4-credit General Chemistry with lab or higher-level chemistry course with lab, with an earned grade of B- or higher in both the lecture and lab, can substitute for Chemistry for Health Sciences with Lab (CHEM1107/17). We will not accept Introduction to Chemistry in place of Chemistry for Health Sciences & Lab (CHEM 1107/17).
Statistics (PSYC2201) can only be transferred if the course is inferential and descriptive. Courses such as Introduction to Statistics (QUANT2029) cannot substitute for PSYC2201.
The Kaplan Admission Test is offered once per academic year through the Becton School of Nursing and Allied Health. Students with a GPA of 3.4 or higher are exempt from this requirement.
Degree Plan
1st Semester (15 credits)
2nd Semester (18 credits)
3rd Semester (16 credits)
4th Semester (15 credits)
5th Semester (16 credits)
6th Semester (16 credits)
7th Semester (12 credits)
NURS4500/4501 Nursing Management of Populations, 3 credits
NURS4420 Health Care Management, 3 credits
NURS4430 Critique and Utilization of Nursing Research, 3 credits
_________ Elective, 3 credits
8th Semester (12 credits)
NURS4460 Prep for Success, 3 credit
_________ Free Elective, 3 credits
PHED  Physical Education, 1 credit (can complete at any point in the program)                                                                                                      
To Apply for this Program
Apply for undergraduate nursing programs at https://fdu.elluciancrmrecruit.com/Apply/Account/Login
Contact Information
Maria de Bialokoz (Administrative Assistant)
mariadb@fdu.edu
(201) 692-2888
---
(NURS2.TEA, NURS3.MAD) 
Prerequisite: High School
Start Date: Fall
Remote Class Options? Mostly onsite with online accessibility
Direct Care Clinical Hours? yes, varies
Credits: 120
Pace: 8 semesters, full time, no summers
Cost per Credit: $967 before aid/scholarships
See Definitions