Global Insights from Leaders Book
Entrepreneurs and Innovators: Global Insights from 24 Leaders
A compilation of insights from leading entrepreneurs and innovators that represents the work of the Rothman Institute of Entrepreneurship, part of FDU's Silberman College of Business. The book includes intimate discussions from the people who redefine the business world every day. Featured executives include for profit entrepreneurs, social entrepreneurs and corporate and nonprofit innovators.
An innovative new publication that incorporates a dynamic multimedia experience that leverages the capabilities of your mobile devices including e-readers, smartphones, and tablets. Also available for your PC and in paperback.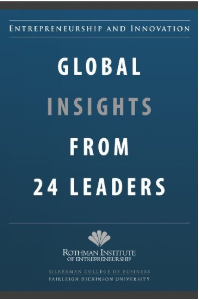 Current and prospective students can obtain a free digital copy of the book. Simply email rothman@fdu.edu with 'book' in the subject line.
Featured leaders include:
John Bailye, EKR Therapeutics, Dendrite
Maxine Ballen, NJTC
Reginald Best, ProtonMedia, Netilla
Kenneth Burkhardt, Verbier Ventures, Dialogic
Charles Cascio, Educational Testing Service
Clayton Christensen, Harvard Business School
Michael Horn, Innosight Institute
Douglas Conant, Campbell Soup Company
John Crowley, Amicus Therapeutics, Inc.
Carlos Dominguez, Cisco
Amir Dossal, United Nations
Doris Drucker, Inventor and Author
Kurus Elavia, Gateway Group One
Seth Gerszberg, Marc Ecko Enterprises
Leonard Green, The Green Group
Fred Hassan, Warburg Pincus, Schering-Plough
Andrea Jung, Avon
Shau-wai Lam, DCH Auto Group
Diahann Lassus, Lassus Wherley
Lillian Rodríguez López, Hispanic Federation
Ralph Nader, Consumer advocate
Gregory Olsen, GHO Ventures, Sensors Unlimited
Lindsay Phillips, SwitchFlops, Inc.
Mervyn Turner, Merck
Peter Weedfald, Gen One Ventures, Circuit City