Historical Timeline of Rothman Institute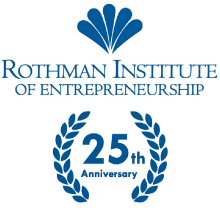 The Rothman Institute was founded in 1989 at the suggestion of real estate entrepreneur George Rothman, and made possible through a generous contribution by Mr. Rothman and his wife Phyllis.
One of the nation's leading real estate developers, George Rothman had great insight into the importance of entrepreneurship to New Jersey's economy. He also served on the University's Board of Trustees from 1986 to 1992 and was awarded an honorary degree from FDU in 1991.
As has been true since its founding, the Institute's mission is to foster, support, teach and study entrepreneurship in both the academic and business communities. Through its academic and outreach programs, the Institute has touched the lives of thousands of students, aspiring entrepreneurs, small business owners and family business owners and employees.
Milestones
1989 The Rothman Institute of Innovation and Entrepreneurship is established. Dedication of the building housing the Rothman Institute of Entrepreneurial Studies on the Madison Campus. It was the nation's first university building dedicated solely to the study of entrepreneurship.
1990

Three courses in Entrepreneurial Studies are offered to FDU undergraduates and graduates.
Institute inaugurates a program of seminars and workshops for the business and entrepreneurial communities, later known as the Business Enterprise Forum.
Business plan development for entrepreneurs program initiated with MBA course, New Venture Creation.
Concentration in Entrepreneurial Studies introduced on graduate and undergraduate levels.

1992 Family Business Forum established to educate and assist family businesses.
1993 Institute and co-sponsors develop annual Family Business of the Year Awards program to identify and honor outstanding New Jersey family businesses.
1994 Institute begins offering Continuing Education courses for adults.
1994-95 Success magazine names FDU among the country's top schools for entrepreneurial studies.
1996 Graduate MBA major in Entrepreneurial Studies and Post-MBA Certificate in Entrepreneurial Studies introduced.
1997

Undergraduate major in Entrepreneurial Studies introduced.
FDU ranked in the Journal of Management among the top 20 colleges and universities publishing entrepreneurship research.
New Jersey Trade Development Corporation, an independent study project by FDU graduate students, receives certification by the New Jersey Commerce and Economic Growth Commission at a campus ceremony. The business plan and other studies were completed under guidance of the Rothman Institute.

1998

Institute receives a Coleman Foundation grant to develop the Certificate in Entrepreneurial and Business Management Studies program.
Annual Business Plan competition begins for FDU undergraduate and graduate students.
New Jersey Collegiate Entrepreneur Awards program established in conjunction with St. Louis University's North American Collegiate Entrepreneur Awards program.

1999 Inaugural Richard M. Clarke Distinguished Entrepreneurial Lecture delivered by Russ Berrie, founder, chairman and chief executive officer of Russ Berrie and Company, Inc.
2000 Incubator project announced at 10th Anniversary Concluding Dinner. After the dinner, John V. Tesoriero, executive director of the NJCST, said, "The Commission on Science and Technology supports this unique incubator which could be a model for others in the state and around the country."
2003 Rothman Institute founding Executive Director Leo Rogers retires; James Barrood becomes its second Executive Director
 15th anniversary of the Rothman Institute
2007 Peter F. Drucker Tree Dedication in recognition of the renowned business management researcher and theorist, the late Peter F. Drucker
2009 20th anniversary of the Rothman Institute
2010

Veterans Launching Ventures, an entrepreneurship program for veterans and their families, is created. O. Berk Family Business Forum expands to reach more family businesses

2014 Executive Director James Barrood leaves FDU
2015

25th Anniversary of the Rothman Institute
Timur Pakay becomes third director of the Rothman Institute

2018 Dr. Dale Caldwell becomes fourth executive director of the Rothman Institute
2019 Family Business World TV show is launched on RVN TV
2020 Webinar series focusing on small and family businesses is launched
2021

Small Business Development Center established within the Silberman College of Business
Entrepreneur State of Mind launched on RVN TV

Executive Leadership Coaching Certification, an approved program of the International Coaching Federation, is offered through the Rothman Institute

2022

Rothman Institute hosts inaugural New Jersey CannaPreneur Conference
Dr. Caldwell and the Town of Newton establish first "Entrepreneur Zone"
Peter F. Drucker Tree Dedication, April 25, 2007
In recognition of the renowned business management researcher and theorist, the late Peter F. Drucker.
Kenneth Greene, Campus Provost, College at Florham, spoke about Peter Drucker, the world's foremost pioneer of management theory, and he noted that his personal contribution to the field cannot be overstated. Ken stated that at the time of Drucker's death in 2005, he had given a lifetime gift of his mind and insight to the study of management theory. His career as a writer, consultant and teacher spanned nearly 75 years. His groundbreaking work turned modern management theory into a serious discipline. He influenced or created nearly every facet of its application, including decentralization, privatization, innovation and entrepreneurship, empowerment and understanding of the knowledge worker.
Doris Drucker, wife of the late Peter Drucker and FDU alumna, then said a few kind words of thanks and noted how Peter loved nature and would appreciate the thoughtfulness of a tree planted in his name. Doris flew in from California to be present at the morning ceremony. She then remained on campus for the morning to talk to faculty and lecture to an undergraduate entrepreneurship class.
James Barrood, Executive Director of the Rothman Institute, concluded the morning by saying that this purple leaf plum tree would serve as inspiration for the staff and faculty at the Institute, business school and University as we strive to continue being the innovators and entrepreneurs that Peter recognized in his book, Innovation and Entrepreneurship: Practice and Principles. In this book, he noted that Fairleigh Dickinson was one of only a few academic innovators after WWII.