30th Annual New Jersey Family Business of the Year Awards 2022
The most prestigious acknowledgment of the power of family business in the State of New Jersey.
Each year, the Rothman Institute coordinates this annual event with other corporate sponsors to select the finest family businesses in the state. This year, our awards program was held on October 19, 2022 at the Upper Montclair Country Club.
2022 NJ Family Business of the Year Honorees
Sales Over $10 Million
Placement
Business Name
Location
Winner
Eastern Janitorial Company
Parsippany
Finalist
Alfred Sanzari Enterprises
Hackensack
Semifinalist
AWT Environmental Services, Inc.
Sayreville
Semifinalist
Equilliem
East Brunswick
Semifinalist
Walters Group
Barnegat
Sales Under $10 Million
Placement
Business Name
Location
Winner
Roman Jewelers
Bridgewater
Finalist
Traphagen CPAs and Wealth Advisors
Oradell
Semifinalist
Shovlin Mattress Factory
Fanwood
Semifinalist
York Building Services
Moonachie
Semifinalist
Telecloud
West Union
Best New Family Business
Placement
Business Name
Location
Winner
F&S Digital
Ventnor City
Recognition
Honorees are announced in CIANJ's Commerce Magazine.
The winners are traditionally recognized at an awards luncheon each fall.
Winners will be profiled in New Jersey Business magazine, a publication of the New Jersey Business & Industry Association.
The winners receive a stunning award commemorating their accomplishment to proudly display in their place of business.
Take a look at the 2022 Honorees
Watch as the 2022 honorees talk about their family businesses: who they are, their history, and what makes their family business successful.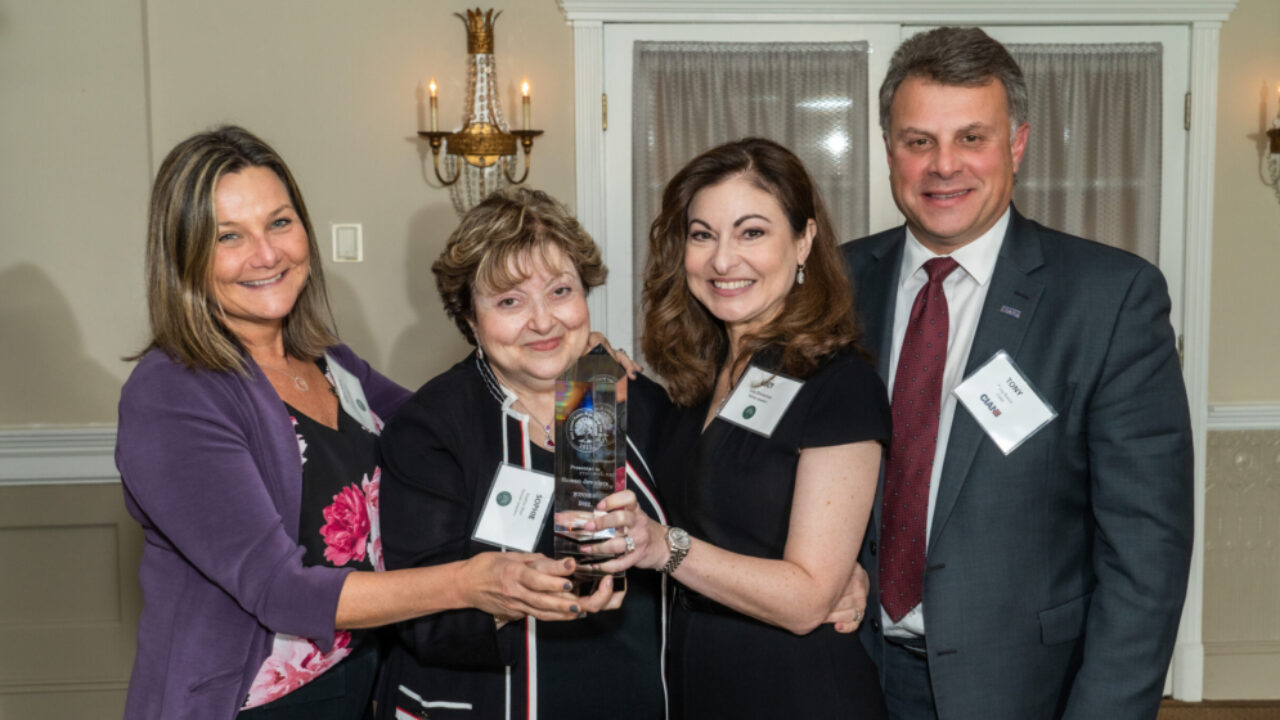 2022 Honorees
Read what some of our winners have said.
Applicants tell us that the application process was a great way for the family to reflect on their successes and accomplishments.
"It was an honor last year for our business to be considered for this award and I enjoyed the application process because it gave us an opportunity to reflect upon how far we have come over the many years The Train Station has been in operation."
— Sue Shaw, The Train Station, Mountain Lakes, NJ
"Our family was so privileged to be recognized for the values with which we hold so dearly: hard work, innovation, and respect for one another. The award has become a major source of inspiration and confidence building for our younger employees who now have a stronger appreciation for our heritage of craftsmanship."
— William Bauer, Managing Director, ROYCE Leather - New Jersey Family Business of the Year 2016 (Over $10 million)
"One of the most exciting and rewarding experiences in our lives was winning the New Jersey Family Business of the Year Award. We are very proud of this award and cherish it deeply. The strong work ethic that my father instilled in my brother and me really paid off; my dad would have been really proud of us and the award. With my son Vincent Jr. now in the business, I know the legacy will continue."
— Vincent Losavio, President, John's Meat Market - New Jersey Family Business of the Year 2006 (Under $10 million)
"The Family Business of the Year Award definitely gave Gateway an opportunity to showcase our talent and expertise within the service industry."
— Lou Dell'Ermo, Founder, Gateway Security Inc. - New Jersey Family Business of the Year 2004 (Over $10 million)
"Our family was proud to be honored with the New Jersey Family Business of the Year Award in 2002. We have been citing this award in our advertising and easel displays in all four of our stores ever since and cannot help but think that it builds confidence in our customers."
— Max Lebersfeld, President, Capitol Lighting - New Jersey Family Business of the Year 2002 (Over $10 million)