University Honors Program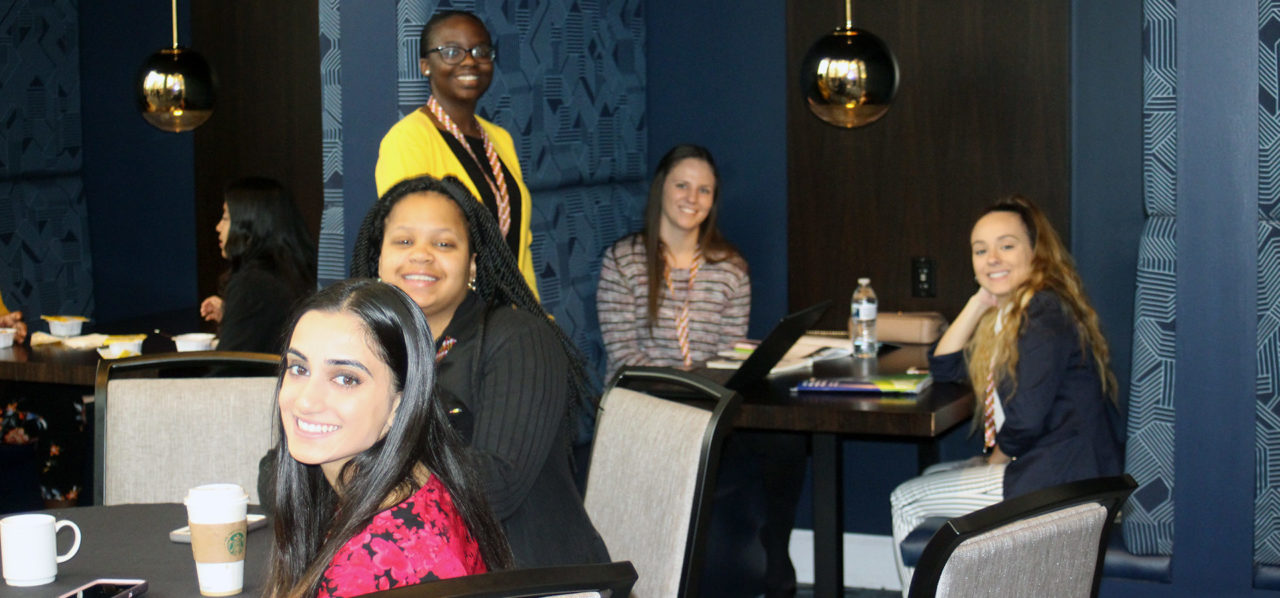 "The University Honors Program cultivates the minds of inquisitive students who want to make the most out of their college experience. It offers talented students membership in a dynamic community and unique opportunities on campus and around the world."
— Michael Avaltroni, Ph.D., University President
The University Honors Program has rolling admissions from mid-December into the summer.
The University Honors Program offers exceptional students an educational experience that combines advanced, multidisciplinary coursework through all four years with co-curricular activities that give students an opportunity to explore the campus, the local area, and the world.
We provide a network of support through program staff, honors faculty, and peer and community mentors. Students in the University Honors Program receive an education designed to help you reach your full potential. Recent graduates currently attend many of the nation's leading professional & graduate schools or are employed by NGOs and Fortune 500 corporations.
Academically motivated incoming students are invited to apply to the University Honors Program prior to their freshman year. They may also apply for entry after they have matriculated, having demonstrated superlative academic achievement and a consistent record of leadership and service to the community.
Benefits
Honors students enjoy a number of exciting benefits during their time at FDU at no cost to the student. Some of these include:
Regional travel to present research at annual Northeast Regional Honors Conference
Wroxton Summer Seminar and other honors short-term study abroad opportunities (subsidized but not fully paid by honors)
Research opportunities and mentorship from individual faculty mentor in major
Specially-designed honors courses that meet requirements for all majors and are taught by select faculty
Sense of community among an incredibly diverse group of honors students
Mentorship from a personally-matched upper class honors student
On-campus social activities like ice cream social, pizza party, scavenger hunt, dinner-and-theater or dinner-and-game nights, honors formal, movie nights, and game nights
Off-campus activities like Broadway and other theater trips, movie nights, pumpkin picking, New Jersey Speaker Series, museum visits
Access to unique academic, internship, and scholarship opportunities
Opportunity for honors housing (not required)
Specialized honors academic advising and priority registration
Designation on degree, transcript, and in graduation program
The Honors Program is designed to take advantage of the cultural and intellectual richness of New York City, and honors students benefit from its proximity to campus.
Program Requirements
The requirements for honors include three parts that are part of a well-rounded honors education: scholarship in the classroom, experiential and applied learning, and engagement with the honors community. The requirements are meant to be completed across a student's academic career at FDU.
Scholarship (complete 8 total over 4 years): This is fulfilled through your academic coursework by taking courses that have an honors designation. See curriculum (below) for further information.
Honors Experience (complete 4 total over 4 years): This is applying honors learning outside of the classroom through service, travel or career experiences. Examples of an Honors Experience are
Honors UNIV 1001 (Transitioning to University Life)
Study Abroad (short-term or full semester)
Presentation at NRHC or Other Academic Conference
Internship (short-term or full semester)
Shadowing related to Major or Career
Mentored Research
Campus or Community Leadership (with pre-approval)
Serving as an Honors Support Squad Leader
Applying for Nationally Competitive Scholarships (Fulbright, Rhodes, etc.)
Honors Community (complete 8 total over 4 years): This is fulfilled through connecting with members of the honors community through on- and off-campus opportunities, organized by the Honors Office. Examples of Honors Community events are:
Honors Colloquia or Speakers
Honors On-Campus Events
Honors Off-Campus Events
Participation in Honors Admissions Committee
Participation in Honors Support Squads
Participation in Honors Social Committee
Living in Honors Housing
Maintain minimum cumulative GPA that increases at the end of each academic year
Sophomore Year: 3.3
Junior Year: 3.4
Senior Year: 3.5
Graduate with 3.5 GPA
Curriculum
The Honors Program offers a rotating list of honors courses in a variety of fields that fulfill requirements for either General Education or specific majors.
In the freshman year, students enroll in Honors sections of Composition I (WRIT 1002) and Composition II (WRIT 1003), as well as Transitioning to University Life (UNIV 1001). In the junior year, students take one semester to prepare a proposal for the senior thesis or capstone project. In the senior year, students enroll in senior honors research (fall) and senior thesis (spring).
Other Honors courses are made available to our students each semester on a rotating basis.
All Honors Program Students participate in Honors Advising each semester to discuss which honors class option best fits their needs.
If none of the other honors offerings fit a student's schedule and degree requirements, the student can designate another course as an honors course through a Course Honors Contract. These honors courses include additional special projects that enhance learning and knowledge in the student's major area of study. The Course Honors Contract is available here. 
Admission Requirements
In addition to your FDU Application for Admission, incoming first year students applying for the University Honors Program must complete the Honors at FDU application to be considered for a virtual interview.
Applications are considered on a rolling bases from mid-December through June, and students will be notified about next steps within a few weeks of applying. Students not initially accepted will be placed on a waitlist, which will be reviewed for potential admission in August.
Our typical honors students are highly motivated with a wide variety of academic and co-curricular interests. Many bring in AP and other credits towards their degrees. Any qualified transfer students or currently enrolled student may inquire about membership in the program by mailing fduhonors@fdu.edu.
After Graduation
Many University Honors Program graduates have been accepted to professional or graduate schools. Recent graduates are studying in medical and dental schools, pursuing M.F.A degrees in creative writing, or Ph.D. degrees in biology, chemistry, history, and literature and other fields. They have been accepted into graduate programs at the University of Pennsylvania, Rutgers, New York University, The New School, Drew University, Seton Hall University, and the College of Medicine and Dentistry of NJ among others. Many who chose to go into education have joined public schools and Teach for America. Others work for large multinational corporations as well as nonprofits and NGOs. They work as lawyers, accountants, and counselors, or hold positions in government, publishing, and in hotel and restaurant management.
Contact us
Office Locations
Florham Campus
285 Madison Ave., M-MS3-03
Madison, NJ 07940
Metro Campus
1000 River Road, T-RH2-07
Teaneck, NJ 07666
Contact Information
Social Media
University Honors Program
University Honors Program
University Honors Program
What Honors Students Have to Say
 "The Honors program at FDU has a sense of community and helpfulness that I never experienced in high school. Taking part in this program has provided me with a huge support system and the resources I need to succeed in college."
—Delaney, Accounting Major
"Joining the University Honors Program has been one of my most rewarding experiences at FDU. It offered me the opportunity to not only get more involved with my own research interests, but also let me travel to conferences where I exchanged ideas with like-minded peers."
—Anna, Chemistry Major
"The Honors Program has given me great experiences, new friends, better work habits, and access to faculty willing to give us the best experience we can have."
—Eleni, Literature/Education Major
"Engaging in different subjects more deeply means I've gotten more out of my degree, and I appreciate the challenge."
—Victoria, Creative Writing Major
"My favorite parts of the Honors Program are mentoring incoming freshmen and going to the Honors Conference every spring."
—Shivani, Biology Major
"What makes being an honors student special is how the faculty pays special attention to the members in the program to make sure they take advantage of all of the extra opportunities on campus."
—Andy, Animation Major
"Being part of honors has enhanced my experience as an FDU student and has provided me the tools to go above and beyond expectations set by my professors."
—Kathleen, Psychology Major
"The FDU Honors Program allowed me to grow as a student and member of my community. I was able to share my love for art with others at the NRHC. The Honors Conference was the highlight of my college career."
—Veronica, Spanish Education Major
"Honors is great to have on a resume, not to mention all of the experiences I will be able to take with me after I graduated...The amazing, once in a lifetime trips we get to go on and people we get to meet."
—Jess, Theatre Major