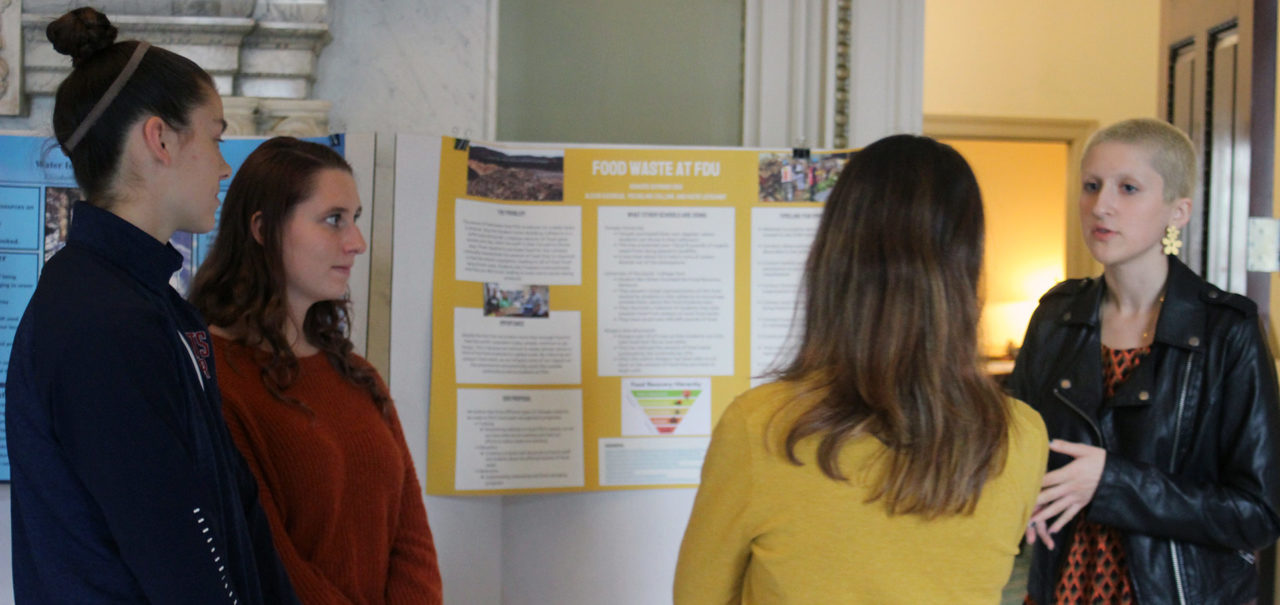 The Honors Academy has priority deadlines of November 1 and December 1 and a regular deadline of January 31. 
Students in the FDU Honors Academy join an exclusive cohort of motivated students from a wide variety of disciplines. Together, you will work closely to explore and address common problems and critical global issues such as sustainability, human rights, and the impact of technology on modern life.
You will benefit from a rigorous, unique curriculum that will shape the way you view complex issues through applied research opportunities, creative projects, or partnerships with faculty and industry professionals. A select network of professors, administrators, advisors and accomplished professionals — who are all invested in your success — will provide you with personalized guidance throughout your journey at FDU.
"The professors in the Honors Academy come from a variety of disciplines, so I get to interact with faculty I wouldn't ordinarily have the opportunity to meet."
— Amelia Chumney
Benefits
Honors students enjoy a number of exciting benefits during their time at FDU at no cost to the student. Some of these include:
Prestige of admission into FDU's most prestigious cohort and relationships with counterparts at both Metropolitan and Florham Campuses
Specialized curriculum led by teams of faculty from both NJ Campuses
Wroxton Summer Seminar and other Academy short-term study abroad opportunities and service-learning trips (subsidized but not fully paid by the Honors Academy)
Regional travel to present research at annual Northeast Regional Honors Conference
Research opportunities and mentorship from individual faculty mentor in major
Mentorship from a personally-matched upperclass honors student
Engagement with prestigious guest speakers selected to meet with Academy students
Sense of community among an incredibly diverse group of honors students
On-campus social activities beginning with a Pre-Semester Retreat before the first year
Off-campus activities connected to World Science Festival and to places like the Metropolitan Museum of Art and Newtown Creek Wastewater Treatment Plant
Access to unique academic, internship, and scholarship opportunities
Opportunity for honors housing (not required)
Specialized honors academic advising and priority registration
Designation on degree, transcript, and in graduation program
The Honors Academy is designed to take advantage of the cultural and intellectual richness of New York City, and Honors Academy students benefit from its proximity to campus.
"The Honors Academy challenges me in a way that no other program would. It gives me a chance to explore topics that are outside of my major while still interesting."
— Alexis Kazokas
Curriculum
Students in the Honors Academy take a five-semester series of courses together. These courses are team-taught by pairs of faculty from varying fields and encourage an interdisciplinary approach to major issues like sustainability, humanity and technology, and human rights.
The sequence of courses includes:
Freshman Fall: HON 1001 (replaces UNIV 1001) and Honors ENGW/ENWR 1001
Freshman Spring: HON 1002 (replaces ENGW 1002)
Sophomore Fall: HON 2001 (replaces UNIV 2001)
Sophomore Spring: HON 2002 (replaces UNIV 2002)
Junior Fall: HON 3001 (covers GenEd req)
Students can always take other honors courses to fulfill major or GenEd requirements. In their senior year, students complete a thesis or capstone project with a faculty mentor from their major.
Admission Requirements
In addition to your FDU Application for Admission, incoming first year students applying for the Honors Academy must complete The Honors at FDU Application. Honors Academy Applicants are also required to provide Two Letters of Recommendation: one from a teacher in arts, language, or humanities and one from a teacher in science, technology, or math. The Priority Deadline is December 1. The Regular Deadline is January 1. If any spots remain after that, Academy applications will be reviewed on a rolling basis.
They are highly motivated students with a wide variety of academic and co-curricular interests. Many bring in AP and other credits towards their degrees.
Program Requirements
Maintain minimum cumulative GPA that increases at the end of each academic year
Freshman (up to 29 credits): 3.5
Sophomore (30-59 credits): 3.6
Junior (60-89 credits): 3.7
Senior (90 or more credits): 3.75
Graduate with 3.75 GPA
Complete Senior Thesis or Capstone Project with faculty mentor
Take the Honors Academy Seminars
HON 1001 (replaces UNIV 1001)
HON 1002 (replaces ENGW/ENWR 1002)
HON 2001 (replaces UNIV 2001)
HON 2002 (replaces UNIV 2002)
HON 3001 (covers GenEd req)
Contact us
Office Locations
Florham Campus
285 Madison Ave., M-MS3-03
Madison, NJ 07940
Metro Campus
1000 River Road, T-RH2-07
Teaneck, NJ 07666
Contact Information
Social Media