High School Students Summer Studies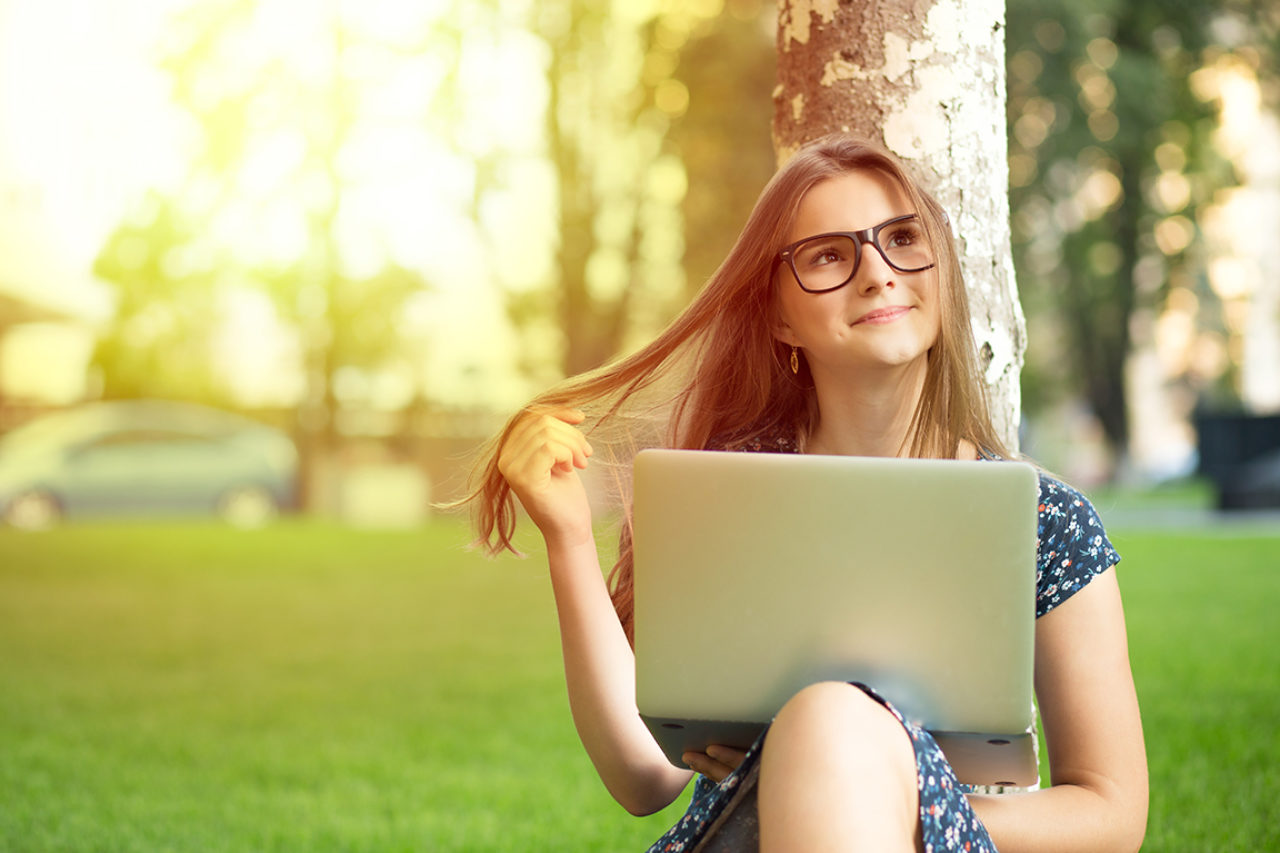 Online Summer Pre-College Program
Earn up to 12 college credits online in just a summer at significant cost savings!  Students join a collaborative learning environment of students from across the state, country, and globe. Small classes feature the perfect blend of real-time instruction, self-paced projects, and virtual teamwork. 
Who Should Enroll
Rising high school juniors and seniors interested in getting a head start on college and exploring future career paths.
Program Information
Dates: Session I: July 6–16;  Session II: July 20–30. Classes are held Monday through Thursday. Option to attend morning (9:00 AM to 12:30 PM) and/or afternoon (1:30 to 5 PM) classes.
Tuition: $775 per 3-credit course
Courses
Session 1: July 6-16
Morning Courses — 9 AM to 12:30 PM
The Future is AI and Robotics! How AI and Robots Will Impact Our World
(3 credits)
This course introduces students to the emerging impact of Artificial Intelligence (AI) and Robotics on our daily lives. The course examines the influence that AI and Robotics will have on the way we live and work in the future. Students explore cutting-edge, game-changing software and hardware that are accelerating the way AI and Robotics are developed.
Pre-Med: Introduction to Health Sciences
(3 credits)
This course introduces students to the basic concepts of medical science including Physiology, Anatomy and effective patient care using hands-on models. Students learn how to take blood pressure readings and use other diagnostic equipment, and receive an overview of the diverse job opportunities and pathways to careers in the health sciences.
Introduction to Coding: Concepts and Applications for Learning to Code
(3 credits)
This introductory course is designed for students looking to learn how to code in the Python programming language. It uses the Python programming language as a foundation for teaching students the basics of coding and coding to create. Students examine the basics of syntax and structure, and then use these skills to create applications in Python.
Creative Writing – The Power of Storytelling
(3 credits)
This course is designed for students looking to take their first steps toward a career in writing or journalism. Students select a project in a specific genre and develop basic skills used to create imaginative literature. Students explore the fundamentals of craft and composition. They also examine the distinct but related written techniques used across three genres: Story, scene, and characters in fiction; sound, line, image, and voice in poetry; monologue, dialogue, and action in drama.
Session 1: July 6-16
Afternoon Courses — 1:30 PM to 5 PM
Outbreaks: Pandemics Past, Present and Future and How We Can Prepare
(3 credits)
From its origins, civilization has endured and successfully overcome the scourge of pandemics. In this course, students explore the history and spread of global pandemics through case studies and hands-on materials. Students consider the health techniques and policy initiatives that could curtail the spread of pandemics on a global scale in the future.
Picture Perfect: Optimizing Smartphone Photography and Videography
(3 credits)
As smartphone cameras become more sophisticated and capable, they are increasingly the primary means of capturing the world around us. In this course, students learn how to optimize the use of their smartphone's camera with cutting-edge tools and techniques to produce outstanding pieces of photography and videography.
Introduction to Criminal Justice and the American Legal System
(3 credits)
Law enforcement and criminal justice play critical roles in ensuring the safety and security of our citizenry. This course introduces students to the fundamentals of the American criminal justice system as well as the laws and precedents that govern the functioning of this system. Students learn how to formulate a legal defense and examine cases from the viewpoint of the prosecution. Students are also exposed to the various career pathways and possibilities in criminal justice and the legal system.
Introduction to Applied Statistics
(3 credits)
The field of statistics is a critical foundation for several disciplines ranging from Finance to Big Data and even engineering. This course provides students a strong applied foundation in statistics by introducing them to the fundamental tools and techniques used by modern statisticians.
Session 2: July 20-30
Morning Courses — 9 AM to 12:30 PM 
Drug Discovery: The Exciting Future of Pharmacology in 21st Century Treatment Protocols
(3 credits)
As diseases become more complex and drug resistant, the field of Pharmacology is increasingly critical to treating and managing diseases on a global scale. This course introduces students to basic concepts in the field of Pharmacology and presents an overview of the various effects of common pharmaceuticals on systems in the human body. The course uses case studies to help students understand the process of pharmacological drug development. It also exposes students to various careers and career pathways in the field of Pharmacology.
Wall Street Careers: An Introduction to Financial Markets and Trading
(3 credits)
In this course, students explore the structure and functioning of today's Global Financial Markets. Through applied exercises, simulators, and case studies, they examine what a career in finance and trading entails. Students explore how global financial markets work and how securities transactions are executed. Students also learn how to create an optimal investment portfolio based on the investor's risk profile.
Astrophysics – The Stars and the Galaxies
(3 credits)
This course traces mankind's knowledge of the universe from astronomy's ancient roots to the modern study of extra-solar planetary systems, cosmology, and black holes. Students apply this knowledge to describe the properties of the sun and of the planets of our solar system, the properties and fate of stars in general, and the discovery of planets around other stars.
Introduction to Applied Mathematics
(3 credits)
From architecture to genetics, mathematics pervades every industry and discipline in the world. This course introduces students to the use of mathematics in different facets of our modern life. The course bridges the gap between theoretical concepts and their applications. Students work in groups and individually to solve real-world problems using mathematical tools and techniques.
Session 2: July 20-30
Afternoon Courses — 1:30 PM to 5 PM
Introduction to Advanced Coding and Development
(3 credits)
This course aims to put students on a pathway to becoming a full-stack developer. The course begins with the overall architecture of full stack development and then proceeds into the process of comprehensive application development using Java, C#(c-sharp), Python, PHP, and other integrated technologies. Students examine the basic syntax and structure of various popular programming languages and learn to understand and appreciate the value of modern full-stack development. Students will then apply this knowledge to real-world application development projects. This is not an introductory coding course. Students will need experience with common coding languages such as C++, Python, or Java to succeed in this course.
Introduction to Entrepreneurship, Startups, and Venture Capital Funding
(3 credits)
America's economic prowess has been a direct result of its entrepreneurial culture and the acumen of its investors. This course introduces students to the process and potential of becoming an entrepreneur, managing a startup, and securing venture capital funding. It considers the various tools, techniques, and resources required to turn an idea into the next billion-dollar business.
Cognitive Psychology – Understanding the Mind, the Brain, and our Behavior
(3 credits)
This course is designed for students with a strong curiosity to understand the workings of the human mind. Students work with the instructor to gain an applied understanding of the crucial field of Cognitive Psychology. They also explore  the various career pathways and possibilities in this critical discipline.
Digital Art: Create Your Own Online Canvas
(3 credits)
In this course, students explore the many possibilities of digital illustration, in which creations can appear as realistic as actual drawings and paintings. Students learn how to set up and optimize their work spaces, prep documents for illustration, and produce finished digital masterpieces. They build skills by creating an illustration using an array of digital tools to manipulate its look and feel.
REGISTER FOR CLASSES
Online Summer Experience for Students with Language-Based Learning Disabilities
Navigating the Virtual Classroom — Including Accommodations
Application deadline: June 25, 2020 
Download Regional Center Application Form (PDF), which includes instructions for completion.
Program Overview
This 2-week, all-online program is offered by FDU's nationally recognized Regional Center for Learning Disabilities. The 2020 Summer Experience has a special focus on helping students with language-based learning disabilities succeed in today's increasingly online learning environment, including how to access accommodations.
Students in this all-online program will:
Develop a better understanding of their learning strengths and weaknesses
Build stronger self-advocacy skills
Enhance their time management and organizational skills
Learn how to study more effectively and efficiently
Who Should Enroll
College-bound graduates and rising high school seniors with language-based learning disabilities.
Program Details
Dates: July 6 to 16. Morning Session: 9 a.m. to 12:30 p.m. Optional Afternoon Session: 1:30 to 3 p.m. (Math or Reading workshops)
Tuition: To be announced
REGISTER FOR CLASSES