Film and Animation BA, Animation MFA: combined degree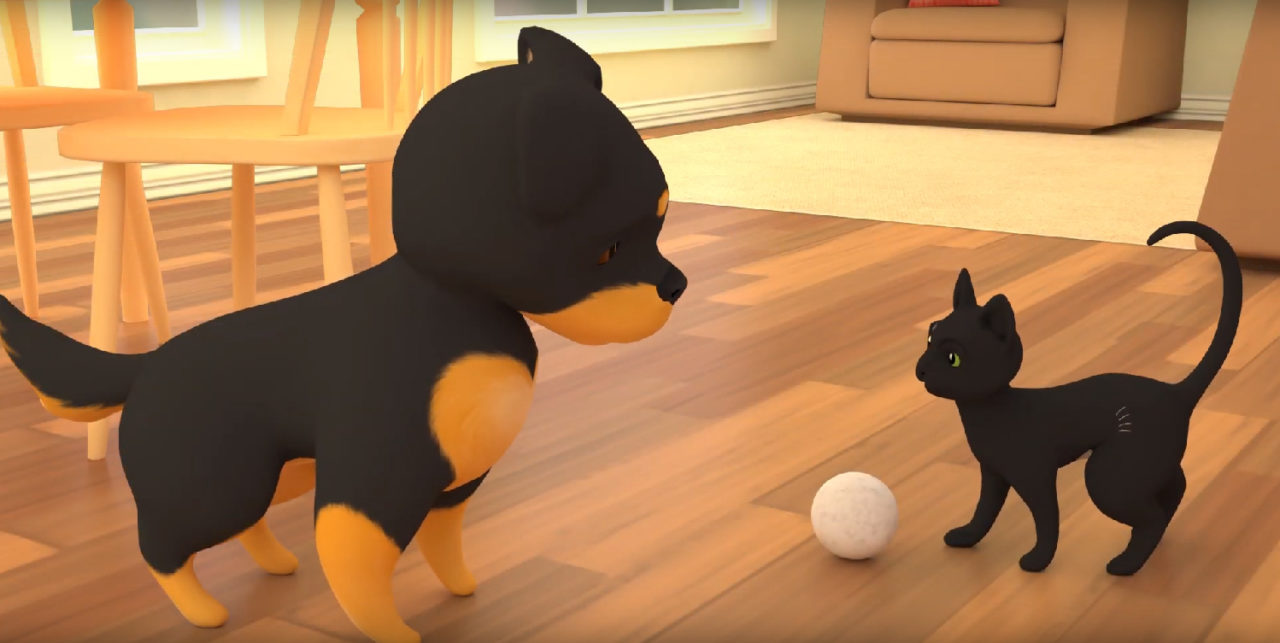 The MFA degree is the highest degree available in Animation. Our combined BA-MFA in Animation degree offers FDU students the option to complete both the Bachelor and Master degrees in Animation. This program is designed for talented, highly motivated students seeking specialized training at the terminal degree level in addition to their undergraduate education in animation. The curriculum culminates in a major Thesis work, incorporates motion capture and virtual reality technology, and also promotes career readiness. Students may apply to this program at any time from their entry into the BA in Film and Animation program up until the beginning of the senior year of their undergraduate studies.
During the first three years, students in the combined BA-MFA program take undergraduate classes that are required of students in the BA in Film and Animation program (3D Animation Concentration, 2D Animation Concentration, or Video Game Animation Concentration). In the junior year of undergraduate studies, students in this program are required to submit a portfolio of their best work for review. In the senior year of undergraduate studies, students in this program take 12 Master's level credits (included in their undergraduate tuition) as well as complete the remainder of their undergraduate courses. To transfer graduate credits completed in the undergraduate senior year into the MFA program, a grade of B or better is required. Those credits will be applied to the undergraduate degree as well as the graduate degree.
BA: 3D Animation Concentration
(Including 12 Dual Credits)
Theory and Production (30 Credits)
ANIM 1500 Storyboarding
ANIM 1750 Motion Graphics with After Effects
ANIM 1850 3D Computer Modeling
ANIM 2270 ZBrush Digital Sculpting
ANIM 2500 3D Computer Animation
ANIM 3330 3D Environment Modeling
ANIM 3331 Logo and Product Animation
ANIM 3341 Character Animation using CAT
ANIM 4500 Thesis I
ANIM 4600 Thesis II
Major Electives (12-15 Credits)
4-5 ANIM 1000-4000 Level Courses
Cognates (6 Credits)
CGD 1313 Creative Imagery with Photoshop
SOAC 4001 Professional Practice: Animation
Dual Courses Applied to BA and MFA Degree (12 credits)
4 ANIM 5000 or Higher Level Courses
MFA: 3D Character Animation Concentration
(Including 12 Dual Credits)
Required Courses (36 Credits)
ANIM 5300 Storytelling
ANIM 5400 Character Design
ANIM 6100 Digital Sculpting
ANIM 6150 3D Character Texturing
ANIM 6300 3D Character Animation
ANIM 7000 Advanced 3D Character Animation
ANIM 7250 Lip-Syncing
ANIM 7425 Motion Capture
ANIM 7650 Thesis I
ANIM 7750 Thesis II
ANIM 7850 Thesis III
ANIM 7900 Animation Career Preparation
Major Electives (12 Credits)
4 ANIM 5000 or Higher Level Courses
BA: 3D Animation Concentration (Including 12 Dual Credits)
Theory and Production (30 Credits)
ANIM 1500 Storyboarding
ANIM 1750 Motion Graphics with After Effects
ANIM 1850 3D Computer Modeling
ANIM 2270 ZBrush Digital Sculpting
ANIM 2500 3D Computer Animation
ANIM 3330 3D Environment Modeling
ANIM 3331 Logo and Product Animation
ANIM 3341 Character Animation using CAT
ANIM 4500 Thesis I
ANIM 4600 Thesis II
Major Electives (12-15 Credits)
4-5 ANIM 1000-4000 Level Courses
Cognates (3 Credits)
CGD 1313 Creative Imagery with Photoshop
SOAC 4001 Professional Practice: Animation
Dual Courses Applied to BA and MFA Degree (12 credits)
4 ANIM 5000 or Higher Level Courses
MFA: Visual Effects Concentration (Including 12 Dual Credits)
Required Courses (36 Credits)
ANIM 5300 Storytelling
ANIM 5500 Digital 2D Animation
ANIM 5600 3D Layers in After Effects
ANIM 5700 Dynamic Effects and Particle Systems in After Effects
ANIM 5800 Compositing in After Effects
ANIM 6350 3D Particle Systems and Effects
ANIM 6700 Animating Fluids
ANIM 6805 Motion Tracking
ANIM 7650 Thesis I
ANIM 7750 Thesis II
ANIM 7850 Thesis III
ANIM 7900 Animation Career Preparation
Major Electives (12 Credits)
4 ANIM 5000 or Higher Level Courses
BA: Video Game Animation Concentration
(Including 12 Dual Credits)
Theory and Production (30 Credits)
ANIM 1650 Game Design
ANIM 2240 Low Poly 3D Modeling
ANIM 2270 ZBrush Digital Sculpting
ANIM 2500 3D Computer Animation
ANIM 3330 3D Environment Modeling
ANIM 3341 Character Animation using CAT
ANIM 3350 3D Game Creation using Unreal
ANIM 3450 3D Game Creation using Unity
ANIM 4500 Thesis I
ANIM 4600 Thesis II
Major Electives (12-15 Credits)
4-5 ANIM 1000-4000 Level Courses
Cognates (9 Credits)
ART 1201 Drawing I
CGD 1313 Creative Imagery with Photoshop
SOAC 4001 Professional Practice: Animation
Dual Courses Applied to BA and MFA Degree
(12 credits)
4 ANIM 5000 or Higher Level Courses
MFA: Video Game Concentration
(Including 12 Dual Credits)
Required Courses (36 Credits)
ANIM 5400 Character Design
ANIM 5500 Digital 2D Animation
ANIM 6100 Digital Sculpting
ANIM 6400 3D Animation for Games
ANIM 6600 Game Creation
ANIM 7500 Advanced Game Creation
ANIM 7525 Virtual Reality
ANIM 7600 Video Game Team Project
ANIM 7650 Thesis I
ANIM 7750 Thesis II
ANIM 7850 Thesis III
ANIM 7900 Animation Career Preparation
Major Electives (12 Credits)
4 ANIM 5000 or Higher Level Courses
Other Animation Electives
ANIM 1450 Drawing for Animation
ANIM 2243 Advanced After Effects
ANIM 2245 3D Character Modeling
ANIM 2280 3D Printing
ANIM 2285 3D Asset Creation for Video Games
ANIM 2300 Texturing for 3D Production
ANIM 3000 Fundamentals of Animation II
ANIM 3100 2D animation with OpenToonz
ANIM 3225 Vector Animation II
ANIM 3250 3D Particle Animation and Effects
ANIM 3343 Advanced Character Animation
ANIM 3345 Custom 3D Character Rigging & Animation
ANIM 3420 2D animation with Toon Boom
ANIM 4100 Design & Development of Video Games
ANIM 4422 Internship in Animation I
ANIM 4423 Internship in Animation II
ANIM 4800 Independent Study in Animation
ANIM 4900 Faculty/Student Research
ANIM 4901 Faculty/Student Research
ANIM 5100 History of Animation & Special Effects
ANIM 5200 History of Video Games
ANIM 5650 3D Modeling
ANIM 5750 3D Character Modeling
ANIM 5850 Advanced Digital 2D Animation
ANIM 5900 Expressions and Scripting in After Effects
ANIM 6200 Animation with Houdini
ANIM 6900 Digital 2D Game Creation
ANIM 7100 3D Character Animation – Weight, Overlap and Follow through
ANIM 7200 Character Animation – Emotion and Personality
ANIM 7300 Animation with Hair/Fur
ANIM 7400 Animation with Cloth
ANIM 7550 Internship I
ANIM 7700 Faculty/Student Research I
ANIM 7775 Internship II
ANIM 7805 Faculty/Student Research II