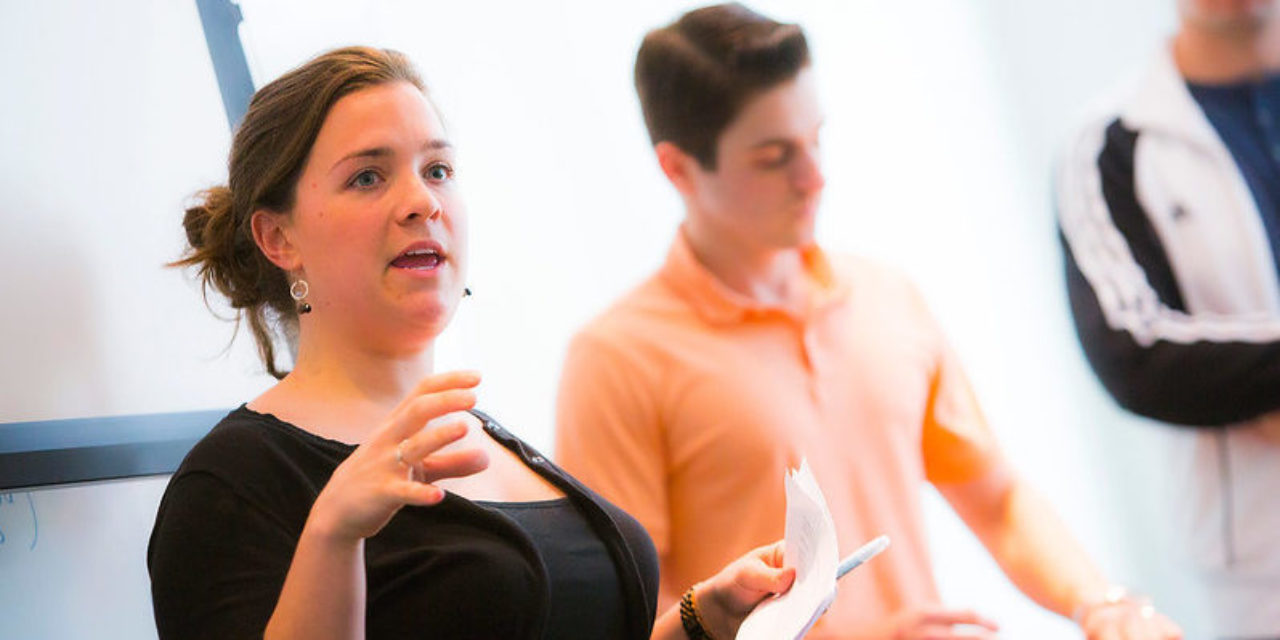 The MBA in Management is designed for students who wish to develop the interpersonal and management skills needed to advance to levels of leadership in their companies, as well as develop a long-term perspective and value system which will serve them their entire careers. Students in the program will improve their skills in managing people and organizational systems, build their leadership capabilities, and become well versed in team building and employee motivation. The program builds knowledge of how business strategy affects organizational interaction with the marketplace and how to structure the workplace to enhance organizational growth and productivity.
Course Offerings Emphasize
An approach to classroom instruction that fully engages the student in the learning process
Concentration on knowledge and skill sets that are practical and useable
A global perspective that emphasizes ethics and long-term sustainable business practices
The use of team-based teaching and learning
It is Our Goal that Our Management Majors Will
Receive solid conceptual grounding in management disciplines
Develop competencies to become highly effective individually and with others
Develop and demonstrate these competencies with hands-on learning, including work on real-world consulting projects and service to the community
Undergo rigorous assessment of their overall accomplishments
Enter a fast track to successful and rewarding careers
Our expert faculty combine scholarship, business experience and teaching excellence to help students become more aware of the challenges that face global business leaders and develop the tools, competencies, and long-range mindset needed to meet these challenges. Our management curriculum emphasizes a strategic orientation towards managing people, leading individuals and organizations through times of change, and work on actual HR/OD consulting projects. We also promote the values of ethical leadership and sustainable business practices.
Career Opportunities
An MBA in Management can be used to pursue a wide variety of career opportunities. Those already employed in technical areas of business can use their management degrees to pursue managerial and leadership tracks in their companies. Students can also use their applied knowledge to pursue careers in management consulting or in mid-to-upper level managerial positions.
Degree Requirements
Core Curriculum
The MBA program consists of 42 credits.  In addition to the requirements set forth by each specialization and the capstone course, all students must complete the Silberman College of Business core requirements for the Master of Business Administration (MBA) degree that includes:
Foundation Courses (12 Credits)
The Foundation includes six two-credit courses:
For each foundation course, the Silberman College of Business grants waiver credit. The waiver policy that governs each course is established by the department responsible for that course. Requests for waivers must be submitted and approvals received before the end of the student's first semester in the program. For further information please visit the Waiver Credit Policy Procedures section of the MBA Advising website.
Each waiver of a foundation course reduces the number of credits required to complete the program by two credits.
FDU MBA Core (18 Credits)
The MBA Core consists of nine required two-credit courses. These courses cannot be waived; however, a student will be eligible to transfer a maximum of two classes provided these credits have been earned in an MBA program at another AACSB-accredited institution under the conditions listed in the "Transfer Credit" section below. The MBA Core includes:
Capstone (2 Credits)
All MBA students must, within the final 8 credits of coursework, complete:
Specialization Requirements (10 Credits)
Required Courses
Elective (Select One)
Learn More
Contact a graduate advisor for more information.
International Student Requirement
In certain circumstances it may be necessary for students to further develop their proficiency in English in order to ensure academic success. In these cases students are required to take the English for Professional Success course EPS 5109 as well as the lab EPS 5119.
NOTE: Although EPS is a zero credit course students may elect to apply three developmental credits (using EPS) to their first semester plus six credits of graduate coursework to complete full-time student schedule requirements.
Transfer Credit
A maximum of 6 nonwaivable credits of graduate course work required for a degree may be approved for transfer from another AACSB accredited college or university under the following conditions:
the course work must be approved as part of the student's program of studies;
it must not have been applied to the completion of the requirements for another degree;
it must have been taken at the graduate level;
it must have been taken within the past five years; and
the student must have received a grade of B or better.
Approval of transfer credit will be made by petition to the department chairperson. A transcript of the course work must be on file before the petition can be considered. Only grades for courses taken at Fairleigh Dickinson University or taken off-campus with authorization figure into the cumulative grade point ratio.