June 19, 2019
Dear Faculty and Staff,
I hope everyone enjoyed a successful and productive academic year. It's remarkable that the year passed so quickly. We enjoyed many tremendous highlights since kicking off the year with our annual Academic Convocation right after Labor Day and concluding with Commencement and then the week before last with Charter Day.
In between, there were so many great moments. Allow me to mention a few:
The Silberman College of Business celebrated its 50th anniversary gala with New Jersey Gov. Phil Murphy delivering the keynote address.
The School of the Arts welcomed its inaugural class of nearly 100 students and celebrated its inaugural convocation.
FDU was named a Purple Heart University by the New Jersey Military Order of the Purple Heart for its support and commitment to U.S. veterans.
We publicly kicked off the largest capital campaign in University history: One University Many Dreams. Our new goal is $100 million, and we just recently passed the $65-million mark. We are well on our way to achieving our goal and believe the campaign will truly help transform the University. Among the planned projects on the Metropolitan Campus are a new footbridge, a new Campus and Innovation Center and a hotel. At the Florham Campus, planned projects include the expansion and upgrading of several athletics fields, a new Science Building and eventually the retrofitting of the existing Science Building into a state-of-the-art home for the Silberman College of Business. Increased funding for scholarships is also a major priority for the campaign.
We danced into March Madness as our Knights men's basketball team won the NEC championship, advanced to the NCAA Tournament and then won the program's first ever NCAA tournament game, defeating Prairie View A&M in dramatic fashion before a sell-out crowd in Dayton, Ohio and a national television audience. And if that wasn't enough, head coach Greg Herenda received unprecedented attention for his journey from the intensive care unit in San Antonio, Texas last March to March Madness in Salt Lake City, Utah this March. In addition, our graduates heard from Coach Herenda in an inspiring Commencement address that concluded a truly wonderful year.
In addition, we hosted the World Science Festival's City of Science: High School Edition at the Metropolitan Campus on April 27, and the event drew more than 1,000 guests including many high-school and middle-school students who were treated to interactive and immersive scientific exhibits, campus tours and presentations by FDU students, faculty and alumni.
On the programming front, the University is developing a fully-online master of social work program as part of its new online division, a doctor of occupational therapy and an associate of science in general science for our Latino Promise students. Other degree programs in development include doctoral programs in education and physical therapy, and a master of science in physician assistant studies.
Several major projects are moving forward rapidly on our campuses. At the Florham Campus, the site work for the first of two new athletic fields is under way, following unanimous approval by the Madison Borough Planning Board in March. It is my hope that we will fully complete the first (multisport) field by May 2020 and the second (baseball) field before the spring 2020 season opens.
At the Metropolitan Campus, we are completing the campus perimeter project (additional plantings and signage) and a new, beautiful footbridge that should be in place before classes resume in late August 2019. In addition, we have hired an architectural firm (Perkins Eastman) to design our new Campus and Innovation Center, and stakeholder groups have been formed and met with Perkins Eastman personnel to establish priorities for the new center.
At our Vancouver Campus, we have completed a draft strategic plan to guide the campus over the next 5 to 10 years. In addition, a medium- and longer-term plan for expanding the Vancouver Campus has been approved, with the goal of increasing space to accommodate as many as 1,500 students over time.
At Wroxton, a project to install broadband internet service to the entire campus is under way and will be completed before classes resume in the fall.
As many of you know, the University is restructuring some components to better align programs across the University. In addition to announcing that a similar class schedule will be adopted at both New Jersey campuses beginning in fall 2019, multiple professional schools will be announced, as will a new, single college of arts and sciences within which new departments will be established and expected to operate across all FDU campuses going forward. That new organizational structure is proposed to begin in fall 2020.
We are making steady progress with some new branding initiatives as well. New banners have been installed on both New Jersey campuses promoting the University's new tagline — namely that FDU delivers an education that is personal, global and transformational. Moreover, the new University website will feature a new design that we will unveil in fall 2019.
We had the pleasure this year of welcoming several new people in key positions, including Wilf Zerbe, our new Vancouver Campus executive; Steve Nelson, our new Metropolitan Campus executive; and two new athletics directors, Jenn Noon at the Florham Campus and Brad Hurlbut at the Metropolitan Campus.
While the University is on path to a stronger and brighter future, I would be remiss if I didn't acknowledge that without all of you and the many outstanding contributions you make on a daily basis, our future would not be so bright. The students and I are grateful for all that you do to make FDU the very special university it is.
Despite our steady progress, there is still much work to be done and many of us will be working hard this summer to keep our momentum strong. Nevertheless, the summer does provide opportunities for a much-needed respite. I hope everyone finds a little time to relax and recharge before we begin a new academic year — a year that promises to be even more exciting than this last one.
Best wishes for an enjoyable and productive summer!
Sincerely,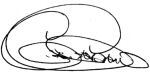 Christopher A. Capuano, Ph.D.
President