Florham Campus, History of the Estate
This brief history was provided by the Friends of Florham. Much more information and photography is available at the Friends of Florham website. Copyright: Friends of Florham, 1997
Text: Sharon M. Doremus.
Archival Photographs: Shirley Burden.
Contemporary Photography: Emma Joy Dana, and FDU Publications
A Masterpiece of the Gilded Age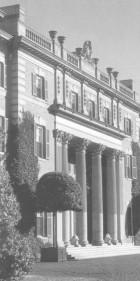 The story of "Florham," now the Florham Campus of Fairleigh Dickinson University, begins over 110 years ago. Heiress Florence Vanderbilt, granddaughter of Commodore Cornelius Vanderbilt, renowned as the richest man in America, and her husband, financier Hamilton McKown Twombly, wanted a country estate. In 1887 they came to the quiet Morris County countryside, where over 100 other millionaires owned sprawling country retreats. The area's exclusive atmosphere and rural charm appealed to the Twomblys. As one of America's first families, the couple had regal ideas. They fancied an English-style country mansion in a stately park setting. "Florham," one of America's finest Gilded Age homes, was the result. This masterpiece was achieved by virtue of the Twomblys' combined fortunes, the input of the foremost architectural firm of the day, McKim, Mead and White, and the creative vision of the landscape designers, Olmsted Associates.
In 1890 the couple acquired 1,200 acres stretching from "Millionaires Row," as Madison Avenue was then called, to Park Avenue and beyond. The foremost landscape architect of the 19th century, elderly Frederick Law Olmsted, designer of New York's Central Park, was commissioned to transform about 150 acres into a park of lawn, terraces and formal gardens.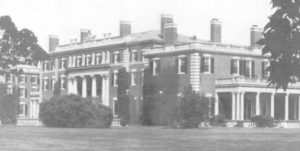 In 1894 the noted architects Charles McKim and William Mead with their partner, the flamboyant Stanford White, began work on the Twomblys' 100 room mansion, the centerpiece of the park. It was completed in 1897. Its Georgian Revival design, inspired by the Christopher Wren wing of Hampton Court Palace, was sited to overlook the 150 acre park and nearby valley. The construction crew consisted primarily of Italian immigrant laborers.
Outbuildings included an orangerie, 10 greenhouses, a gate lodge, and carriage house. The latter building quartered 40 horses, numerous carriages and, in later years, a fleet of 15 cars including six maroon Rolls Royces.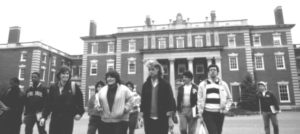 Whimsically the couple named their new estate "Florham," a combination of their first names, Florence and Hamilton. During Morristown's spring and fall social season the Twomblys were in residence at their mansion. Their staff, including grounds workers, numbered 125. Footmen, coachmen and chauffeurs wore maroon livery, the House of Vanderbilt color.
Winters were spent at 684 Fifth Avenue, their New York City town house, and summers in Newport, Rhode Island, at their seaside "summer cottage" Vinland. The greater part of their country estate, over 900 acres stretching behind the Mansion, was developed into a working farm by Hamilton Twombly where he raised a world-renowned herd of Guernsey dairy cattle.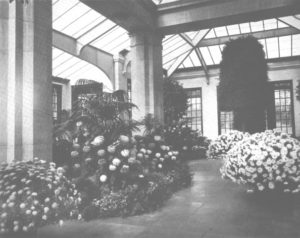 Clearly, the Twomblys' version of an English country estate was a success. Florham met their social needs and was also a superb credit to its designers. Sadly tragedy overshadowed these achievements. The couple's oldest daughter, Alice, age 16, died of pneumonia in 1896. Hamilton Jr., their only son, drowned in a camping accident at age 18 in 1906. Bereft and inconsolable, Hamilton Twombly, Sr., died in 1910.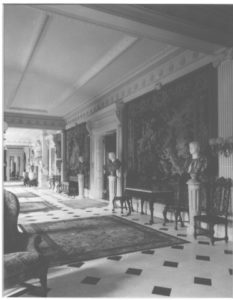 As World War I ended, the excesses of the Gilded Age faded. Nevertheless, Florence Vanderbilt Twombly retained her title as uncrowned dowager queen of American society. Quietly she lived on in imperial style at Florham, clinging to a bygone era when vast fortunes were ruthlessly made and lavishly squandered. In 1952 she died at age 99.
In 1953 the estate's existence as a Twombly home for over half a century ended when the Twomblys' unmarried daughter, Ruth, died. The surviving daughter, Florence Twombly Burden, sold the Mansion's lavish contents at public auction in 1955. The splendor of Florham, and its Vanderbilt mystique ended. Only empty buildings and overgrown grounds remained.
Florham Today
In 1957 Esso Research and Engineering Company acquired 650 acres of the Twombly farmland. In 1958 Fairleigh Dickinson University purchased 187 acres of property, including the Mansion and related buildings, for an academic campus, now the Florham Campus, which opened that fall.

Florham's period architecture has stood the test of time. One hundred years later the Mansion, the Carriage House, the Orangerie and the Gate Lodge are alive with University activity. The grandeur of Olmsted's landscape design is a magnificent backdrop for a thriving campus. New buildings, added by FDU, have been carefully sited to preserve specimen trees and original vistas of the Mansion.
Friends of Florham
In 1990 the Friends of Florham was organized. This volunteer organization assists University officials in preserving the historic elements of the campus.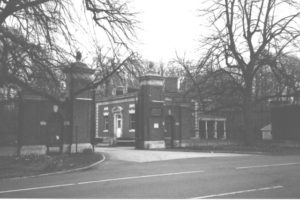 The Friends also sponsor lectures on historic landscape design, architecture and an ongoing restoration of Florham's period gardens.
Membership is open to the public, and all are encouraged to join the efforts to preserve Florham's unique contributions to New Jersey history.read more about Friends of Florham