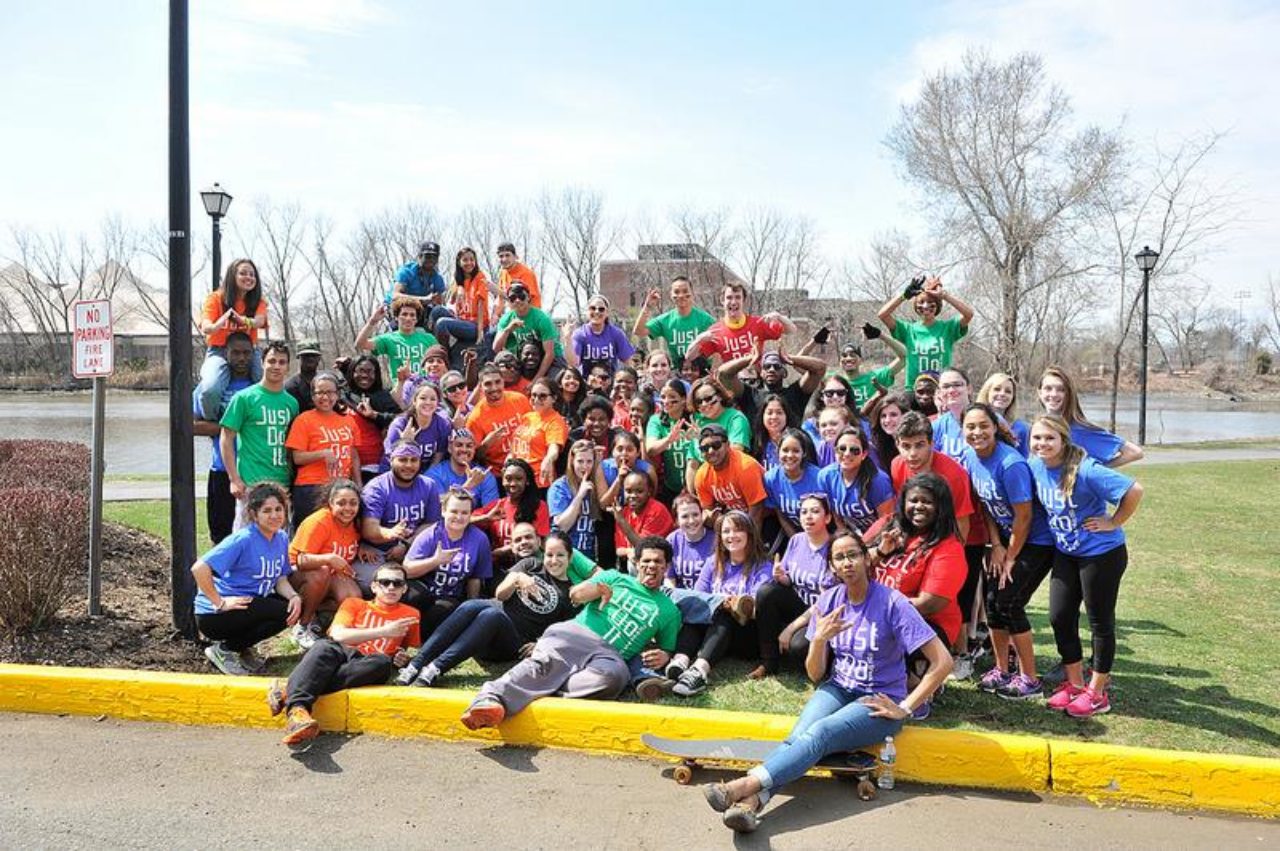 At FDU, we believe that fraternities and sororities have been and will continue to be an integral and important part of student life on the Metropolitan Campus.
Being Greek is about connecting different people together through a common bond. It's about supporting each other and being supported in return. It's about SCHOLARSHIP because that is every student's primary focus, but it's also about SERVICE because by helping others, we also help ourselves to become better people.
A strong aspect of any organization is SISTERHOOD and BROTHERHOOD and knowing that there are always people to call your family. Being Greek is also about relaxing and having fun after a tough week's work, whether hanging out or going out, there are always social events to brighten up your day.
At our campus, a large part of Greek Life is about keeping TRADITIONS alive while setting the standards for incoming Greek members. But most of all, being Greek is about LEADERSHIP and helping members gain the confidence and skills to be strong, independent, and able to lead, but also to follow. Brothers and sisters are the people that encourage us, strengthen us, and help prepare us for the challenges we face every day whether in the classroom or in our activities.
We encourage you to stop by the Office of Student Life to learn more information about Greek Life at FDU!
Fraternities
Alpha Phi Alpha Fraternity, Inc., the first intercollegiate Greek-letter fraternity established for African-Americans, was founded at Cornell University in Ithaca, New York on December 4, 1906, by seven college men who recognized the need for a strong bond of Brotherhood among African descendants in this country. The visionary founders, known as the "Jewels" of the Fraternity, are Henry Arthur Callis, Charles Henry Chapman, Eugene Kinckle Jones, George Biddle Kelley, Nathaniel Allison Murray, Robert Harold Ogle, and Vertner Woodson Tandy.

The Fraternity initially served as a study and support group for minority students who faced racial prejudice, both educationally and socially, at Cornell. The Jewel founders and early leaders of the Fraternity succeeded in laying a firm foundation for Alpha Phi Alpha's principles of scholarship, fellowship, good character, and the uplifting of humanity.

Alpha Phi Alpha chapters were established at other colleges and universities, many of them historically black institutions, soon after the founding at Cornell. The first Alumni Chapter was established in 1911. While continuing to stress academic excellence among its members, Alpha also recognized the need to help correct the educational, economic, political, and social injustices faced by African-Americans. Alpha Phi Alpha has long stood at the forefront of the African-American community's fight for civil rights through leaders such as: W.E.B. DuBois, Adam Clayton Powell, Jr., Edward Brooke, Martin Luther King, Jr., Thurgood Marshall, Andrew Young, William Gray, Paul Robeson, and many others. True to its form as the "first of firsts," Alpha Phi Alpha has been interracial since 1945.

Alpha Phi Alpha Fraternity, Inc holds the objectives to stimulate the ambition of its members; to prepare them for the greatest usefulness in the causes of humanity, freedom, and dignity of the individual; to encourage the highest and noblest form of manhood; and to aid down-trodden humanity in its efforts to achieve higher social, economic, and intellectual status.

Website: www.alpha-phi-alpha.com

The fraternity was founded in 1978 at Rutgers University during a time of political and academic controversy by men who believed that the minority population at colleges and universities were not getting the attention they so desperately needed to advance their academic successes. With this notion, they created Lambda Sigma Upsilon to act as a support group for minorities, as well as provide a family away from home.

On December 1, 1975, history was made — Lambda Theta Phi was founded on the campus of Kean College in Union, New Jersey. In 1975, there were no Latino fraternities in existence in the United States. The Greek-letter organizations of the time primarily catered to Anglo and African-American students and graduates. Lambda's founders, as men of vision, realized there was a need to unite the Latino students, develop their leadership skills, impart upon them the value of an education, and instill in them a commitment to their community and culture. The traditional student club would not suffice to accomplish such lofty goals. Hence, Latino unity and brotherhood would be achieved through a long recognized institution — the fraternity. This newest addition to the Greek system would be the first in the nation, by identity and by name: Lambda Theta Phi Latin Fraternity, Incorporated.

The ideals of this brotherhood are the following: Academic Excellence; Brotherhood; Leadership; Latino Unity; Service. On a daily basis, our brothers live up to these ideals, as set forth by fourteen young Latino men decades ago.

At the undergraduate level, our brothers are active within the Fraternity and in other student organizations. As a result of their active participation in every aspect of college life, our undergraduates are developing their organizational, communication, and leadership skills, all while pursuing the coveted diploma. Our younger Lambdas are receiving the training and competence to serve as the future leaders of our brotherhood, community, and nation.

At the professional level, among our ranks you will find attorneys, doctors, and engineers, educators, dedicated fathers, law enforcement, the armed forces, entrepreneurs, coaches, mentors, community activists, elected officials serving on City Councils, Boards of Education, U.S. House of Representatives, and U.S. Senate. In short, Lambdas are contributing and excelling in every facet of human endeavor.

Since our founding, our brotherhood continues to provide the necessary skills and resources for the advancement and empowerment of our people and for the betterment of this nation. Our illustrious history is not only our past but our guiding light to the future. As the first, we overcame many obstacles. Not having much guidance in our formative stages, we persevered and became stronger. Lambda is the product of vision, strength, and unity. Our history serves as a legacy and testament to our accomplishments and greatness.

Website: www.lambda1975.org

Omega Psi Phi is a fraternity and is the first African-American national fraternal organization to be founded at a historically black college. On Friday evening, November 17, 1911, three Howard University undergraduate students, with the assistance of their faculty adviser, gave birth to the Omega Psi Phi Fraternity. This event occurred in the office of biology in the Science Hall. The founders were three Howard University juniors, Edgar Amos Love, Oscar James Cooper and Frank Coleman, and their faculty adviser, Dr. Ernest Everett Just. From the initials of the Greek phrase meaning "friendship is essential to the soul," the name Omega Psi Phi was derived. The phrase was selected as the motto. Manhood, scholarship, perseverance and uplift were adopted as cardinal principles.

Each of the founders graduated and went on to have distinguished careers in their chosen fields: Bishop Edgar Amos Love became Bishop of the United Methodist Church; Dr. Oscar James Cooper became a prominent physician, who practiced in Philadelphia for over 50 years; Professor Frank Coleman became the Chairman of the Department of Physics at Howard University for many years; and Dr. Ernest E. became a world-renowned biologist.

On November 23, 1911 in Thirkield Hall, Love became the first Grand Basileus (National President). Cooper and Coleman were selected to be the Grandkeeper of the Records (National Secretary) and Grandkeeper of Seals (National Treasurer), respectively. Eleven Howard University undergraduate men were selected to be the charter members.

The fraternity has worked to build a strong and effective force of men dedicated to its Cardinal Principles of manhood, scholarship, perseverance, and uplift. In 1927, at the urging of fraternity member Carter G. Woodson, the fraternity made National Negro Achievement Week an annual observance and it continues today as Black History Month.

Omega continued to flourish, largely because Founders Love, Cooper, Coleman and Just were men of the very highest ideals and intellect. The Founders selected and attracted men of similar ideals and characteristics. It is not by accident that many of America's great black men are/were Omega Men. To this date, there are very few Americans whose lives have not been touched by a member of the Omega Psi Phi Fraternity. Omega has a rich heritage to be protected, celebrated and enhanced!

Website: https://www.oppf.org/

Sigma Pi is a social fraternity, founded in 1897 at Vincennes University. From the beginning, the Fraternity has undergone several name changes. February 11, 1907, is a significant date in the Fraternity's history. At that time the members last assembled as Tau Phi Delta and first assumed the name of Sigma Pi Fraternity of the United States. Tau Phi Delta had limited ambitions for expansion. Soon after the name change, Sigma Pi embarked on a program of establishing chapters on other campuses.

In 1984, the Fraternity again changed its name. At the 37th Biennial Convocation, Sigma Pi became an international fraternity by accepting its first Canadian chapter. This international status required the Fraternity to become Sigma Pi Fraternity, International. Today, Sigma Pi is comprised of 124 active chapters, 7 colonies, over 90,000 alumni, and continues to grow each year.

The Mission of Sigma Pi Fraternity, International is to build and support chapters and alumni organizations for the purpose of maintaining a Fellowship of kindred minds united in Brotherhood. To advance Truth and Justice; To Promote Scholarship; To Encourage Chivalry; To Diffuse Culture; And To Develop Character … In the Service of God and man.

Sigma Pi Fraternity is the leading, international men's collegiate fraternal organization which provides training, guidance and innovative opportunities for: Leadership Development, Social and Personal Development, Academic Achievement, Community Service and Heightened Moral Awareness for its brothers throughout their lives.

The Epsilon Xi chapter was recolonized at the Metropolitan Campus on January 30th, 2005 by a group of gentlemen looking for a new kind of fraternity. This strong group of young men, united in brotherhood, continues to cultivate their fraternal bond and represent the ideals/ethics/principles of Sigma Pi.

Website: www.sigmapi.org

Zeta Beta Tau (ZBT) was founded in 1898 as the world's first Jewish Fraternity. They pride themselves on being an inclusive organization welcoming of any college man who understands and appreciates their mission. With more than 140,000 initiated men ZBT's can be found in all aspects of life: business, entertainment, media, politics, and much more. The mission of Zeta Beta Tau Fraternity (ZBT) is to foster and develop in its membership the tenets of its Credo: Intellectual Awareness, Social Responsibility, Integrity and Brotherly Love, in order to prepare its members for positions of leadership and service within their communities.

The Delta Pi chapter was re-established on Fairleigh Dickinson University, Metropolitan Campus in the Fall of 2011 by 14 gentlemen looking to show why Zeta Beta Tau is known as the "Powerhouse of Excellence".

Website: www.zbt.org