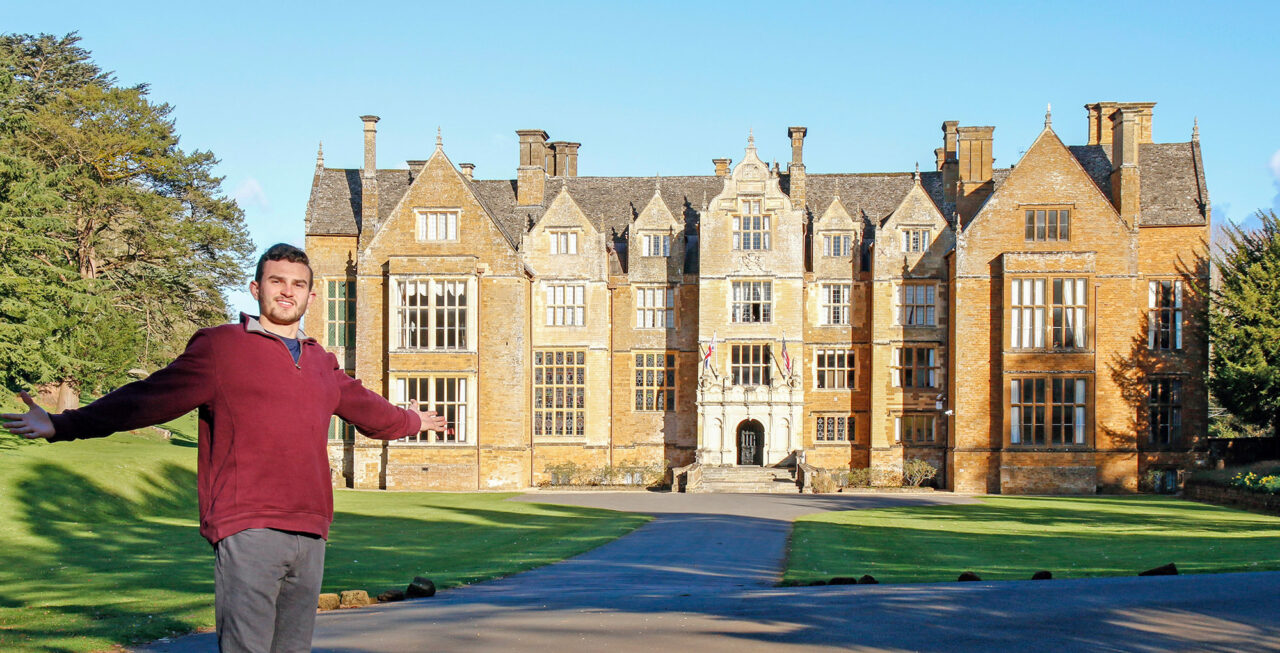 A semester at Wroxton is carefully designed to provide a complete, integrated study abroad experience for highly motivated individuals. Known as 'The Wroxton Experience' by those who have shared it, it provides all the essentials — and more — in a comprehensive package, enabling you to combine a high quality academic program with the opportunity to travel and experience new cultures. So, recharge your expectations, broaden your horizons, strive to be extraordinary, and come be a part of the Wroxton experience.
At Wroxton you will encounter the quintessential English village scene. Set in the rural heart of England, Wroxton offers a peaceful environment for learning amid a beautiful countryside of lawns, lakes, gardens and woodland. The College continues to meet its founding vision of an intellectual community, cloistered in an idyllic setting. Housed in a remarkably beautiful, modernized 17th-century manor house, to Henry James, Wroxton was part of the essence of England.
"Everything that in the material line can render life noble and charming has been gathered into it with a profusion which makes the whole place a monument of past opportunity."
— Henry James
However, the quiet country setting belies a close proximity to leading cultural and entertainment centers that provide an important dimension of the program. The bustling market town of Banbury is only a ten minute drive away and Stratford-upon-Avon, Oxford, London and Birmingham are all close by and easily accessible, an outstanding selection of theaters, concert halls, museums, galleries, restaurants and major shopping areas are at hand. In addition, the mainland continent of Europe is but a short distance away, with group excursions arranged and individual visits possible. Wroxton's rich tapestry of diverse cultural, intellectual, recreational and social activities are all inter-meshed with its own unique challenges. Quite simply, involvement at Wroxton is contagious.
Wroxton Testimonials
"Going and studying at Wroxton College was probably one of the best experiences a student could ever have. There was just so much to do; we were going non-stop for two weeks, but I wouldn't have had it any other way." Tara S.
"What a phenomenal experience. Our two week course left me with one of the best experiences of my life; many people only dream they had a chance to participate in something of this caliber. Studying abroad in Europe has broadened my horizons drastically, it gave me a chance to view things that I never thought I would. I think this was a wonderful experience and you should keep giving students the opportunity to add such a great experience to their lives." Shanira H.
"My trip to England was a wonderful experience that I will remember for the rest of my life. My academic experience was exceptional because I heard lectures and discussed issues with some of the most knowledgeable, intelligent people I have ever had the fortune to know. My trip to England was an experience I will treasure forever." John A.
"There are many words that could be used to describe the whole Wroxton experience. Yet, the one word that attempts to capture it all is unforgettable." Angela C.
"I am very thankful for the chance to visit this beautiful country and enjoy all that it has to offer. I feel both culturally and academically enriched." Maria S.
"I felt that the entire trip to England served as a cultural awakening for me. Everything, from the smells of the farm animals to the poppy fields, was absolutely breathtaking. My mind is now opened to new possibilities. If anything, this trip taught me that there is more to this world than the country where I reside. I hope to take this experience as a stepping off point, to keep traveling and to keep searching for understanding in such a large world which has yet to be explored." Zena C.
"The course is about more than learning of past events and how to handle them in the future. It's about learning from your surrounding, different professors, different styles of teaching, new friends, new places, and a different you." Roxann D.
"Wroxton College was nothing that I ever expected. It is a magical place that was so relaxing and calming. The group that we went with was an exceptional one. I had a great time with each and every person and I made new friends that I will always treasure. The experience was one that I will never forget and will always treasure. I have learned so much about the culture and the people. I even learned a thing or two about myself. England is filled with beauty and magic." Lindsay F.
"England was an eye opener for me. I feel I actually accomplished something and opened my mind to other aspects of life, and the group in which I traveled with helped make the experience even better. I would love to go back anytime." Judith O.
"It will be a class and an experience I will never forget." Matthew M.
"Studying abroad in England was one of the greatest experiences ever. It is amazing to know that we were able to accomplish so much in less than two weeks. It was truly the ideal experience." Karina G.
"Overall, my entire experience is one I'll never forget. I am just thankful that I was given such a wonderful opportunity to see another part of the world; it allowed me to learn, grow and experience things that I never have before. Students that have the opportunity to study in Wroxton should definitely go; they will be given an experience unlike any other. I wish that our trip never had to end. If I am ever given another opportunity to go I would take it in a second." Jennifer W.
"My two weeks spent in England might be one of the most enlightening experiences in all my 19 years of existence." Mikal K.
"Having the chance to take a class in England was a once in a lifetime opportunity. From the culture experience to the academic learning, the trip was mind-blowing. What I have learned from this trip is something I know will stay with me for the rest of my life." Laura C.
"I have met so many new friends that were considered my family over at Wroxton. Overall the academic, cultural, and social components of this two week study abroad program couldn't have been better and I wouldn't have changed a thing. These memories are unforgettable and hard to explain in words what an incredible experience it was." Karelia R.
"I think that I laughed the most on this trip then any other trip that I went on." Krystina I.
I think what made this experience complete for me was to know that this was a once in a lifetime opportunity. The entire experience provided me with a whole new outlook on life. I learned to respect other people for who they are rather then what I initially thought about them. I learned so much in such a short period of time. I would never take back a moment of this experience. It has made me a much better person with a more complete understanding of how different everyone of us truly are! Kristyn S.
"From the 'spiritual energies' in Stonehenge, to the 'mystery waters' in Bath, it was a sure ten and a definite 'must do' for every student." Evelyn L.