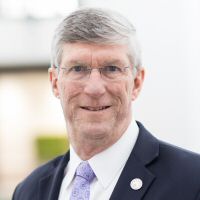 Vincent A. Forlenza
Chairman of the Board and Chief Executive Officer
BD (Becton, Dickinson and Company)
Honorary Degree Recipient
Vince Forlenza serves as chairman and chief executive officer of BD (Becton, Dickinson and Company), a global medical technology company headquartered in Franklin Lakes, New Jersey.
During his more than 35-year career with BD, Forlenza has held a number of executive leadership positions globally, in the United States and Europe. He was named president of BD in January 2009, assumed additional responsibility as chief operating officer in July 2010, became chief executive officer in October 2011 and chairman of the board in July 2012. Previous appointments include leadership roles as senior vice president of Technology, Strategy and Development; president of BD Biosciences; and executive vice president and president of BD Diagnostics.
Forlenza served as chairman of the Advanced Medical Technology Association (AdvaMed) Board of Directors from 2015 to 2017. In that role, he significantly advanced the association's innovation agenda, collaborating with policymakers and industry partners to reinvigorate the innovation ecosystem and promote the value of medical technology in extending and improving patients' lives, enhancing population health and supporting economically sound health systems. He served on both the AdvaMed Board and its Executive Committee for seven years and is also the past chair of the association's Board Committee on Technology and Regulation. In addition, he served as chairman of the board for AdvaMedDx, a division of AdvaMed focused on the unique needs and issues facing diagnostics manufacturers.
Forlenza currently serves on The Valley Health Systems Board of Trustees and previously served as chairman of The Valley Hospital. He is a past member of the Advisory Board for the P.C. Rossin College of Engineering and Applied Sciences at Lehigh University, where he also served as a member of the Board of Trustees.
Forlenza earned a bachelor's degree in chemical engineering from Lehigh University in 1975, and a master's degree in business administration from Wharton Graduate School at the University of Pennsylvania in 1980.