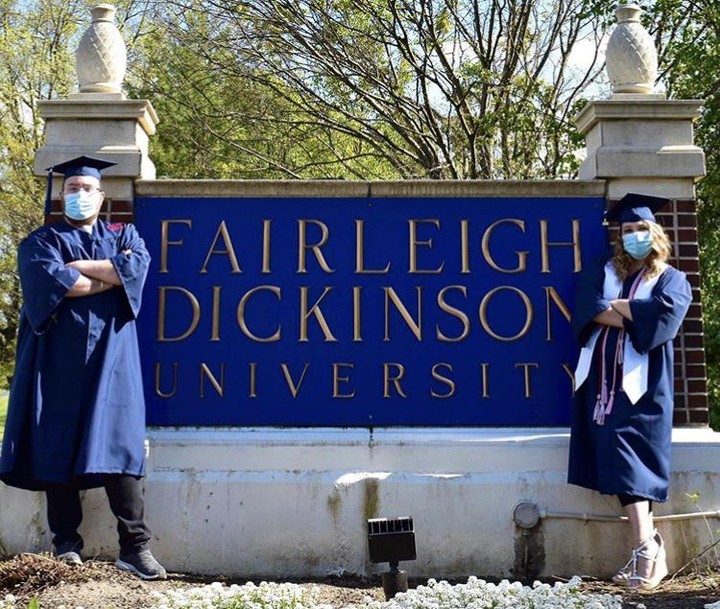 Commencement 2021 – May 18 and 19
Due to the reduced capacity and social distancing measures that must be in place, the Class of 2021 Commencement (as well as the Class of 2020 Commencement) will be held over several in-person ceremonies May 18 and May 19.   
Graduates from the Class of 2021 and the Class of 2020 were asked to register to attend, and the exact dates and times for each graduate's ceremony are listed below: 
Tuesday, May 18, 10 a.m.
All 2021 Graduate Students (Master's and Doctoral Degrees) 
Tuesday, May 18, 2 p.m. 
2021 Undergraduates from the following:  
Silberman College of Business 
Henry P. Becton School of Nursing and Allied Health  
Gildart Haase School of Computer Sciences and Engineering 
International School of Hospitality, Sports, and Tourism Management
School of Psychology and Counseling 
Wednesday, May 19, 10 a.m. 
2021 Undergraduates from the following: 
Maxwell Becton College of Arts and Sciences
Peter Sammartino School of Education 
Wednesday, May 19, 2 p.m. 
Class of 2020 
These ceremony assignments are final. Graduates cannot attend a different ceremony. Seat assignments for guests are allocated by graduates and must be confined to the exact date and time.
Tickets and Event Overview 
Ticket information has been emailed to the graduates who registered.  If you haven't received information on tickets it is likely because you did not register to attend the ceremony. Please contact Craig Mourton at Mourton@fdu.edu.
Those who have missed the deadline to register will be accommodated only if space remains available.  
Because of reduced capacity at the stadium, graduates will be limited to four guests all seated in the same pod. Graduates will have their names read and will walk across the stage and be recognized in front of their families and friends. The event will be streamed live for those who are unable to attend.  
There is no charge for tickets, but graduates must register for tickets for their guests. Guests will not be permitted to enter MetLife Stadium on the day of the ceremony without an electronic ticket.  
Please note that these plans are contingent upon continued governmental approval for such an event and health and safety considerations at the time. 
Questions: 
What's Next
Regalia (Caps and Gowns)
Due to significantly increased demands and carrier transportation delays, shipments are taking slightly longer than expected, but all regalia is expected to be delivered before Commencement.  Orders placed by the April 16 deadline should be received by May 11.   If you ordered by April 16 and have not received your regalia by May 11, please contact Oak Hall at 1-800-456-7623 or webdept@oakhalli.com
All Class of 2021 graduates should now order their caps, gowns, tassels, hoods (if applicable), and other commencement-related items by following the link below.
Click here to order your academic regalia. Regalia can be ordered online and shipped directly to students. Online ordering is closed.
Many members of the Class of 2020 ordered their regalia last year. Graduates from 2020 who need to order regalia can go here. Regalia can be ordered online and shipped directly to graduates. Online ordering is closed.  
Medals, Stoles and Cords 
The Office of Enrollment Services distributes the student medallions that are awarded based on academic performance. Students with questions about medallions can email Registrar@fdu.edu. Stoles and cords are distributed by the individual academic departments, and questions can be directed to the specific department.  
Students who attended Wroxton College, click here.
Each year graduating students give to the Class Gift Campaign to make a difference in the lives of fellow students who will continue to study and pursue their degrees at FDU. You can choose from three different areas to support on the Metropolitan or Florham campuses with your class gift. Make a gift in the amount of your year of graduation and receive a philanthropy cord to wear at Commencement, or as a reminder of the legacy you are leaving behind at your alma mater.
Commencement Photos 
At the Commencement ceremonies, FDU will have Grad Images taking pictures as the students walk to the stage. Grad Images will be in contact with the graduates who wish to purchase the pictures taken at Commencement. FDU also partnered with Lors Studio for senior portraits for graduates. Those appointments are now concluded.  
Rings and Diploma Frames 
Graduates can commemorate their achievements with customized FDU class rings and diploma frames. The following discounts are available: $300 off 10 Karat Gold, $400 off 14 Karat Gold, or $500 off 18 Karat Gold. Also, please use the promo code SHP21 for free shipping on diploma frames. 
Students must file with the Office of Enrollment Services to notify the University that you intend to graduate in May 2021. The application is located in WebAdvisor under Academic Profile. Click on the link: Application for Graduation. You will be notified by the Records Department if you meet degree requirements, shortly after you declare.
A graduation application fee will be billed to your account and it will be noted in WebAdvisor on your student bill.