Grad Greetings submissions are now closed.
We invite you to take part in the annual Grad Greetings video message. These messages will be played before the Commencement ceremonies begin. This year we are asking graduates to submit their videos virtually. These messages should be no longer than 30 seconds and express appreciation to those who have helped you reach this milestone and other meaningful messages you wish to convey.
Deadline: Monday, April 26
Maximum length: 30 seconds
For inspiration, check out FDU's 2019 Grad Greetings here.
Recording requirements for your Grad Greeting:
MUST record your video horizontally.
MUST be filmed in front of a solid colored wall as your background. Make sure there are no decorations, artwork or windows visible.
Recording must not exceed 30 seconds.
Submit via WeTransfer to gradgreetings@fdu.edu. Must include your campus, full name and FDU email address in the comments. Scroll down for step-by-step directions.
More detailed guidelines:
Recording device: Have a friend or family member record your Grad Greeting so you can utilize the higher quality cameras on the back of your smart phones versus the lower quality front cameras.
Recording: Record your video horizontally! Do not record vertically as seen on platforms like TikTok / Snapchat / Instagram Stories.* While recording, please ensure you or your videographers holds the recording device as steady as possible.* If you have the ability to mount it to something that would be best.
Environment: Record your greeting indoors on a solid white wall as your background.* If you do not have access to a solid white wall, any wall that is a solid color and features no decorations, artwork, or windows is acceptable. Also please stand or sit three feet away from the wall.
Framing: Center yourself in the middle of the camera frame, starting with your head at the top and ending with your chest at the bottom.
Lighting: Take the time to find good lighting, allowing your face to be clear while not over-exposed or washed out.* Commonly used ring lights are suggested, if you do not have a ring light a standard lamp next to your recording device will suffice. Make sure the lighting source is not seen on camera.
Audio: Loud noises such as AC's, fans, background music, etc. should be off to provide the best possible clearest audio. We recommend doing a sound test by recording a test clip and playing it back to hear how clear you sound. If mid-way through a message some loud noticeable noise occurs, please start over.*
Quality settings: Make sure you are recording in the highest possible quality your smart phone or recording device allows, such as 4K. For steps on how to increase quality of recording for iPhone or iPad, click here. For Android, simply Google your Android device make and model with the following phrase after "adjust video recording quality." Example: "Samsung Galaxy S20 change video recording quality"
Editing: Submit your original recording un-edited. No cuts, filters or effects. No fade in and out transitions. After you press record, wait two seconds and then start your greeting. When done, wait an additional two seconds before you press the record button again to stop recording.
File format: Acceptable file formats are either a .mov file or .mp4 file with a minimum resolution of 720p.*
An example of a Grad Greeting that adhered to these guidelines can be seen here: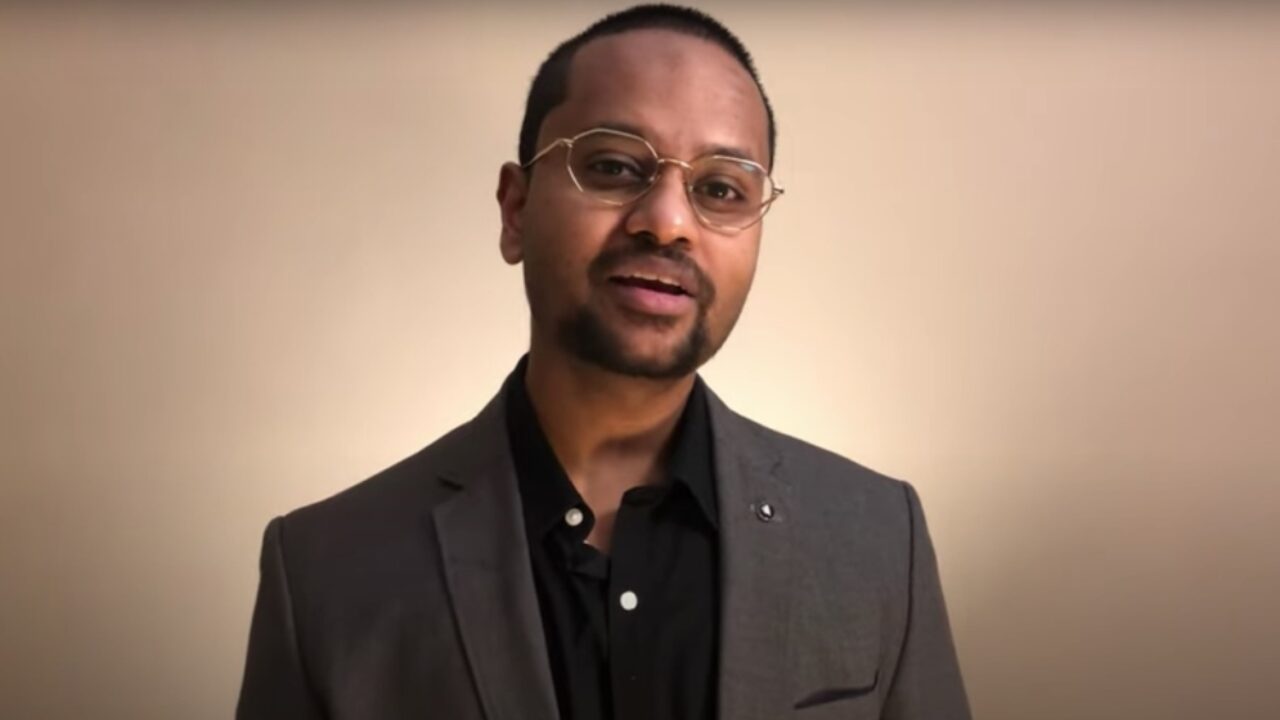 NOTE: If you did not follow all the guidelines outlined above, we will contact you (if there is time before the deadline) to give you an opportunity to record it again with the needed adjustments to meet the all guidelines. Grad Greetings that do not meet these guidelines will not be included during the Commencement ceremony. They however may be featured in the social media version that will be posted online after Commencement.
How to submit your Grad Greeting:
1. Go to www.wetransfer.com and press "send a file?" button.
2. Agree to their Terms of Service and Cookie Policy by pressing "I agree" button.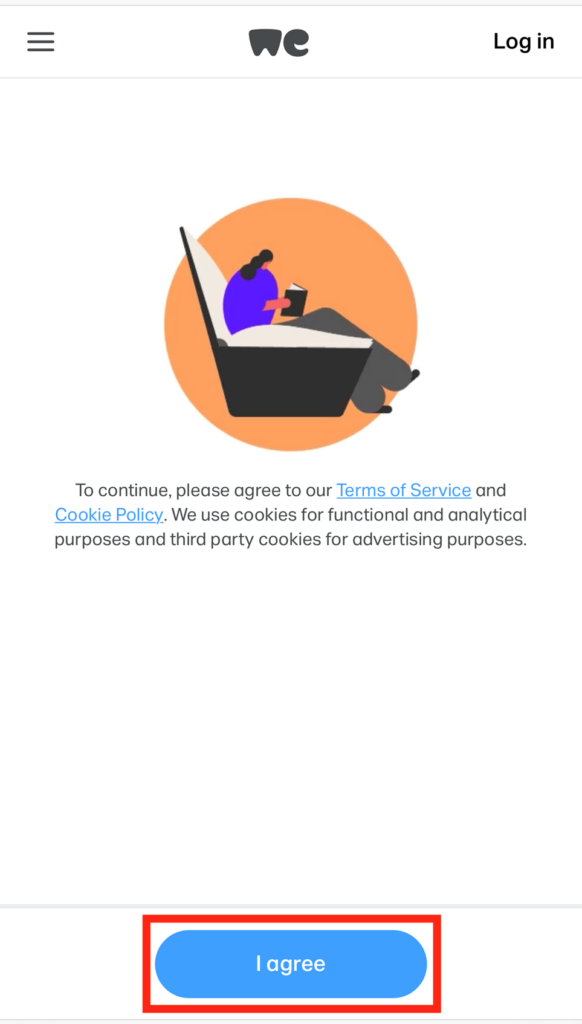 3. Press the blue "+" button at the center of the screen.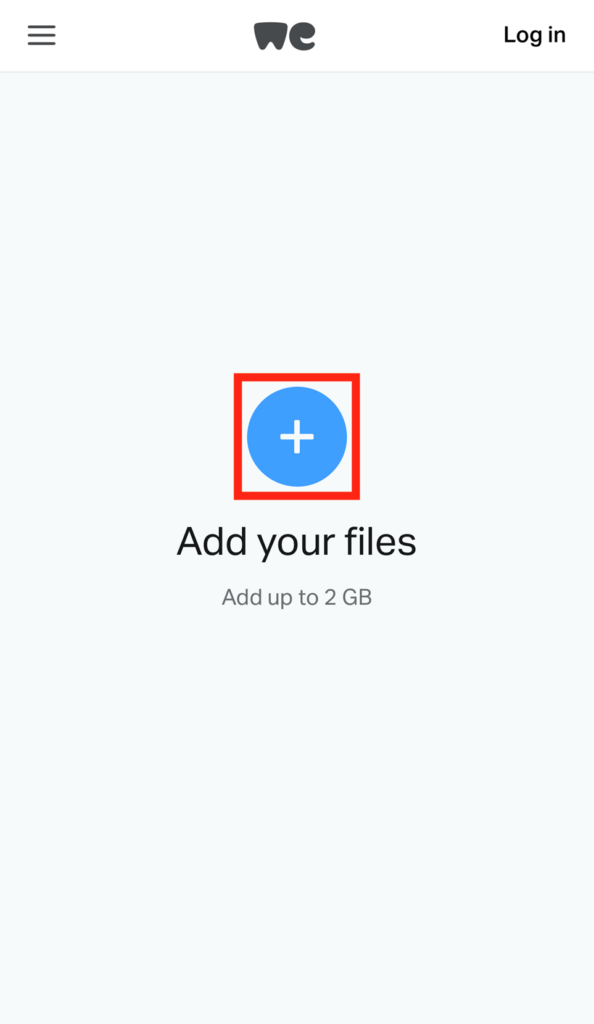 4. If on an iPhone, a pop-up will appear giving you options on a method for selecting your media. Press the "photo library" option on iOS and find the recorded greeting. If not on an iOS device, find the equivalent selection method that will lead you to the recorded file.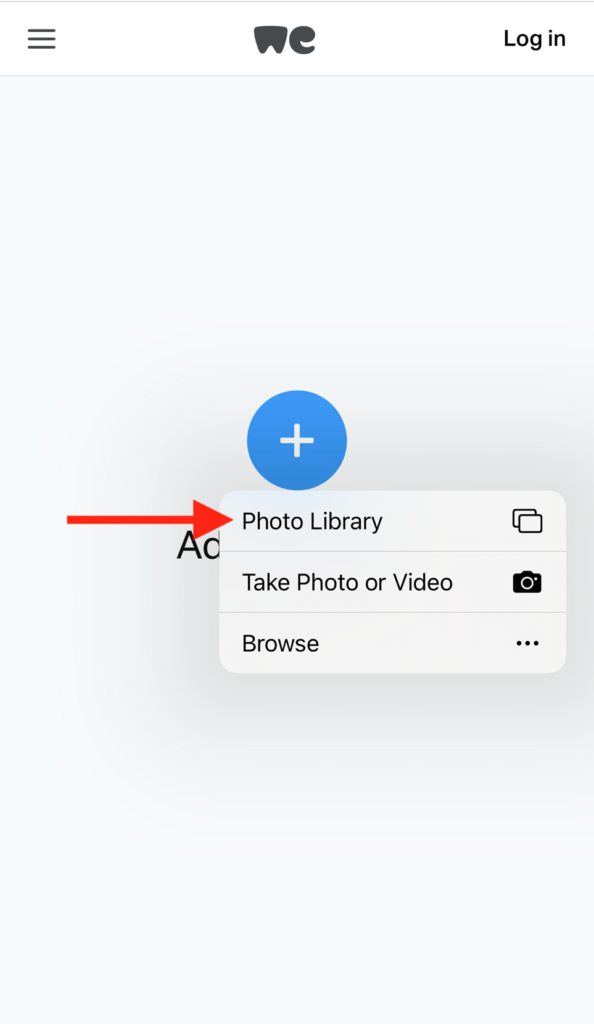 5. In the message field, type in your:
Campus
Full name
Your FDU NetID email address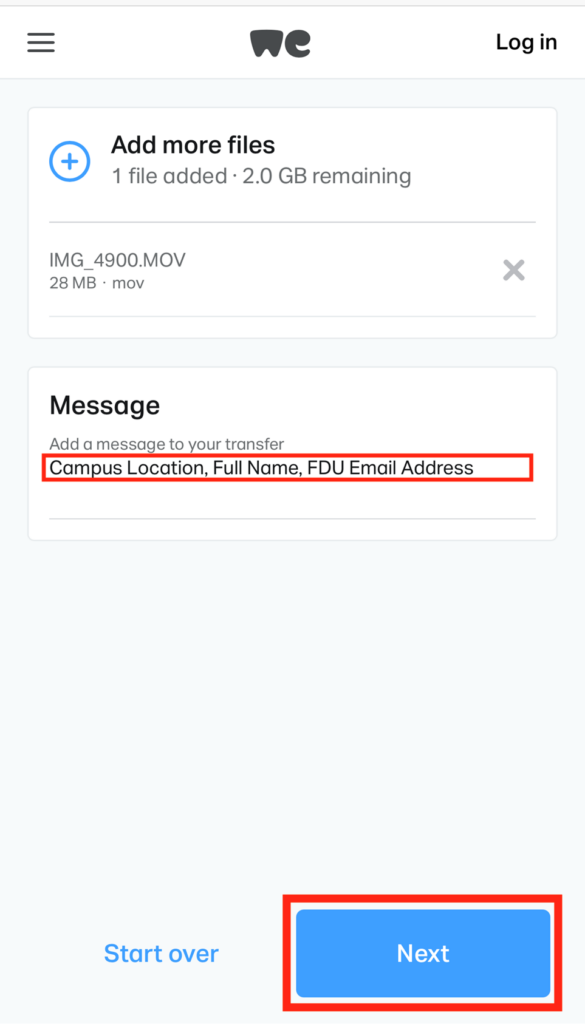 6. In the "email to" field, type in gradgreetings@fdu.edu, then in the "your email" field type in your FDU NetID email address.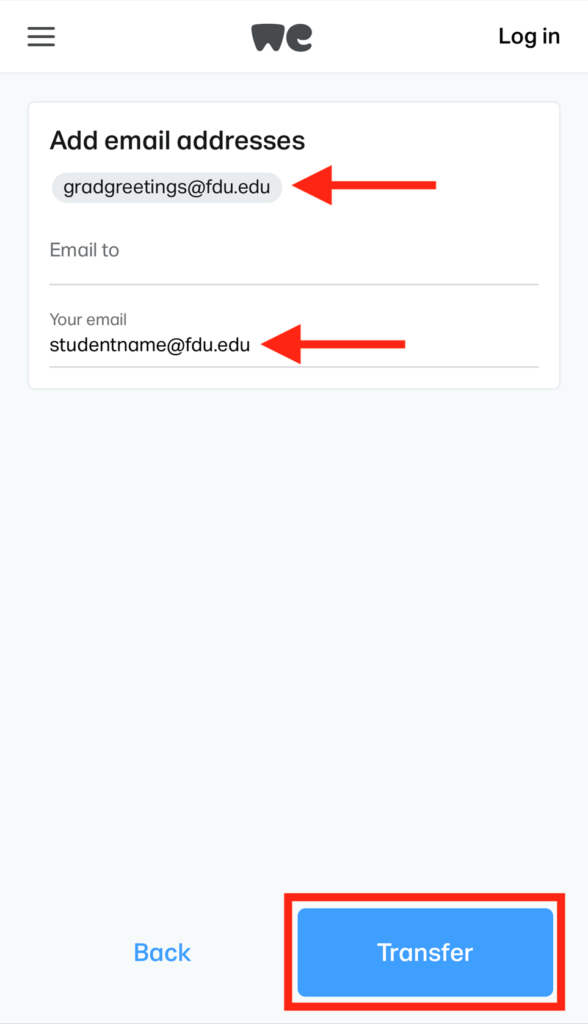 7. You will be asked to verify your email address on the next screen.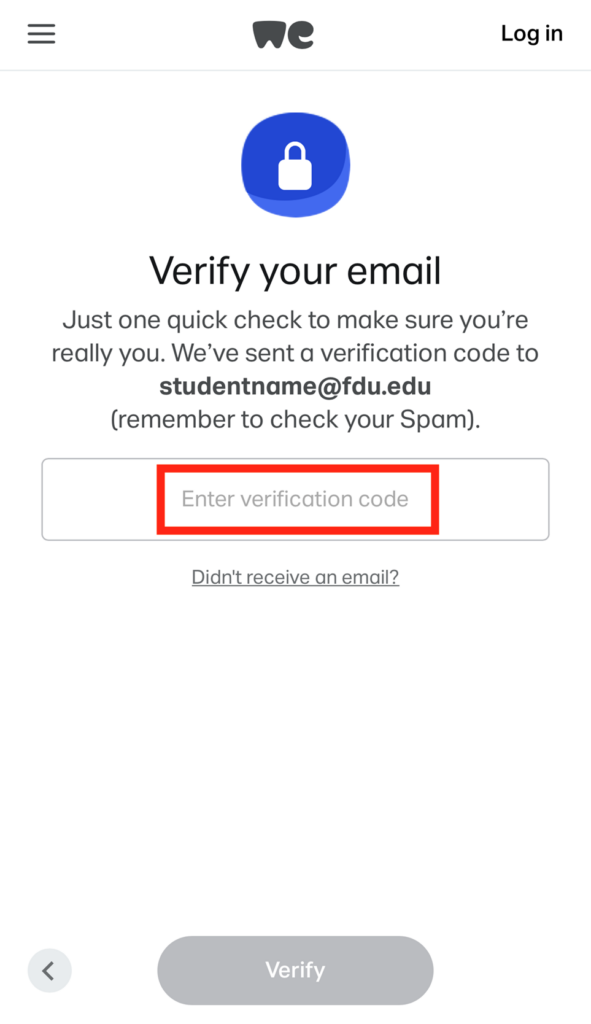 8. Access your FDU NetID email as you normally would. By now you should have received an email from WeTransfer with your unique temporary code. Copy the copy shown and return to your web browser. Tip: If you do not see an email from WeTransfer please check your Junk Email folder or your "other" folder.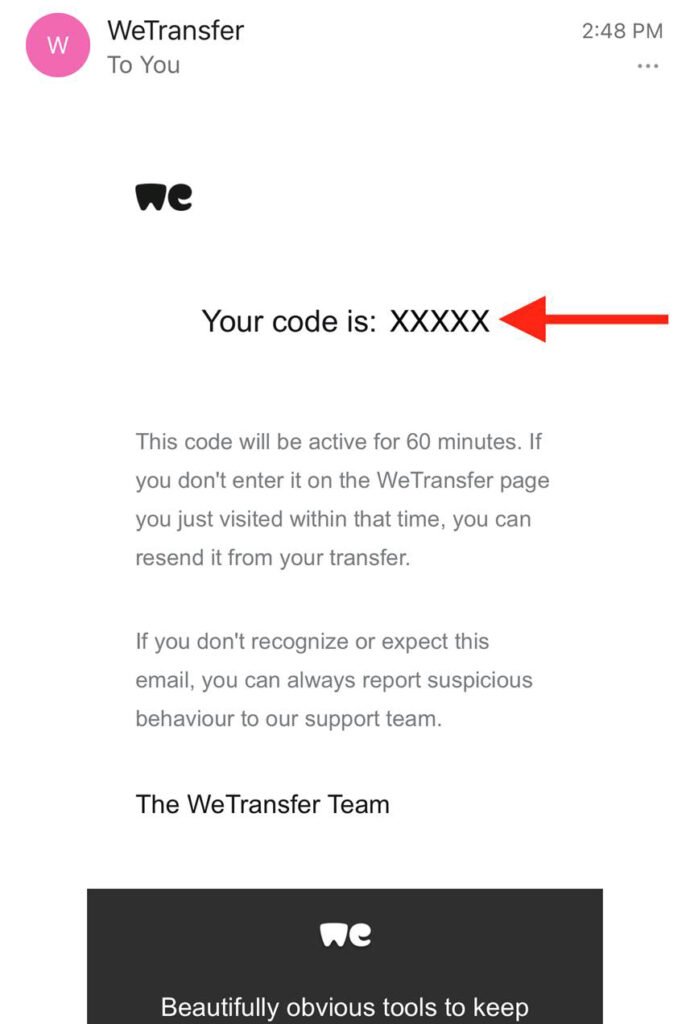 9. Paste the code into the "enter verification code" field and then press the "verify" button at the bottom.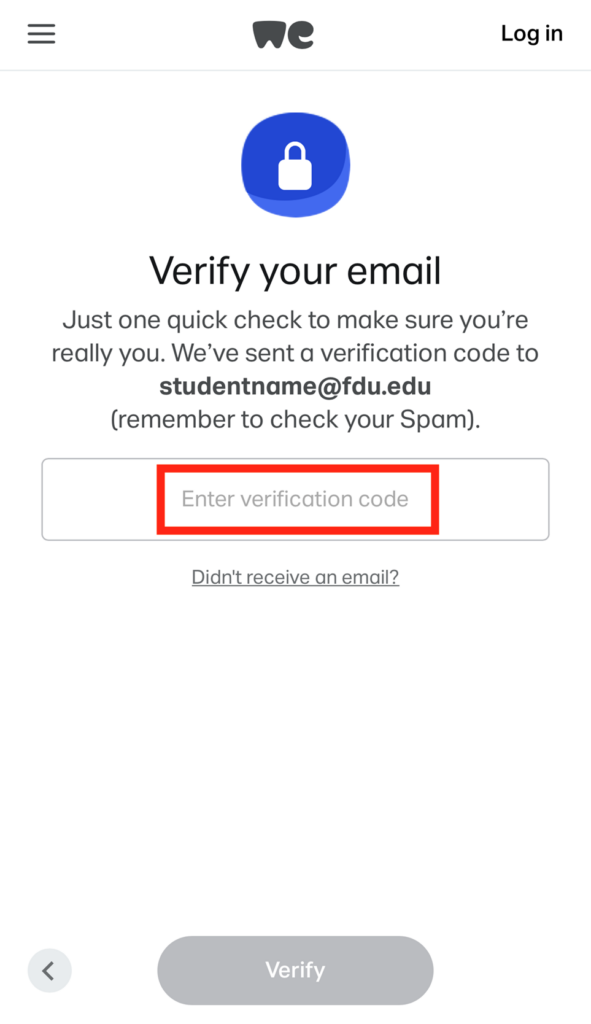 10. That's it! Your Grad Greeting video was been submitted. You will receive an email from WeTransfer when your video has been downloaded within 24 hours.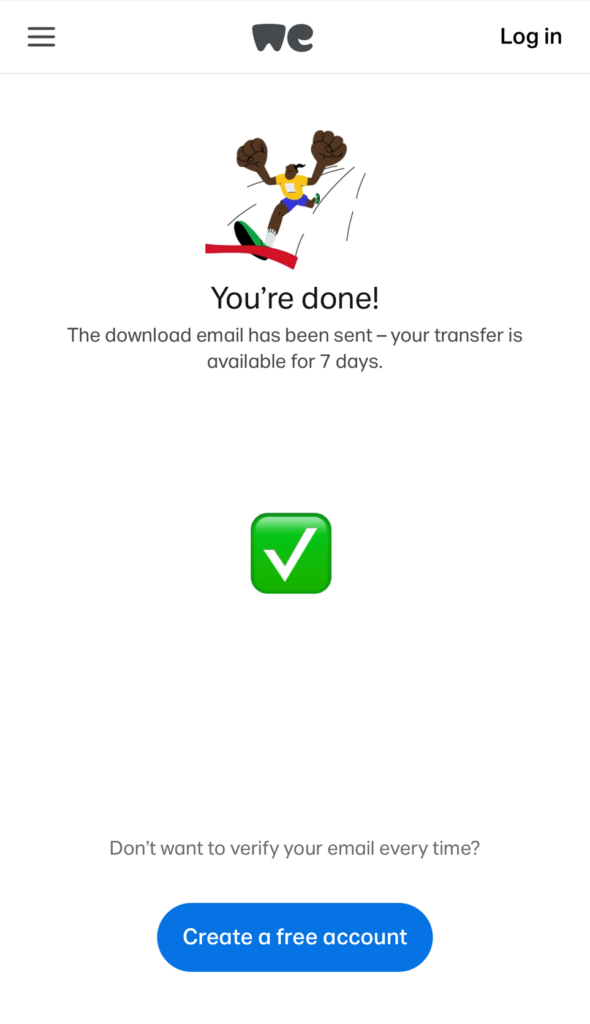 Questions? Email gradgreetings@fdu.edu