FDU alumna breaks gender barriers in sports with T-shirt business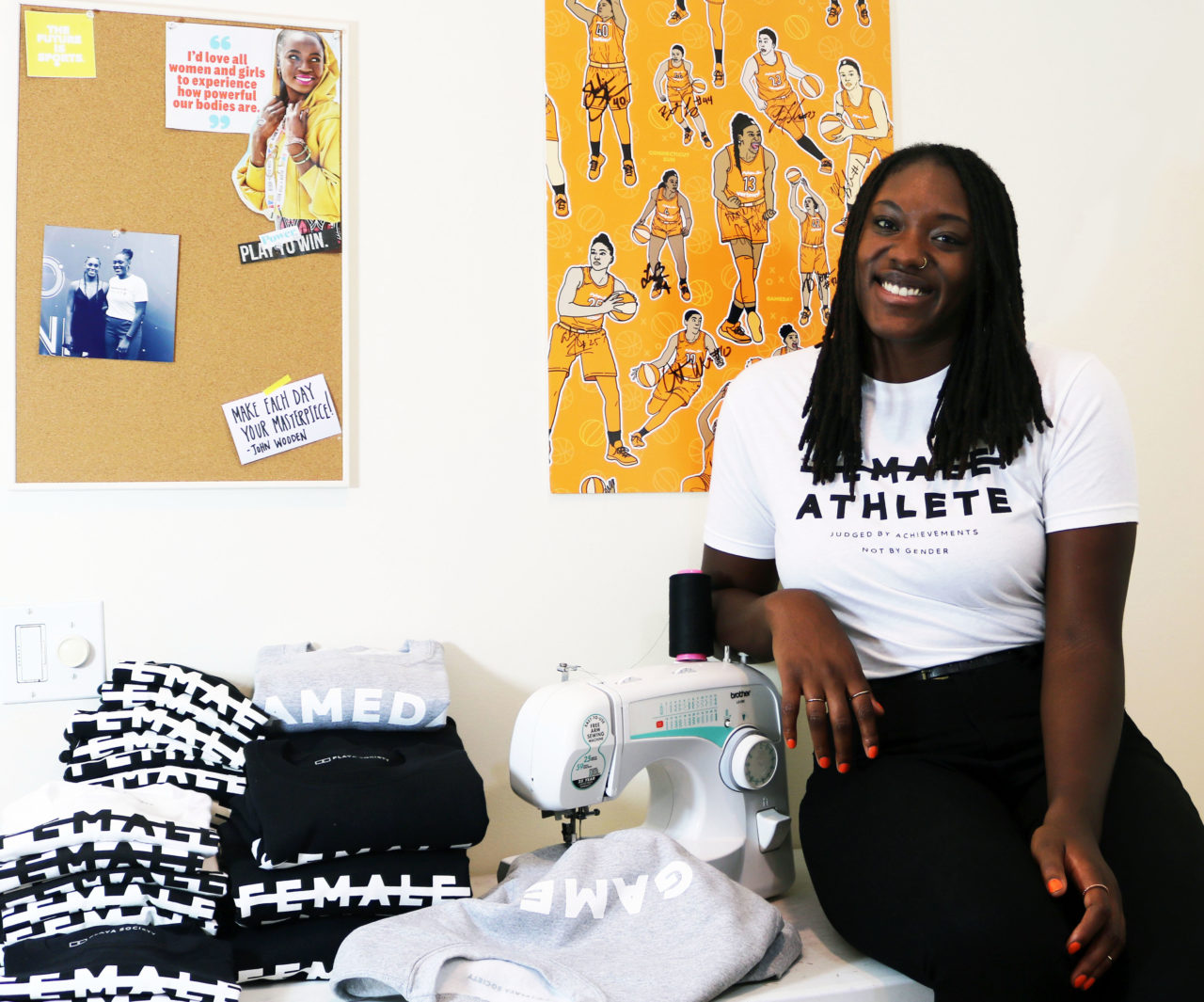 By Julie Kayzerman
October 5, 2018 — When Esther Wallace, BA'12 (Metro), learned that most young women drop out of sports during adolescence because of the social stigma and lack of representation in athletics, those facts stuck with her.
Wallace was one of those girls — she didn't start playing basketball until age 15.
She went on to have a record-breaking career with Fairleigh Dickinson University's Division I Knights women's basketball team and a professional stint overseas.
"When you don't see something, you don't necessarily know that it's possible," she says about the lack of female representation in sports, which directly resulted in her late entrance to basketball.
Now, she's determined to change the path for other young women, making sure that they have the opportunity to reap the benefits of being involved in sports.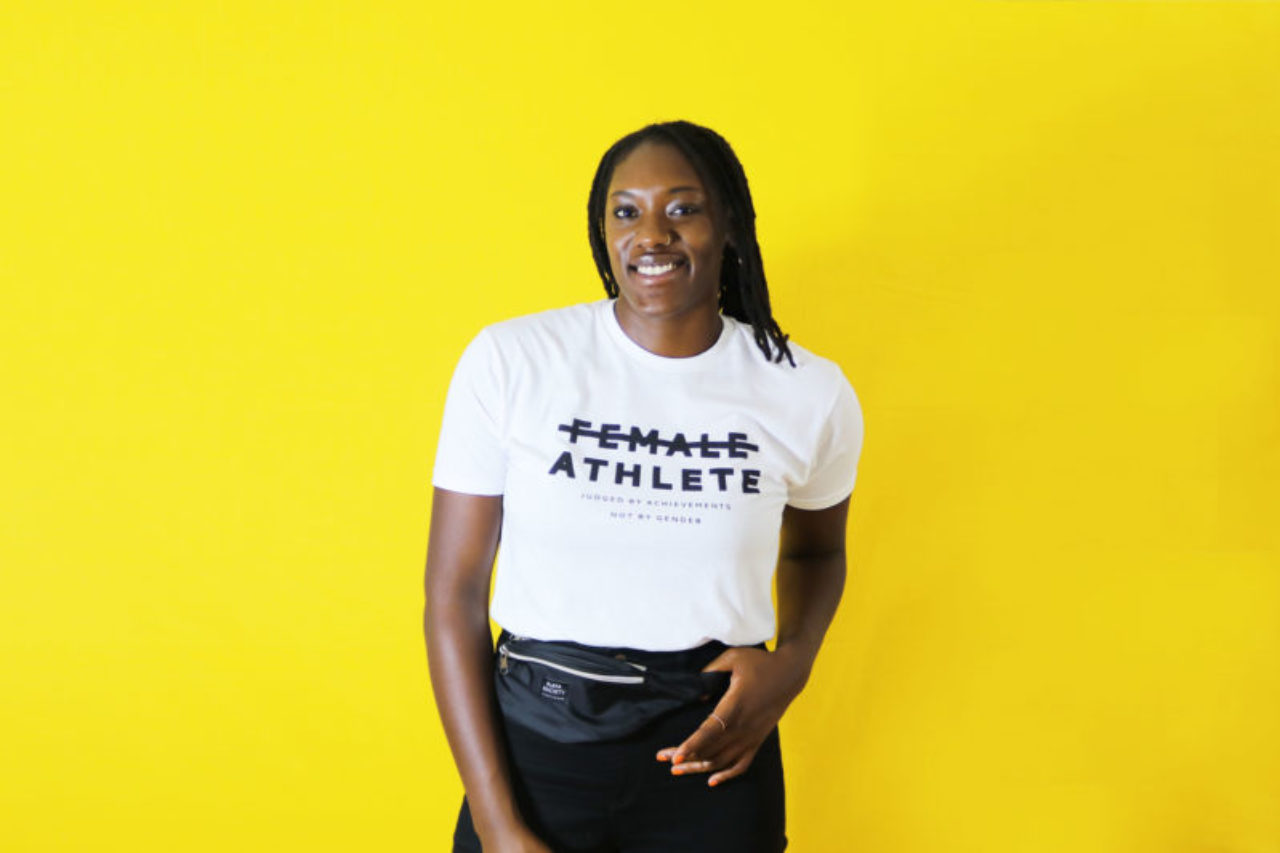 Combining the message of gender equality with her love of basketball, Wallace launched Playa Society in January of 2018, a sportswear company celebrating the toughness of female athletes and aiming to close the gender gap in athletics.
"I believe that sports builds leaders," Wallace says. "You don't have to play professionally or go to the WNBA. I think it's important for the younger generation to see that sports can take you so many different places."
While pursuing her master's degree in marketing management at Durham University, her thesis research proved that the gender gap went even deeper.
Forty percent of teen girls do not participate in sports, compared to 25 percent of teen boys, according to the Women's Sports Foundation. By the age of 14, girls drop out of sports twice as often as boys, a statistic that is heavily attributed to social stigma and lack of representation, the Foundation reports.
"I interviewed some collegiate athletes from the women's basketball team at FDU and we started a dialogue about how we feel when we go to buy sportswear," Wallace says. They talked about the struggle to find options in sportswear beyond sports bras and spandex shorts.
"So that's when I was thinking, 'Why don't I just design T-shirts that I would want to wear and that other basketball players would want to wear?'" Wallace says.
Armed with a mission and an art degree from FDU, Wallace began designing and selling T-shirts promoting female empowerment. She sold the gear through an online store starting in 2015, before officially launching her brand three years later.
"I'm a true believer that sports opens a lot of doors and builds character and leadership," says Wallace. "My experience as an athlete at FDU … I don't think I could be doing what I'm doing without that experience and my teammates who pushed me."
Judged by achievements not by gender
Wallace's best seller is a shirt that reads: "Female athlete, judged by achievements not by gender," with the word female crossed out.
"I decided to build a brand around that shirt because I realized that's really the message," Wallace says.
Just three months into business, that message found its footing on a national level.
On April 24, Wallace awoke to find her social media blowing up — WNBA star Candace Parker, a guest on NBA All-Star Kevin Garnett's "Area 21" Facebook show — was wearing Wallace's "female athlete" shirt.
"I could watch that clip over and over every single day," says Wallace. "Especially just being a few months into [Playa Society] at that time, I definitely didn't expect [to see her wearing my shirt] and was blown away by it."
That episode of "Area 21" received over 2.5 million views. It didn't take long for others to catch on.
WNBA players Sylvia Fowler, Sue Bird, Tamara Young, Elena Delle Donne and NBA TV reporter Kristen Ledlow have now all worn Wallace's gear in support of her message.
"[That's] one of the things that keeps me motivated, because if they support me and believe in the message, then it gives me the motivation and the obligation to keep going," Wallace says.
When Wallace launched Playa Society, she didn't see how it could give her the same sense of fulfillment that playing basketball did.
"But I think this is as close as it gets," she says. "Running a business and interacting with a lot of athletes that I've looked up to definitely fills that void. I'm excited about where it could go."