What we do:
Public relations staff in the Office of Communications write, create and edit all editorial content for the homepage of the FDU website, the University's official social media channels, the FDU What's New hub page and the press release and feature story archives.
Most of the digital material we create fits into four categories: feature articles, press releases, deep captions and social posts. A large amount of this content comes from information we actively seek out, but the University community also passes along interesting details and leads. Thanks! We need your eyes and ears to help us find the best and most important University stories and news to report. Based on what we receive, our team determines which type of content it's best suited to become.
What we write: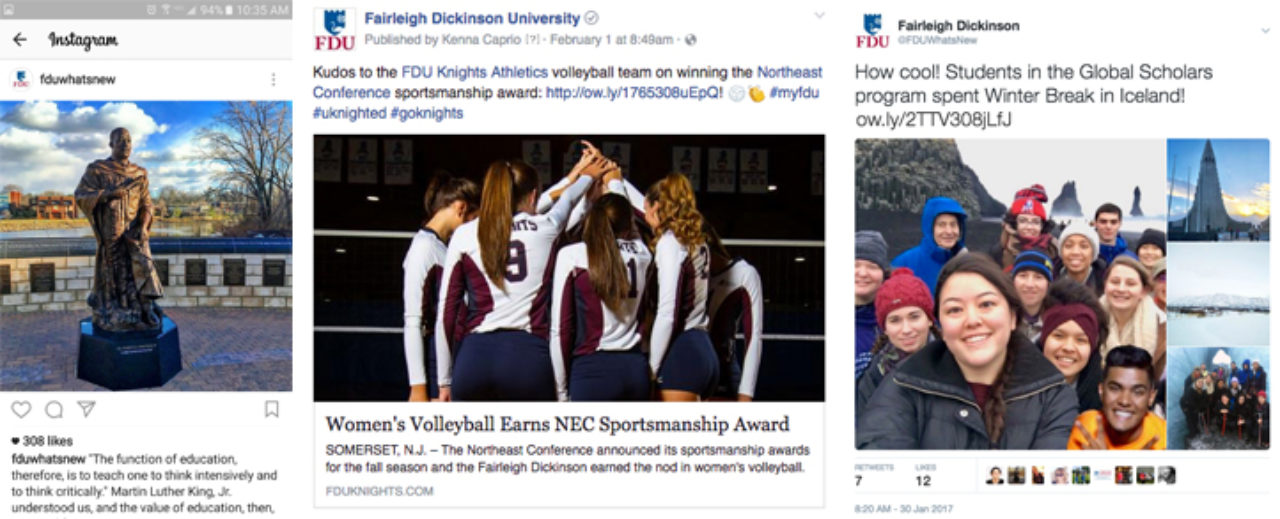 What to send us:
Though each kind of content is distinct, to write and edit effectively, there is common, basic information we need from you!
Tell us the who, what, where, when and why in a brief, three-to-four-sentence description of the tip/event/narrative.
Provide us with a point person and the correct contact information.
Photos: We want your photos! When you send an image with your text: make sure it's crisp and clear. We cannot use blurry photos. Provide us with the necessary caption information (Who's in the photo? What are they doing?) and the appropriate photo credit.
PDFs: PDFs are not photos or images. We cannot use them on the FDU website or on social media. On fliers the text is difficult to read, information cannot be easily pulled off the document, and photos become too tiny to use. Please don't send us fliers, but instead the raw information and images that go into making one, so that we can format appropriately.