FDU Press Publishes New Books, Paperbacks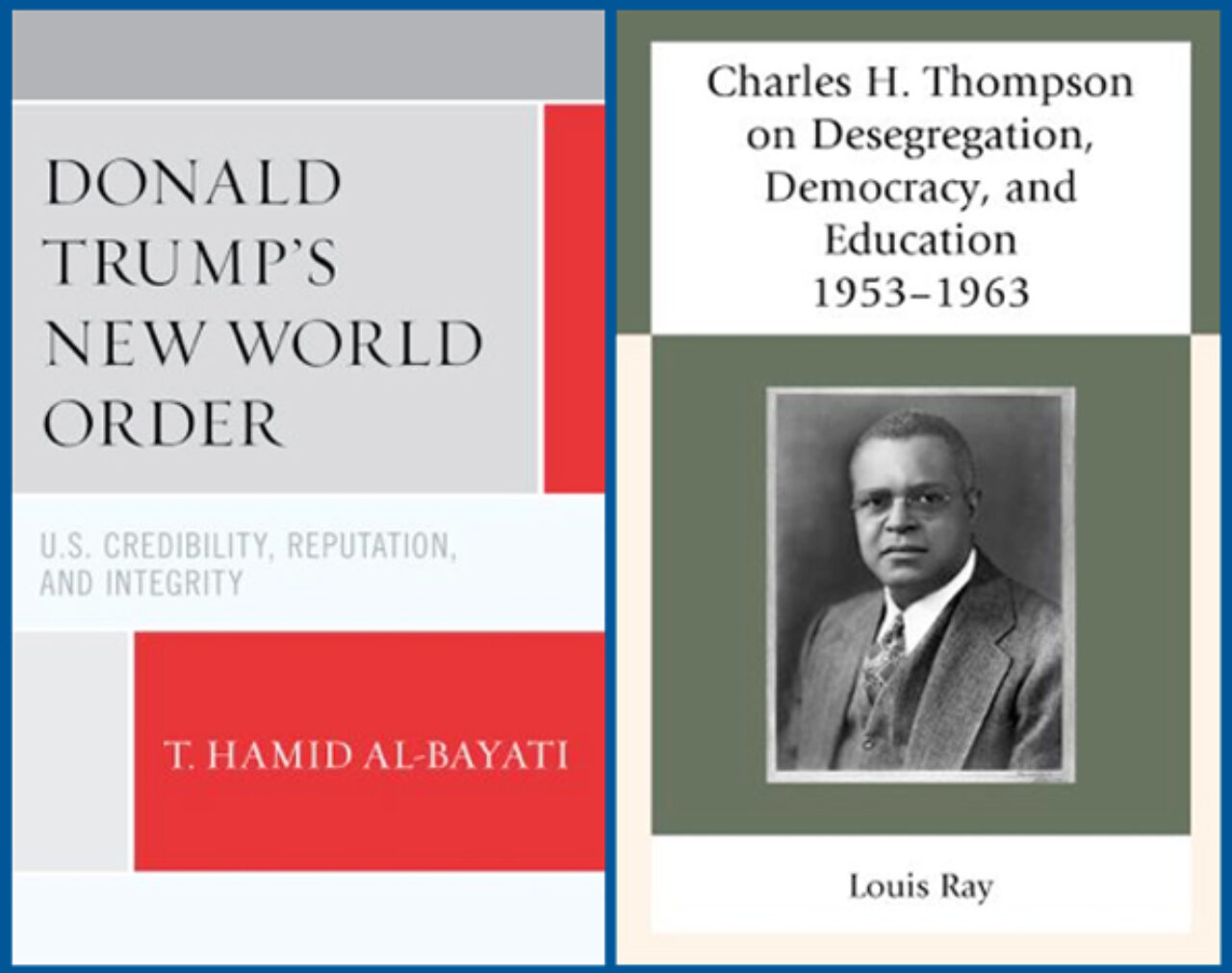 FDU Press announces it recently published 18 books. They include new titles in paperback as indicated by an asterisk. Among the authors are two Metropolitan Campus faculty members: T. Hamid Al-Bayati, visiting scholar of international relations, public/global affairs, and Louis Ray, education.
By author/editor they are:
Thomas Adam, editor, Yearbook of Transnational History (2020), Volume Three;
T. Hamid Al-Bayati, Donald Trump's New World Order: U.S. Credibility, Reputation, and Integrity;
Elio Attilio Baldi, The Author in Criticism: Italo Calvino's Authorial Image in Italy, the United States, and the United Kingdom;
Raymond Angelo Belliotti, Values, Virtues and Vices, Italian Style: Caesar, Dante, Machiavelli and Garibaldi;
Alan Blackstock, Willa Cather and E. M. Forster: Transatlantic Transcendence;
Christopher Butynskyi, The Inklings, the Victorians, and the Moderns: Reconciling Tradition in the Modern Age;
Ryan Calabretta-Sajder, editor, Pasolini's Lasting Impressions: Death, Eros, and Literary Enterprise in the Opus of Pier Paolo Pasolini*;
Annalisa Castaldo and Rhonda Knight, editors, Stage Matters: Props, Bodies, and Space in Shakespearean Performance*;
Rachel Cope, Amy Easton-Flake; Keith A. Erekson and Lisa Olsen Tait, editors, Mormon Women's History: Beyond Biography*;
Jennifer Cowe, Killing the Buddha: Henry Miller's Long Journey to Satori;
Orit Kamir, Betraying Dignity: The Toxic Seduction of Social Media, Shaming, and Radicalization;
Chima J. Korieh and Elizabeth O. Onogwu, editors, Sexuality, Human Rights, and Public Policy;
Peter Lichtenfels and Josy Miller, editors, Shakespeare and Realism: On the Politics of Style*;
Jason D. Martinek and Elizabeth Carolyn Miller, editors, Teaching William Morris;
Daniel Morris, Kenneth Goldsmith's Recent Works on Paper: Exactly Wrong;
Francis K. Peddle and William S. Peirce, editors, The Annotated Works of Henry George: Social Problems and The Condition of Labor, Volume 3*;
Louis Ray, Charles H. Thompson on Desegregation, Democracy, and Education, 1953–1963; and
Özüm Üçok-Sayrak, Aesthetic Ecology of Communication Ethics: Existential Rootedness.*
For further information on the newly published books or other FDU Press books, contact James Gifford, English, director of University core and director of FDU Press (Van), at 604-648-4476 or email fdupress@fdu.edu. A catalog is available. For the first time, the FDU Press catalog features all four campuses and Wroxton College on its cover.
FDU Press books may be ordered online from The Rowman & Littlefield Publishing Group or through its Customer Service Department, 4501 Forbes Blvd., Suite 200, Lanham, MD 20706 by telephone: 1-800-462-6420 or by email custserv@rowman.com. Save 30 percent with the promo code 8S19FDUP.