FDU Rises Further in US News Rankings
September 13, 2021 — A year after reaching the Top 50 for the first time in the U.S. News & World Report's collegiate rankings, FDU rose six more spots to number 44 among regional universities in the north in the latest edition released today.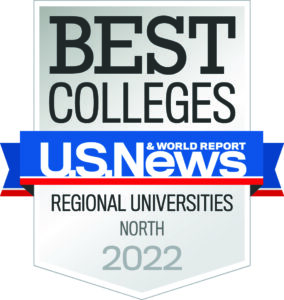 "The rise of FDU in these and other rankings demonstrates our increasing momentum and the continuing commitment to developing innovative programs and supporting students well as they pursue their academic goals," said President Christopher A. Capuano. "Rankings don't tell the whole story of course, but they can often provide an important validation and measurement of an institution's pursuit of excellence and a university's dedication to serving its students." 
FDU's progress in the U.S. News & World Report's rankings has been impressive since Capuano began serving as president in 2016. At that time, FDU was 83 among regional universities. Capuano pointed out that FDU has focused heavily in recent years on areas such as improving graduation and retention rates, which are among the key factors in the rankings. Other measurements include peer assessments, faculty resources, student selectivity, financial resources and alumni giving.  
FDU also received distinction in several categories in the newly announced rankings. 
Best Value (21) – Regional Universities
Social Mobility (57) – Regional Universities
Best for Vets (45) – Regional Universities
In addition, FDU's undergraduate business, computer science, engineering and nursing programs were named among the best nationwide.
"We are gratified to be recognized for our progress in recent years," President Capuano said. "We are also determined to continue our momentum and further distinguish our great University."