Hispanic Center Hosts Hispanic Heritage Night at Knights Men's Soccer Game
On Sunday, Oct 8, at the Knight's men's soccer team's 0-0 tie vs. Sacred Heart, the Hispanic Center celebrated Hispanic Heritage Month with its first Hispanic Heritage Night. Before the game, four individuals were honored. Benjamin Rifkin, interim provost and senior vice president of academic affairs, presented the honorees with an FDU soccer jersey and a certificate acknowledging their work with the Hispanic community. 
As part of the event, the New Milford Futbol Club 12U team played an exhibition during halftime.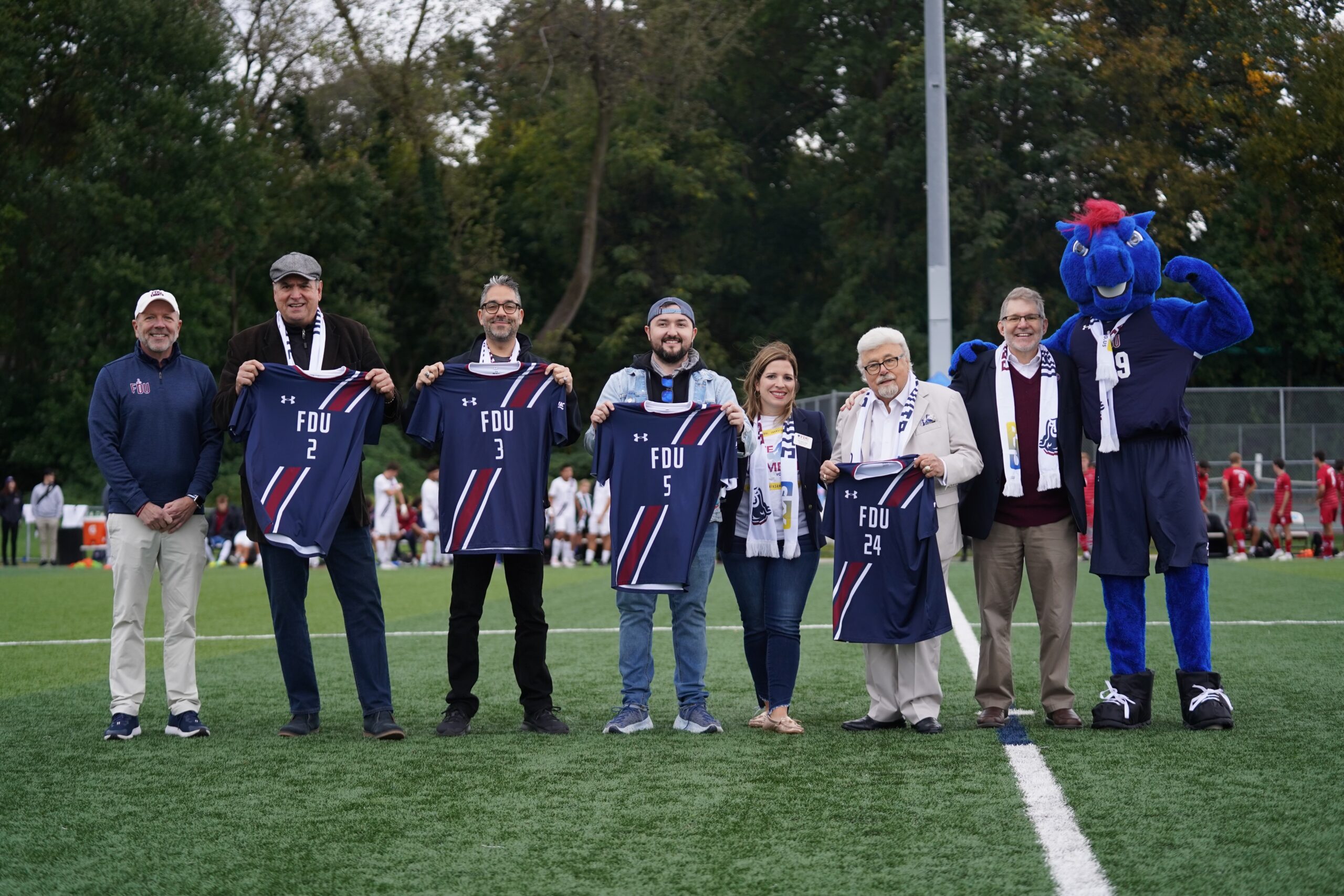 Honored were:
Jason Villamil, CEO and Creative Director, Sky Marketing 
Jason Villamil, an alum of FDU's Latino Promise Program, is the CEO and Creative Director of Sky Marketing, which develops digital marketing for Latino restaurants. Villamil channeled his passion for photography, design, and marketing into his thriving business where he takes branding to a new level for restaurants of all sizes. He lives in New Jersey with his beautiful wife, Paola, and their two kids, Amelia and Martin.  
Michael Santiago Pagan, Mayor, Teaneck 
Michael Santiago Pagan is a longtime resident of Teaneck, where he was the first Latino elected to the Teaneck Council in 2020 and then in 2023, he became the first Latino to serve as Mayor of Teaneck. Michael's professional life demonstrate his commitment to public service, having worked as a reporter for the North Jersey Herald News, a grants writer for the New Jersey Performing Arts Center, and as a press secretary for three Speakers of the New Jersey General Assembly, a U.S. Congressman and two U.S. Senators. Michael also served as the Public Information Officer of Bergen County from 2015 to 2023 and now serves as a Senior Community Relations Specialist for the Bergen County Department of Planning and Engineering.  
Ino Gomez, Producer and Host, Ino Contigo 
Ino Gomez is the founder, producer and host of "Ino Contigo", a TV/Radio show heard and seen wherever an internet signal is available. "Ino Contigo" is also the official morning show of Canal America in the United States as well as the Dominican Republic, Festiva To Go, distributed via cable systems across the country and Los Radios Network. Gomez's long and prestigious career in broadcasting has earned him a collection of awards and recognitions spanning more than two decades: New York's Broadcasters Association Radio Personality of the Year, New York's Best AM Radio Program, Spanish Voice of the Brooklyn Nets and an EMMY, among others.  
Antonio Ibarria, Owner, El Especialito and Founder, Ibarria Media Group 
Tony Ibarria, owner of El Especialito, has long dedicated his life to the Hispanic community. He started his career in the media to help immigrant families gain access to services to facilitate their transition to their new home in the U.S., especially in densely populated Hispanic neighborhoods in New York, New Jersey, and Miami. He wanted to focus on local news, advertising retailers, and humanitarian services in these areas through "El Especialito," which continues to be circulated today. With a circulation of 250,000 copies every Friday, El Especialito newspaper reached more than 1 million Hispanic readers in Hudson, Passaic, Essex, Union, Middlesex, and Bergen County in New Jersey, as well as Washington Heights, Jackson Heights, The Bronx, Brooklyn, Spanish Harlem, Lower East Side, and the West Side in New York City. Ibarria expanded his commitment to the Hispanic community through Save Latin America, his non-profit organization devoted to providing free access to education, medical and other opportunities to improve the well-being of immigrant families from all Latin American countries, with special emphasis on the needs of children to secure their future. In 2016, Union City honored him by naming the street where the headquarters of El Especialito newspaper is located, as the ANTONIO IBARRĺA WAY.